Ricciardo to get 'elbows out' from P4 in Spa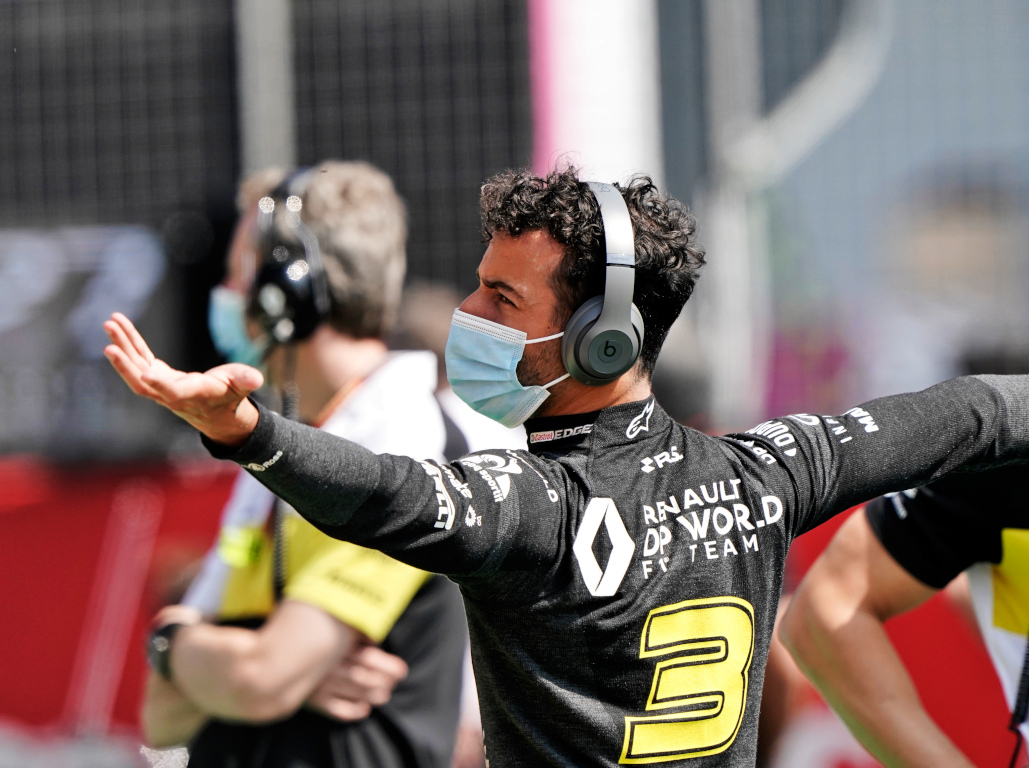 Starting in P4 at the Belgian Grand Prix, Daniel Ricciardo says he'll get his elbows out and take the fight to those ahead.
The Renault driver enjoyed his best qualifying result since joining the team, and his best ever at Spa, finishing behind only the Mercedes drivers and Max Verstappen. However, he won't be settling for 12 points tomorrow.
A large reason for his success was the straight-line speed of his car, and he thinks he can get into the top three with it. Once there, he has no plans of dropping back down.
"We've got a good starting position and pretty good straight-line speed so I think at the start of the race we have a real opportunity," he told Sky Sports.
"And then I think I could defend for a while if I have to. That's the plan – try to go a few better at the start and yeah, elbows out."
It briefly looked as if Ricciardo would start in the top three when he took P3 after the first round of laps in the final qualifying session.
Head on over to the Formula 1 store for all your official Daniel Ricciardo merchandise
Well that was a fun qualifying wasn't it? It was also our best qualifying result since we returned as a works team! #RSspirit #BelgianGP pic.twitter.com/1xuNo9NJsN

— Renault F1 Team (@RenaultF1Team) August 29, 2020
However, Max Verstappen improved during the final runs to take it and push his former team-mate down to P4.
Nevertheless, the Aussie has no regrets and is more than happy to start at the back of the second row on race day.
"My lap that got me P4 was a clean lap, no issues, no excuses. That was probably as good as it had," he added.
"I mean look, even to only lose the one spot to Max and hold on to a second row, I'm really happy. Yeah, it's awesome, second row.
"Sector 2 is where they've got a bit more than us, the likes of Mercedes and Red Bull. That's really the downforce sector, so I assume they were quicker there probably throughout the session.
"Holding P3 would have been perfect, but actually just being demoted by Max and still holding P4, I'm still pretty happy with today."
Ricciardo hasn't stood on the podium since joining Renault, and his boss Cyril Abiteboul has agreed to get a tattoo if he returns there while in yellow.
With it looking more likely than ever to happy, Ricciardo says he'll go easy on the Frenchman in terms of the tattoo's content.
"I can't be that cruel to him. He's a good bloke, so I won't be that harsh on him but yeah, we'll figure something out."
It was also a solid afternoon for Ricciardo's team-mate Esteban Ocon who will start the Belgian Grand Prix from P6, a big improvement on the struggles of last time out at the Spanish Grand Prix.
"It's been strong all weekend," he said.
"We put the car down and compared to Barcelona, it's handling so much better, so with all the changes we did coming into this race, it gave us confidence. We have seen it is working on track, so we can work with a lot more calm and easy spirits. It feels good, I'm happy."
Follow all the action from the Belgian Grand Prix with the PlanetF1 live centre