Daniel Ricciardo got a 'buzz and screen time' with his double Alpine pass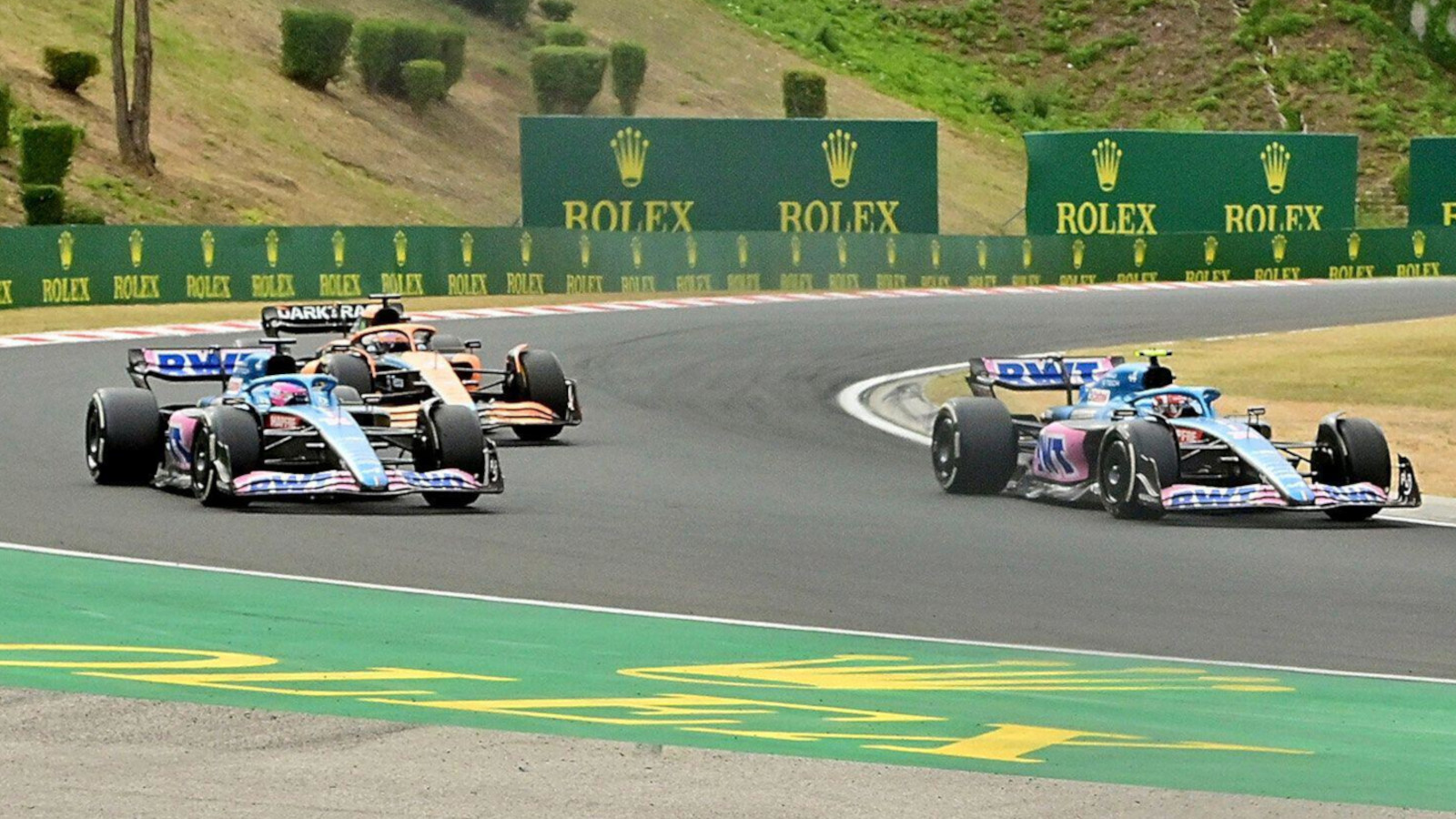 Daniel Ricciardo got a "buzz" and also a "little bit of screen time" with his double pass on the Alpine team-mates in Hungary, but that was about all he got on Sunday.
2022 has not been a season of highs for the McLaren driver so he'll take them where he can.
And did just that at the Hungarian Prix.
Dropping down the order after he made his first pit stop of the day, the Aussie found himself coming up behind the Alpine pair after Fernando Alonso and then Esteban Ocon made their pit stops.
While the team-mates squabbled, Ricciardo pounced taking them both in the space of one and a half corners.
Two cars in one corner 👏

Danny Ric enjoyed that! 😃#HungarianGP #F1 pic.twitter.com/SQD493YOj3

— Formula 1 (@F1) July 31, 2022
"I think there was a moment there where I made the double move on the Alpines, and I was like maybe we've got something going here?" Ricciardo told Motorsport.com.
"But it was still early in the race. That was a high. That gave me a little bit of a buzz.
"It was some of the only [radio] chatter I had, because unfortunately, we were going backwards most of time.
"And yeah, it got me geed up for a little bit. I could kind of see it transpiring, I knew Alonso was struggling a bit on the hard. And I saw Ocon come out.
"And I was, alright, they might battle a bit here. And I might be able to collect one of them. But then I saw them drift, drift, drift. And I was maybe I can get both, and I did so.
"Yeah, two-for-one is not common. So I thought we would get a little bit of screen time!"
Alas that was his highlight, the Aussie P15 on the day after a five-second penalty for hitting Lance Stroll.
Still signs of life in Daniel Ricciardo
Arguably the most headline-grabbing driver in the first half of this season, but for all the wrong reasons, Daniel Ricciardo showed in Hungary there is still life in the old Honey Badger.
In his heydays with Red Bull, which also turned out to be his last days with the team, the Aussie was known as the king of the late-brakers.
At one with his RBs, he pulled off more jaw-dropping passes that anyone else on the grid.
That fell by the wayside when he headed to Renault, his two years there not that successful with the driver conceding at the time that when it came to his overtakes he was "a bit of a standout in the Red Bull car".
Two years with Renault didn't give him time to really adjust, and his move to McLaren only seems to have made the matter worse, Ricciardo struggling to get on top of the car.
And then came Hungary.
It was an audacious move on a double World Champion and a driver who, let's be honest, will take you out if he feels in the mood, Ricciardo looked right, he went left, Alonso done, and then continued that move to pass Ocon. Two for the price of one Alpine.
On a weekend where potentially he told McLaren he was out, or was told by the team that he would not be driving next season to make room for Oscar Piastri, the 33-year-old showed both McLaren and Formula 1 that he's not done, not yet.
Highlights from the Hungarian Grand Prix
Max Verstappen took what became an excellent Hungarian Grand Prix win, while trouble at Ferrari continues.