Ricciardo heads to Ferrari HQ to offer Sainz apology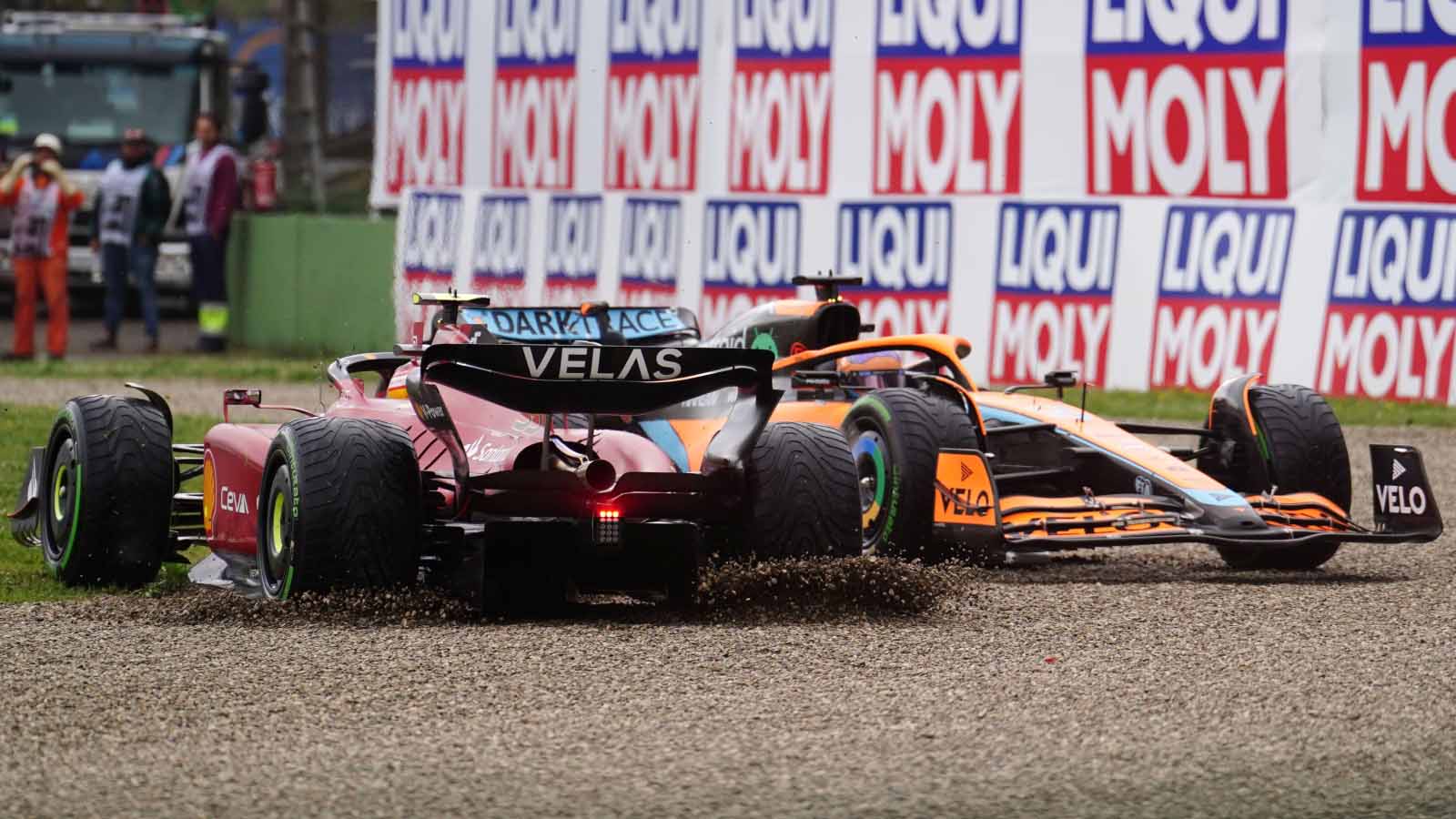 Daniel Ricciardo paid a visit to the Ferrari hospitality centre to apologise to Carlos Sainz, after the pair collided on the first lap at Imola.
The McLaren and Ferrari drivers went into the first chicane at Tamburello side by side in wet conditions on Sunday and, while both cars were just about able to fit around the corner, Ricciardo tagged the inside kerb and was sent far enough off-line to clip Sainz's rear-left tyre and send him into the gravel.
The Australian was able to escape and get back to the pits with damage, but he was unable to make his way back through the field and recover any points from the weekend – while Sainz's qualifying struggles were compounded with a second consecutive race retirement.
Ricciardo felt disappointed to "ruin" another driver's race, and went to extend an apology to the Spaniard.
"What happened from memory was I got onto the kerb, I know it's going to bottle up at some point, so tried to give myself a little bit more space," Ricciardo said in the media pen after the race.
Daniel went into the Ferrari hospitality to apologize to Carlos#ImolaGP pic.twitter.com/pkSMSIr7oJ

— tami. (@Vetteleclerc) April 24, 2022
"But I think as soon as I got onto it, I just started sliding straight off it and then slid up into the track, and obviously then went into Carlos.
"I'll see if I could have done anything different. It's tough because you go slower into Turn 1, you be more cautious and then someone's going to probably do the same to you, or you might put yourself in a more sandwiched position.
"I went into [Turn] 1 feeling like it was all under control. Obviously it wasn't, but for now I'll go and see Carlos and apologise.
"It's not fun to ruin your day but also someone else's, so one of those days."
Sainz will feel like he's become a bit too familiar with gravel recently, after getting beached in Australia and being unable to get himself out of trouble on the first lap at Imola either.
But when it came to his incident with Ricciardo, the 27-year-old was measured in his response and felt that bad luck was a factor in how his race was ended prematurely.
"I didn't get the best of starts together with Charles [Leclerc]; we need to analyse what happened there at the start," he said to Sky Sports F1 afterwards.
"[We'd] prefer to have had a good start but we still managed to get cleanly into Turn 2, and for some reason I think Daniel went into the kerb, left him plenty of space but I think he must have lost the front of the car and bumped into me, with the unlucky situation that I got stuck yet again in the gravel. So nothing really I could have done differently there."