Ricciardo calls for clarity after Stroll collision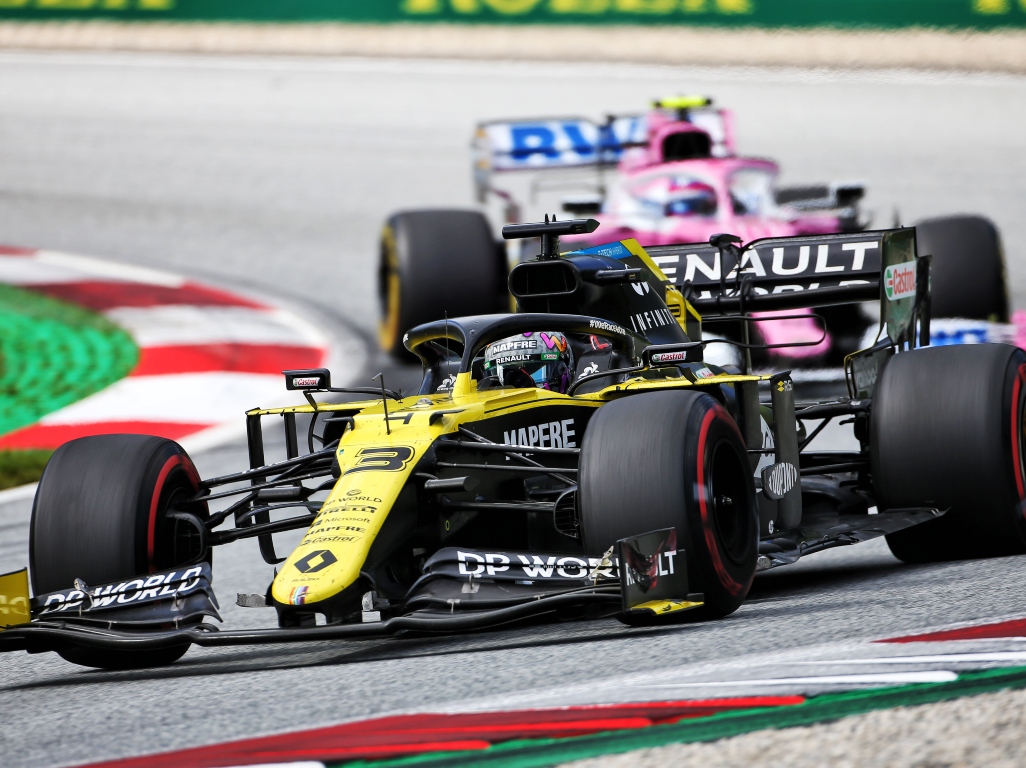 Daniel Ricciardo has called for collective talks between all F1 drivers about the etiquette of overtaking after his collision with Lance Stroll in Austria.
The Australian was passed by Stroll in the closing stages of the Styrian Grand Prix, but only when the Canadian forced his Racing Point up the inside at Turn 3 and took both cars briefly off the track.
Stroll was not punished for the move and held on to P7, just ahead of the Renault he had barged his way past. But Ricciardo maintains it was an illegal manoeuvre – and wants to discuss the rights and wrongs of overtaking with all of the other 19 racers on the grid.
Speaking about the incident at the press conference on the eve of the Hungarian Grand Prix weekend, Ricciardo said as quoted by the official F1 website: "I've never wanted to have rules so tight that it discourages us to race. I don't want it that we are driving on eggshells and scared to pull the trigger, but there's trying and also failing.
"Both of us went off track. If I turn in, we crash, but he also brought himself off track with us. He tried a move, which he was completely in his right to do. I left room, which I guess I shouldn't have. But he tried and because we both went off, I see that as a failed attempt so the position should have been given back.
"For me, I think that's pretty crystal clear. If he made the corner and squeezed me off, I accept that's a move. But to take both of us off, I don't see how that works in any situation.
"We'll talk about it in the drivers briefing [on Friday] and see everyone's opinion, what they say. I can't see any drivers saying that's a clean move, that's how it's going to work, because it never adds up like that."
It doesn't get closer than that…#AustrianGP #F1 #WeRaceAsOne pic.twitter.com/yU2HQJzdw6

— BWT Racing Point F1 Team (@RacingPointF1) July 12, 2020
Head on over to the Formula 1 store for all your official Daniel Ricciardo merchandise
Ricciardo believes a wider conversation is required rather than simply taking it up with Stroll on a one-to-one basis.
He added: "I don't think it was Lance's intention to take both of us off. I'm sure when he went down the inside, he knew it would be tight because it was already quite narrow and he came from a fair way back. But I don't think he expected or wanted both of us to go off track.
"Obviously he kept his foot in it and said 'alright, if I get a penalty OK, if I don't I'll claim a move'. I don't think it's necessarily something to discuss with a driver as in 'that was a dirty move, what were you thinking?'
"It's more that this needs to be spoken about as a group with us drivers and stewards together to try and educate everyone as to what's right and wrong.
"But I don't expect Lance, for example, to go and do it this weekend and think he will get away with it every time. That's why we need to talk probably Friday in the drivers' briefing."
Follow us on Twitter @Planet_F1 and like our Facebook page.