Daniel Ricciardo is certain Max Verstappen would have come to Lewis Hamilton's aid at Monza if he had thought he was injured.
The title rivals made contact at the opening chicane during the Italian Grand Prix, leaving both beached in the gravel with Verstappen's Red Bull going over Hamilton's cockpit.
As Hamilton exited the pits in line with his rival, Verstappen took the outside line at Turn 1. But going for the inside at Turn 2, he was launched into Hamilton by the sausage kerb, with a rear wheel of his Red Bull clipping Hamilton's head.
The Halo saved Hamilton from serious injury, although he did talk of a headache and neck pain as a result of the contact, also expressing surprise that Verstappen had walked away after the crash without pausing to check on him.
But Ricciardo is sure any driver would check on another if they thought there had been a serious injury, and that includes his former Red Bull team-mate Verstappen.
"I know Max. I was team-mates with him for a few years and that's him, he's a competitor, he'll leave it on the track and that's how it is," said Ricciardo during the Pardon My Take podcast.
"I guess he probably still carried a little bit of frustration or anger from Silverstone, so maybe that was the reason why he was like 'stuff this, I'm going to walk away'.
"Lewis was trying to reverse and get out, so maybe Max saw that and he's like 'okay, Lewis is fine'.
"I will say all of us drivers for sure have rivalries, and for sure we don't all get on the best. But if we had a crash and we knew that guy was injured, 100 per cent I believe all of us would go and try to help.
"If we knew it was something serious, we wouldn't just turn our backs."
Just like after their collision at Silverstone, this latest crash between Hamilton and Verstappen was heavily debated, with the idea resurfacing that they need to pick their battles better, even though they are scrapping for the title.
Ricciardo acknowledged there are some drivers on the grid with this all-or-nothing mentality and although he does not criticise that approach, he does feel maybe the opportunity which Verstappen thought was there at Monza actually was not.
"There are definitely a few drivers like that," said Ricciardo when put to him there are those on the grid who will risk it all rather than finish 10th.
"I think that's a good mentality to have, in terms of leaving it all on the table. But obviously Max and Lewis are now fighting for the Championship, so I think if that's your one and only mentality, then it will probably bite you more times than not.
"I think it's just trying to pick your moments. I don't want to say cut your losses when you can, but…in saying that I don't think the incident on Sunday was stupid or anything, what Max did.
"I think he saw a little opportunity, he tried to go for it – it obviously maybe wasn't completely there."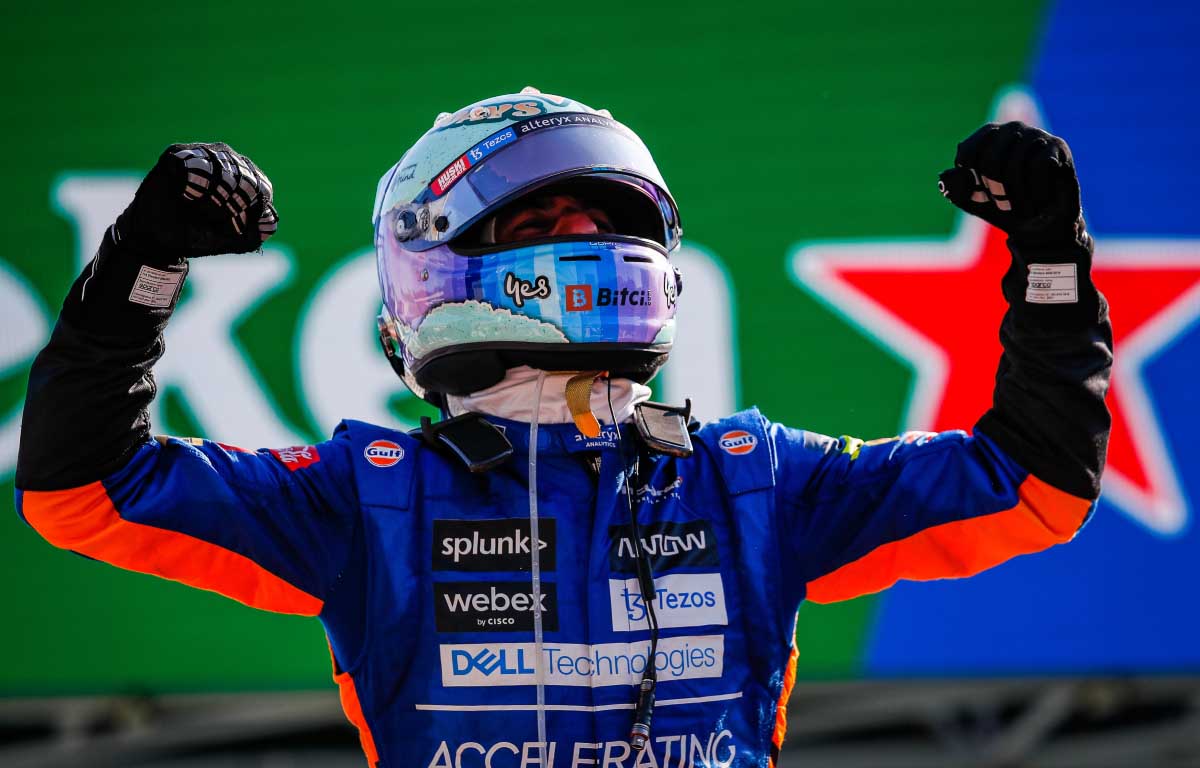 View the latest Daniel Ricciardo merchandise on the official Formula 1 store
Monza was a fantastic weekend for Ricciardo though, who led home a shock one-two finish for McLaren, their first such result since Canada 2010.
Ricciardo had a bet in place that if he made the podium for McLaren, he could drive one of their CEO Zak Brown's iconic cars.
Ricciardo had suggested he should get to keep one of them since he went above and beyond to deliver a win. But admitting he was "jumping to conclusions" on that one, Ricciardo added some details on when he will get to fulfil the bet.
The Australian revealed plans to drive one of Dale Earnhardt's race-winning NASCAR Chevrolets, under Brown's ownership, before the United States Grand Prix in Austin.
"I'll get to drive that. We may tee it up around the Austin grand prix," Ricciardo confirmed.
"But I'll definitely get behind the wheel of that in the next couple of months."
And in another scoop, Ricciardo also confirmed Netflix were filming with McLaren at Monza for the latest series of Drive to Survive, so they certainly could not have picked their timing any better.
"Netflix follow a team each weekend. They are getting snippets of everything, but they will be embedded with a team each race weekend," he explained.
"And at Monza, they were with us! That was the perfect setting."
PlanetF1 verdict