Daniel Ricciardo delivers 2023 update, plus a welcome message from George Russell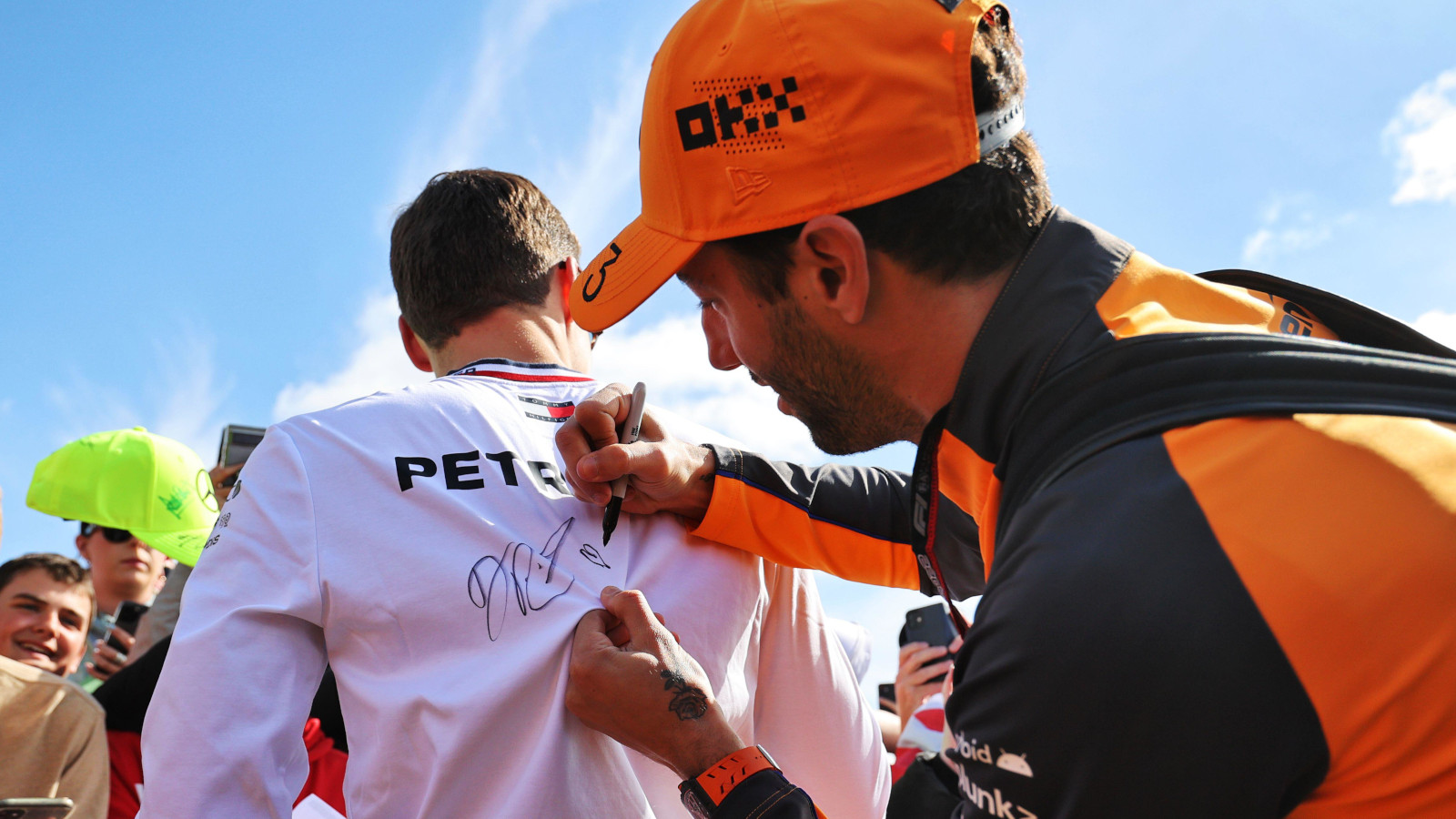 Although there is still a seat available for next season, Daniel Ricciardo can "confidently say" he won't be on the grid as right now all he wants is a break from a racing and a reserve driver role.
12 years after making his Formula 1 debut with HRT, Ricciardo is possibly facing the end of his F1 career.
The Aussie is leaving McLaren at the end of this season and, not keen on making up the numbers with Haas, instead wants a test driver role with one of the sport's big teams.
He's hoping that will lead to a comeback come 2024, but for now nothing is certain except that he won't be racing next season.
"I can confidently say that I won't be on the grid behind a wheel [next year]," Ricciardo told Sky Sports. "But I still want to be in the sport, and I want to be working with a team still with the ambition to be back on the grid in 2024.
"I feel like a bit of time away from a race seat will do me good, and then try to rebuild on something for 2024.
"I'm not done but it will look a bit different."
The Aussie reiterated that "the plan" is to secure a reserve driver role.
But whether it will be with Mercedes, a return to Red Bull, or even with another top team, he doesn't yet know.
"I'm certainly talking to teams," he continued, "but I still want to obviously keep a foot in the door. As I said, for 2024.
"I'm sure seeing the lights go out in race one, I'll already have that itch so I will want to be back in 2024."
Asked specifically about Mercedes, he replied: "There's enough. There's enough to certainly keep me interested and keep me on."
A vote of confidence from George Russell
One person who'd like to see Ricciardo head on over to Mercedes is George Russell.
The pair are often seen together in the paddock with Russell even walking around in Ricciardo branded clothing.
Asked about the prospect of the eight-time grand prix winner joining him next season, he said: "I mean, it would be interesting. We'd like to see that.
"It's up to Daniel to see what he wants to do with his future."
Mercedes have inadvertently cleared the path for Ricciardo to join the team, losing one reserve driver after the other.
Nyck de Vries has signed to race for AlphaTauri next season while earlier this week Aston Martin announced Stoffel Vandoorne would be joining them as their 2023 reserve driver.
Extended break a 'blessing in disguise'
But whether he takes up a reserve role or not, Ricciardo is embracing his year on the sidelines after two trying seasons with McLaren.
He's already ruled out racing in a rival series, saying his focus is on a return to the Formula 1 grid in 2024 and he doesn't see how racing elsewhere would help him achieve that.
He gave his chances of a comeback a welcome boost in Mexico when he raced from a 12.5s deficit to a 12s advantage to overcome a time penalty and secure seventh place ahead of Esteban Ocon.
"No doubt the last two years have been quite hard especially when you put a lot in and when it doesn't quite come back," he said. "It can get you down.
"I know the value of having even like a summer break, just stepping away gives you a different perspective.
"The way the seasons are it's pretty relentless, you don't really get a chance to rebuild.
"Everyone's different but I truly believe that will be, in a way, a blessing in disguise for me. By doing less, I'll achieve more."
Read more: Nico Hulkenberg: Daniel Ricciardo needs to get off this Formula 1 rat race