Ricciardo 'earned his schnitzels' with strong Friday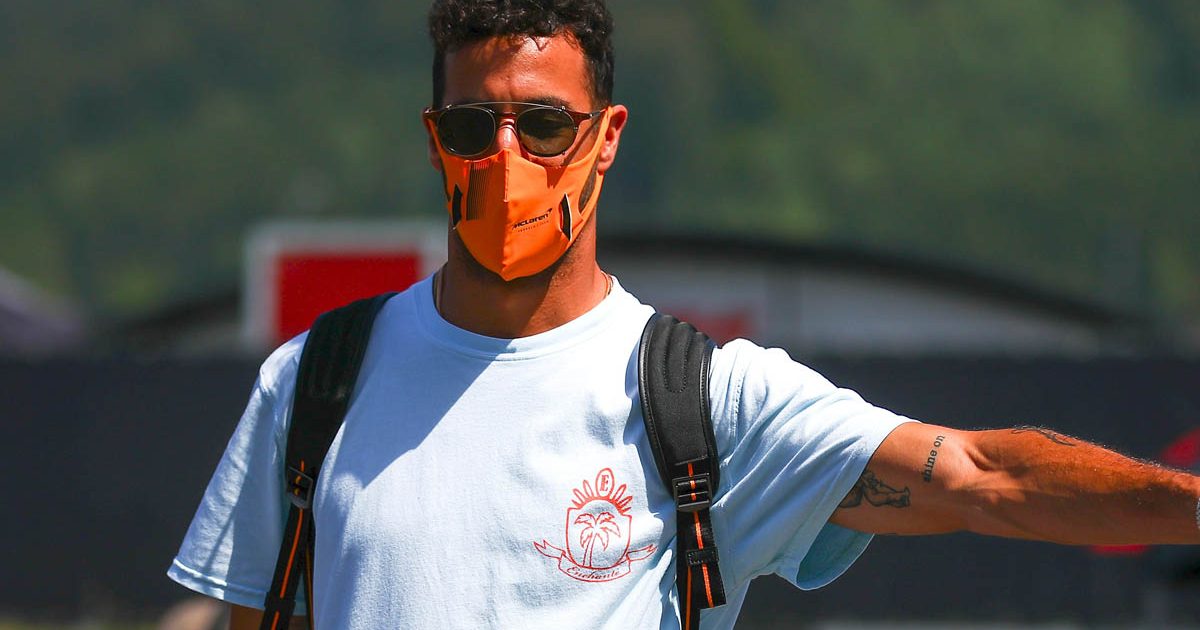 Daniel Ricciardo joked that he had earned himself a schnitzel dinner on Friday night after a strong practice showing in his McLaren in Styria.
After a tricky FP1 session for both Ricciardo and Lando Norris, where they ranked P12 and P16 respectively, the Australian set the second-fastest time in FP2 as drivers went through their first qualifying simulations.
Following a constructive weekend in France, with a P6 finish his reward after some strong overtakes, Ricciardo was pleased with how he progressed in Spielberg between both practice sessions.
"It's been a few [races]," Ricciardo said on Sky F1 when presented with the fact he came P2 in practice. "I think last year we strung together a lot of good Fridays. I remember there was a string where we were second, third, so it's nice – a little bit of a familiar feeling from a year ago [with Renault].
"It was a pretty good afternoon. It was weird actually, because we expected a lot of rain. I saw the radar, it was just missing the circuit. I feel like the town down the road is probably flooded, but we're dry.
"It was a good day, low-fuel pace was good this afternoon. We definitely picked something up from the morning, [with] the high-fuel there's probably more to find compared to the low-fuel, but definitely a productive afternoon."
He also seemed quietly confident when asked about how his car has been performing, adding that he feels he deserves another portion of the local cuisine with his dinner tonight.
"It definitely feels alright," the 31-year-old said with a smile. "We'll see, I know it's only Friday but for sure I'd rather be in the top three than tenth.
"We've got a lot of work to do overnight, a bit of fine-tuning but we're far from lost. We're in a good place, I had three schnitzels last night but they were baby schnitzels – so it was like one serving – but I think I've earned a few more tonight."
Definitely got the #FridayFeeling after that one! 👍 #StyrianGP 🇦🇹 pic.twitter.com/DZWOqXOVHb

— McLaren (@McLarenF1) June 25, 2021
View the latest Daniel Ricciardo merchandise on the official Formula 1 store
As for Norris, meanwhile, he found himself on the wrong end of track limits violations repeatedly throughout FP1, but put in a lap time good enough for P7 in second practice.
With the young Briton having earned his first podium in Austria last year, he feels there are signs of further progress on his car after another solid performance in France.
"It's probably the most laps I've done in turns of race preparation, so it's not like we're just focused on qualifying," Norris said after FP2.
"We're just on top of a few things where we weren't as on top as we should have been in France, so little things [practice adjustments]. It's very close, it's going to be a tough day tomorrow but we'll do our best."
Norris continually ran wide where track limits are being monitored in Austria, but the McLaren driver is confident that it's merely a matter of finding the edge of what he is and isn't allowed to do.
"A lot of my laps were deleted – probably most of them in fact, so as long as I'm good on them tomorrow and Sunday then it's all fine.
"I'm exploring the limits, and I'll be fine tomorrow."
Follow all the action from the Styrian Grand Prix with the PlanetF1 live centre