Ricciardo: Fans want McLaren v Ferrari battle for wins
Red Bull versus Mercedes may have been the story of 2021 but Daniel Ricciardo reckons what F1 fans really want to see is McLaren up against Ferrari at the sharp end.
While Max Verstappen and Lewis Hamilton were the focal point of the 2021 championship, McLaren and Ferrari played cameo roles as the two powerhouses battled for third place.
That was both in the championship and at times in grand prix weekends as they picked up the podium places dropped by the two leading teams.
Both McLaren and Ferrari clinched five podiums apiece with McLaren the only team to take a 1-2 throughout the 22-race season.
It was, however, Ferrari who secured third place in the Constructors' Championship.
Ricciardo is hoping McLaren's tussle with Ferrari is a sign of things to come in 2022.
"That it's Ferrari, from the outside it's a cool story that these two teams have had a few low years and two of the biggest teams ever," the Aussie said as per Autosport.
"And now they're coming back and they're fighting it out. If only it was for P1! I think that's really the story I'm sure many fans want."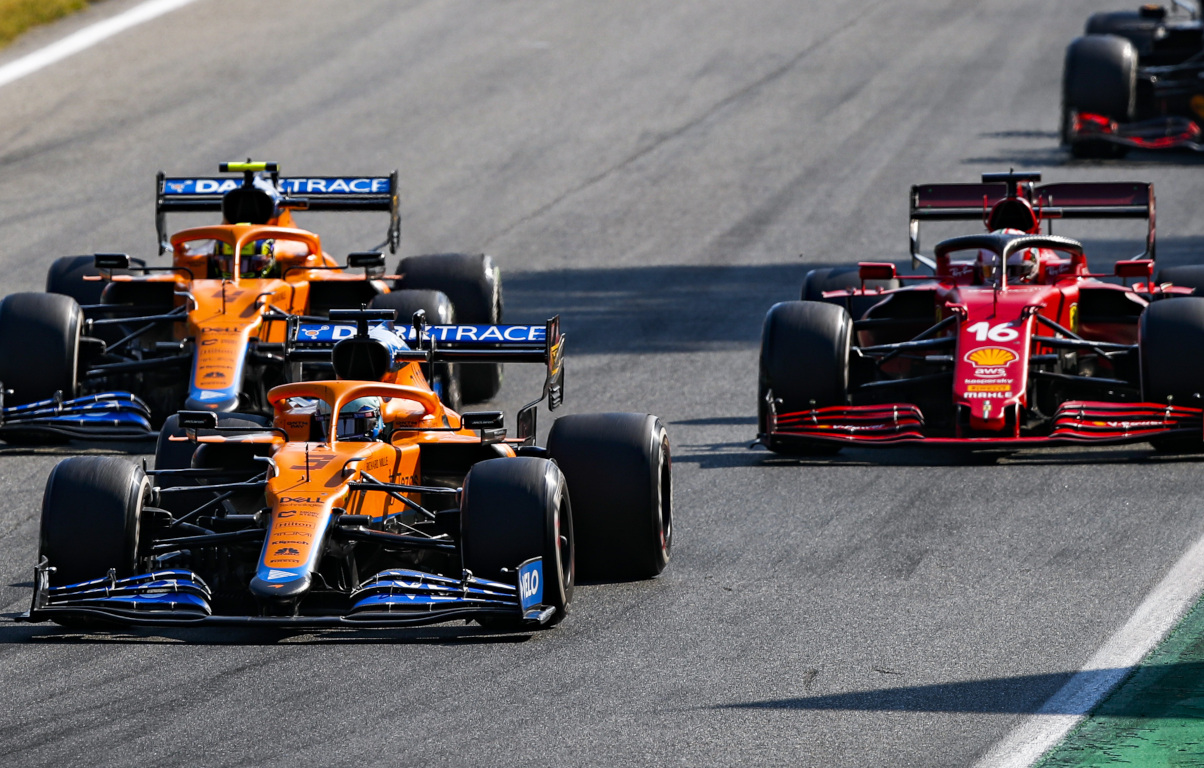 McLaren held the advantage in the first half of the season before the two went into the summer break tied on 163 points.
Ricciardo's victory at the Italian Grand Prix, a race in which his team-mate Lando Norris finished P2, saw McLaren surge ahead only for the arrival of Ferrari's updated power unit to hand the Scuderia a much-needed boost.
Ferrari finished the championship 48.5 points ahead of their Woking rivals.
Despite losing ground to the Italian stable in the latter part of the season, Ricciardo says he thoroughly enjoyed his fights with the Scuderia.
"It's always better when you've got something to fight for," he said. "If we're in this lonely battle for third and Red Bull and [Mercedes] were too far in front, Ferrari was too far behind, I think it would be less exciting.
"I like having a target and something to chase, so that's been good. And for sure we've focused some of our stuff on them and just obviously trying to beat them, but that's probably more of a team thing.
"I think for me personally as a driver once the helmet's on and the lights go out Sunday, it doesn't matter what colour the car is, if you think you can beat them then you're going to try to beat them.
"It doesn't really change the act behind the wheel, but I think for the team to have that target and that battle, it does create a little bit more… I don't want to say motivation, but yeah, there's a target, so every weekend you've got something really to work for and it doesn't allow any of us to get complacent."
PlanetF1 Verdict
Do fans want McLaren v Ferrari battle for wins?
Daniel Ricciardo believes that fans would love to see McLaren and Ferrari battling for wins.