Ricciardo: Alonso's racecraft 'best on the grid'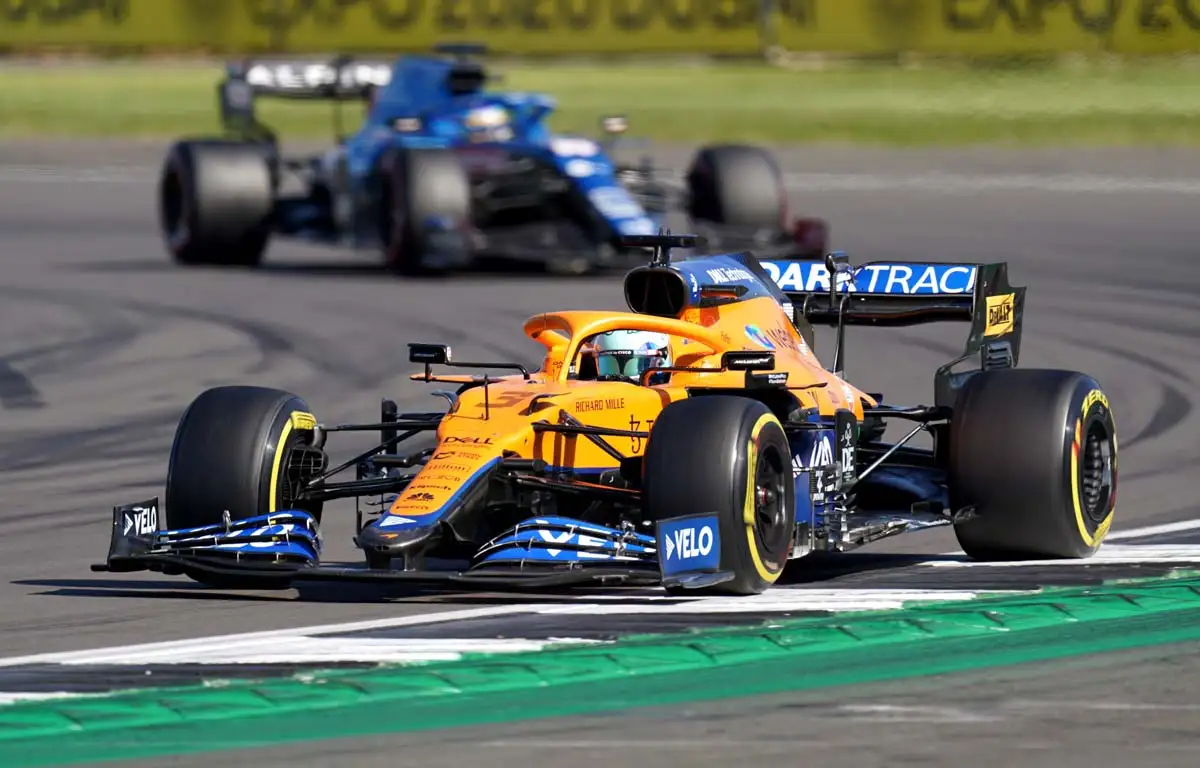 Daniel Ricciardo described Fernando Alonso's racecraft as the "best on the grid" at times in 2021 after the double World Champion's start in sprint qualifying.
Alonso produced one of his famed first-lap runs by overtaking six cars at the start of the shortened 'race', moving himself up from P11 to P5 in the early stages.
While he was eventually overtaken by both McLaren cars, the Alpine driver will start P7 in Sunday's British Grand Prix after showing his knack for making his way through the field.
Alonso received some criticism for weaving down the straights, but Ricciardo felt the Spaniard was one of the key reasons behind a successful first test of sprint qualifying.
"I actually congratulate him for making [sprint qualifying] pretty exciting," Ricciardo told Sky Sports F1. "His start was phenomenal, kept us on our toes. I think as well, it's cool to see there's always the question, like with any sport, is age a factor?
"I think his racecraft this year has probably been the best on the grid – at least at times. It's cool to see that. If you've still got a passion and a real drive for it, you can keep doing it at a very high level."
Fernando Alonso's #F1Sprint start was absolutely ridiculous 💪 #BritishGP 🇬🇧 #F1pic.twitter.com/0sEvwy2ZIh

— Planet F1 (@Planet_F1) July 17, 2021
You can follow all the action from the brand-new sprint race weekend via F1 TV Pro! Subscribe here for the ultimate F1 viewing experience.
F1 TV Access, meanwhile, is available in over 30 territories and the full list of eligible countries can be found here.
McLaren earned themselves a lockout of the third row in the first outing of sprint qualifying after jumping Sergio Perez following his spin, and Ricciardo offered positive feedback of the fledgling format.
"I enjoyed it, it was all right," he said. "My favourite day of race week is Sunday and that's because it's a race. I like the start, the intensity of it all and wheel-to-wheel racing.
"With this format, we get to do it twice in a weekend, so for me it's a win. I like it."
The Australian has shown improvement over the course of the British Grand Prix weekend, getting closer to team-mate Lando Norris and starting from the third row on Sunday alongside his fellow McLaren driver.
While Ricciardo is still lagging behind in the Drivers' Championship, he said he feels more at ease with his car at Silverstone.
"It's definitely been a better weekend," he said. "Austria didn't feel bad, it's just that [I] was just nowhere.
"This weekend I think we just started on the right footing. In qualifying yesterday I felt like we had a good car and it gave me confidence to push.
"I know two-thousandths [gap] is kind of painful after the year it's been so far, but I don't want to have that mindset. It's much better than it was a few weeks ago.
"Andreas [Seidl, team principal] saw me after qualifying and I was still pretty fuming. There were a few things I was frustrated and he said 'I like that you've made this step and you're still kind of furious', so it's a good sign."
Follow us on Twitter @Planet_F1 and like our Facebook page