Daniel Ricciardo handed Abu Dhabi grid penalty for first-lap Kevin Magnussen crash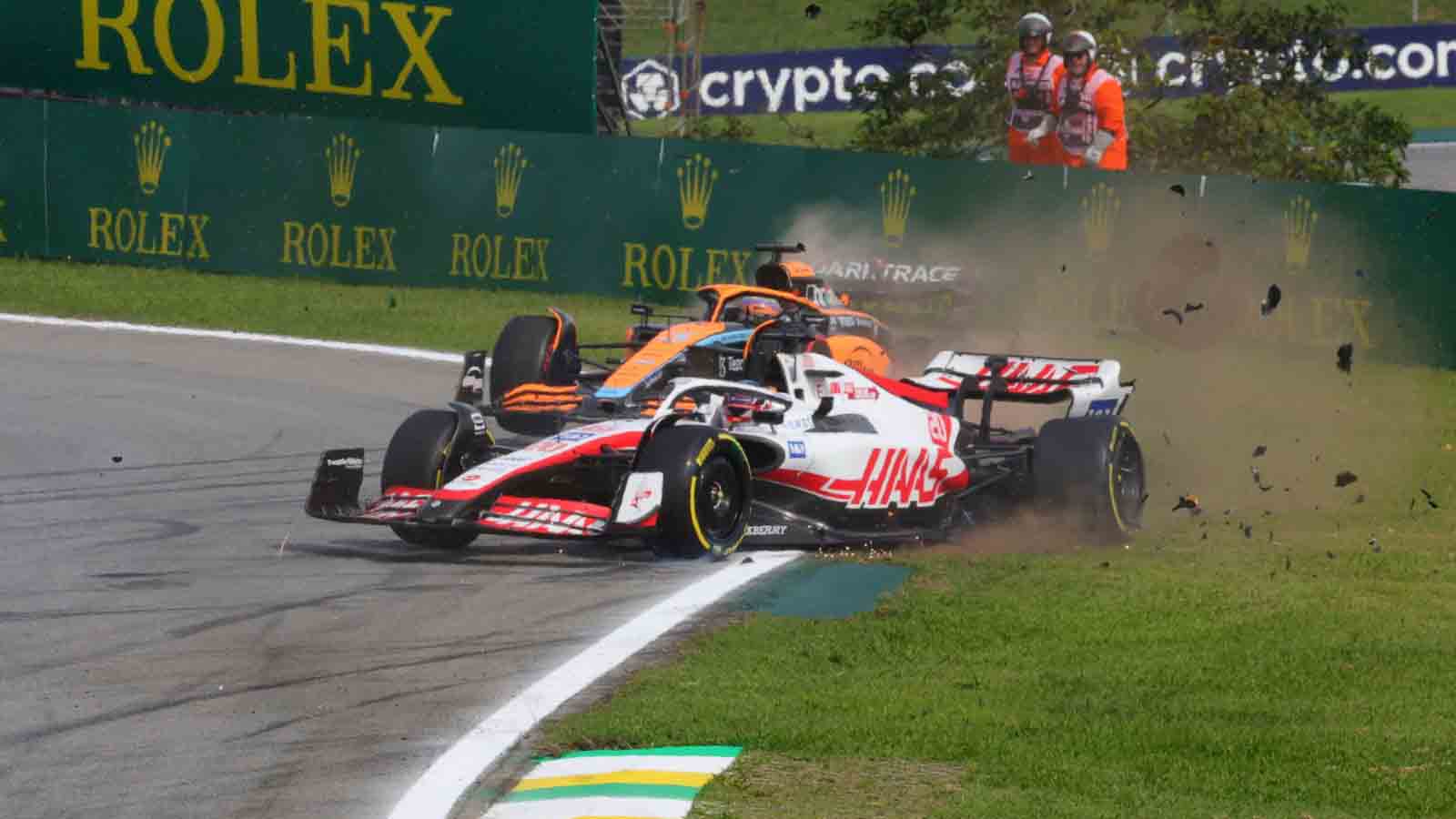 Daniel Ricciardo has been given a three-place grid penalty and two penalty points on his Super Licence for being found to have caused his first-lap collision with Kevin Magnussen at Interlagos.
The McLaren driver tagged the right-rear of Magnussen's Haas at Turn 8 on the first lap, which sent the Dane into a spin and travelling backwards onto the grass.
Ricciardo had no room to move to the other side of Magnussen, however, and there was a second piece of contact between the two which caused both to retire from the race – and following an investigation, the stewards found the Australian culpable for the crash.
The stewards' verdict read: "Ricciardo made contact with Magnussen at Turn 8 on lap one, which caused Magnussen to spin, and subsequently both cars crashed.
"McLaren explained that in their view Magnussen was slower at the exit of turn eight than the other cars ahead, which made it difficult to judge the closing rate, as the two cars interacted.
"Ricciardo explained that in his view, he had slowed sufficiently that he was not going to collide with Magnussen and that he slightly misjudged it.
"The Stewards acknowledged that the incident was not reckless. However, they determined that the incident was between two cars and was not influenced by multiple other cars and is therefore not a 'first lap incident.'
"The Stewards determined that Magnussen drove in a normal manner for that corner, and that he did not make any erratic moves.
"Thus the Stewards determine that Ricciardo was wholly to blame for the incident and issue a drop of three grid places for the next event."
Ricciardo was left frustrated after his penultimate race with McLaren ended prematurely, heightened by the fact that exiting the race on the first lap adds an extra layer of annoyance for both drivers.
"I felt like it was clear in [Turn] 8 in terms of, I felt like that I backed off enough to just kind of follow the line there and then, yeah, kind of at the apex, I didn't really expect to touch," Ricciardo elaborated.
"I thought we were kind of clear and then before you knew it, I was in the back of Kevin.
"So turned him around, and then obviously I tried to avoid the second part and that was that. It is one of those things, it's lap one, but I thought we were in the clear.
"But I don't know, he kind of tried to square the corner up and focus on the exit. So it's obviously tight but I think more than anything, it's just lap one incidents, you know, they're the worst.
"Whoever's fault it was, it's more just it sucks for both of us."
Read more: Sergio Perez: Max Verstappen team order snub 'shows who he really is'