Ricciardo 'hated every second' of apology to Sainz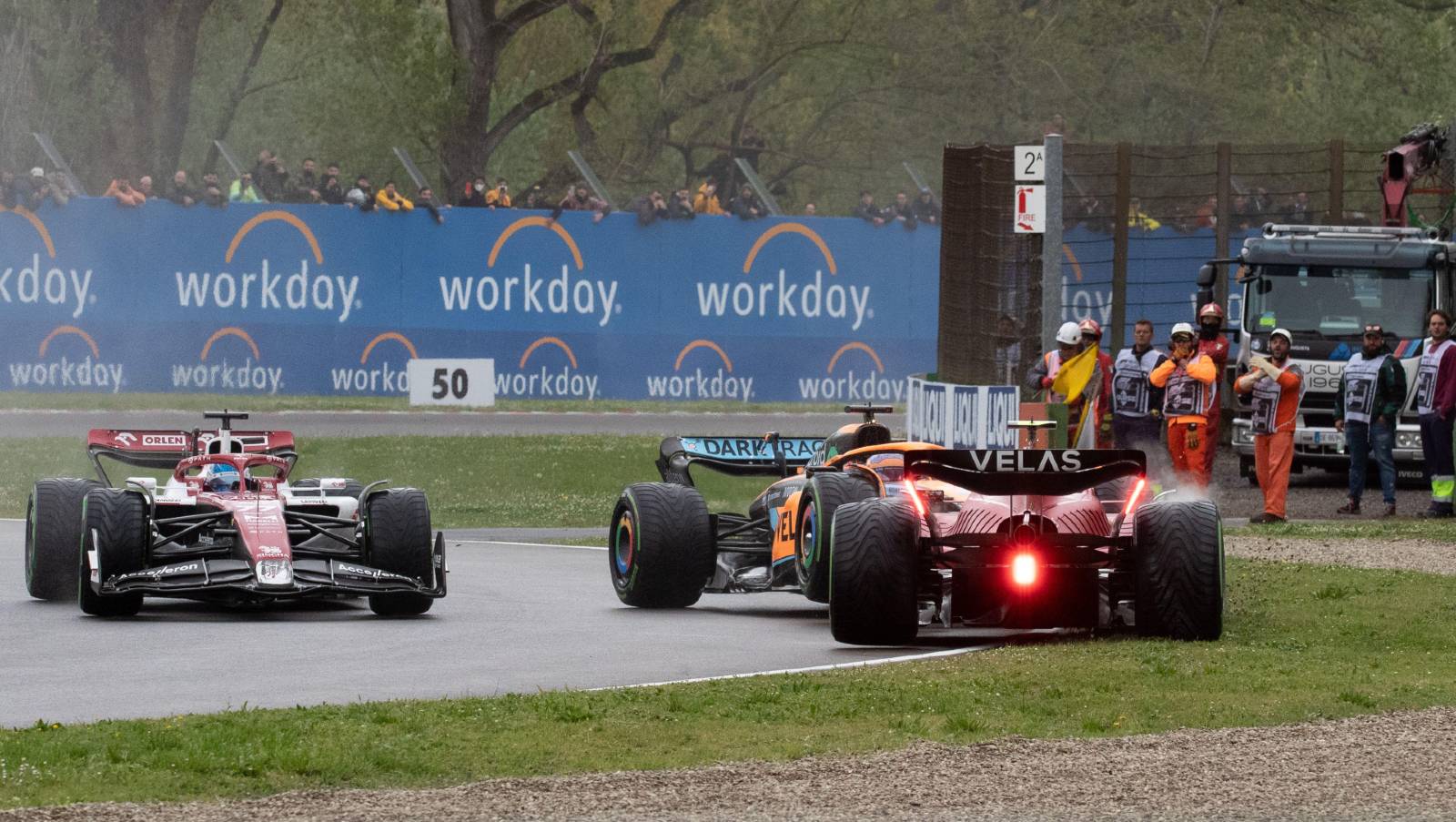 Daniel Ricciardo has joked he "hated" having to apologise to Carlos Sainz after the Emilia Romagna Grand Prix.
But in all seriousness, the Australian "felt better" for what he had initiated and believes there will be no hangover from their Imola first-lap incident when they find themselves battling again.
On a damp circuit, the McLaren and Ferrari were alongside each other at the Tamburello chicane with Ricciardo on the inside when they made contact, Sainz having appeared to leave his rival enough space.
Ricciardo's car went into the side of Sainz's, nudging him into the gravel and out of the race as the Spaniard became beached whereas the McLaren was able to continue – albeit uncompetitively as slight damage and a couple of no-risk strategy gambles that failed to pay off meant he finished last of the 18 finishers.
Afterwards, Ricciardo took responsibility for the incident and said in his post-race interviews he would seek out Sainz and apologise – which he did, having been seen on TV footage at the door of the Ferrari hospitality unit.
Sainz later praised his rival for doing that, saying it "honoured" Ricciardo and that the Ferrari mechanics had also been impressed with the gesture.
During an interview with Trevor Noah on The Daily Show in New York, Ricciardo suggested it was not an easy thing he had found himself doing.
"I hated every second of that apology" 😉 – @danielricciardo discusses staying friendly in Formula 1 pic.twitter.com/69dlFmLW1Q

— The Daily Show (@TheDailyShow) April 29, 2022
"I hated every second of the apology," said Ricciardo as he and the show's presenter laughed.
"Again, I think probably just like with experience and just being in it (Formula 1) for so long I know I have, I guess, the maturity now to know how much we all put into it.
"And as competitive as we are, we all have something strongly in common and there's only 20 of us in the world that do it, there's only 20 F1 drivers, so you kind of just respect everyone's journey.
"And so the incident, if I hold myself accountable for something, then I feel like I want to just apologise.
"It's nothing personal. I don't think everyone would do it, but for me I just felt better by doing it, so we kind of like clean slate for the next one and I know when we come alongside each other on track next there will be an intensity but nothing heightened, I guess."
Ricciardo will be heading south from New York to Miami for the inaugural grand prix in the Florida city on May 8.
Troubles for Sainz continue - Imola GP Conclusions
Carlos Sainz had a weekend to forget at the Emilia Romagna GP at Imola. His struggles to start this season partnered with his inability to get a proper handle of the Ferrari F1-75 is leading to problems for the Spaniard.