Ricciardo jokes: Max has agreed not to fight me hard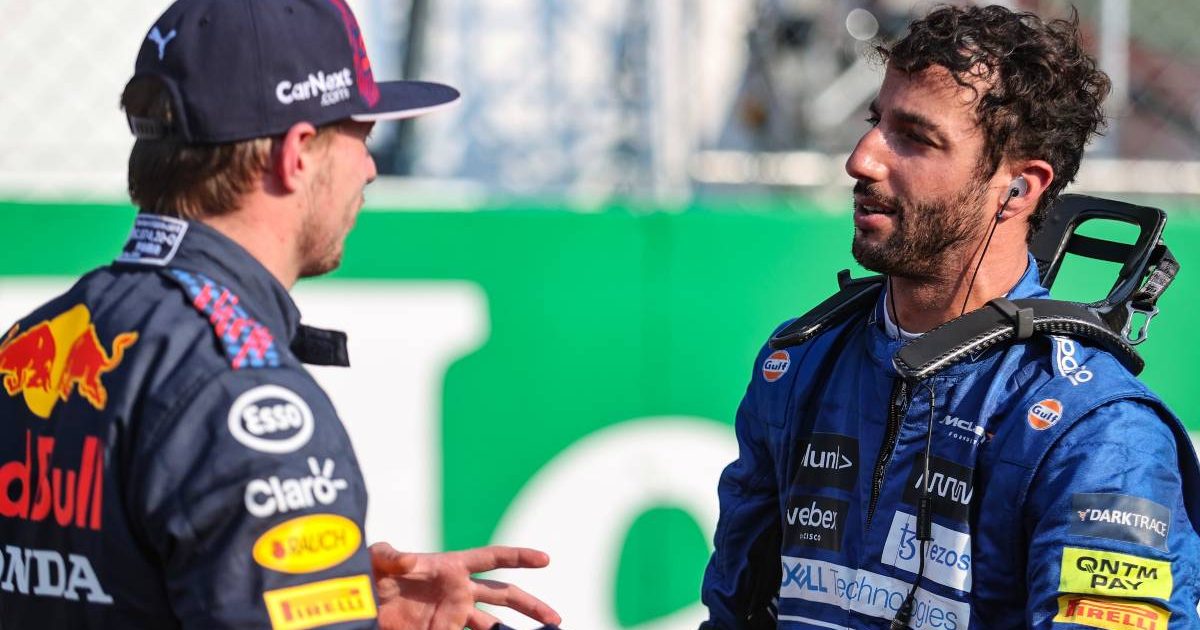 Daniel Ricciardo had a jovial, and rather hopeful scenario for how he and Max Verstappen should approach the Italian GP start.
Verstappen crossed the line P2 at the end of sprint qualifying with Ricciardo in P3, and so, with winner Valtteri Bottas dropping to the back of the Italian GP grid due to an engine penalty, Verstappen and Ricciardo will form the front row for the race.
It is by far Ricciardo's best qualifying display in McLaren colours, and if he wants to deny former Red Bull team-mate Verstappen the victory, then the Aussie will need to get creative.
His sarcastic plan though certainly ticked the box for creativity, as he looked to play on his Italian heritage, and Verstappen's title aspirations.
"Max has won a few too many races this year so he said tomorrow, because of the Italian heritage as well, he's not going to fight too hard," Ricciardo jokingly told Sky F1.
"He just said 'look if you get the start, I'll just defend the rest for you'.
"Because it's still good points for him in second, I'll give him fastest lap."
Of course, that is never going to happen in reality, but Ricciardo's real plan still involves finishing on the podium.
But with Lewis Hamilton in the Mercedes starting P4, and Bottas potentially working his way back through the pack, Ricciardo believes McLaren's pit stops will be critical.
"Podium is the objective, that is the target," Ricciardo confirmed.
"With the pit stop that is where we have to be, I don't want to say careful, just smart tomorrow because that is where the faster cars, the Mercedes, would have a chance to undercut or overcut.
"So that window will probably dictate a lot of our race."
Nice medal, @DanielRicciardo. 🥉#F1Sprint #ItalianGP 🇮🇹 pic.twitter.com/IEAeSoa8Sw

— McLaren (@McLarenF1) September 11, 2021
F1 TV are offering PlanetF1 readers 10% off both monthly and annual subscriptions! In order to claim this fantastic discount, click the following link and use the promo code PLANETF10 at checkout!*
*The offer ends at midnight on September 12 and excludes Netherlands
Since returning from the summer break, Ricciardo has looked a driver reborn, far improved upon his struggles in the first-half of 2021 since joining McLaren.
But it was not so much the car which has changed, Ricciardo said mentally he just needed the summer break, explaining that he instantly came back feeling better for the Belgian Grand Prix.
"It's encouraging, the first six months was tricky, but I think having the August break to just actually get away for a little bit and step away, [I] just reset," Ricciardo explained.
"Already, Free Practice 1 in Belgium I just felt better, I think I just needed that time away, especially with the calendar, the schedule, you are always in it, and you don't actually get a chance to remove yourself.
"That helped me just reset, and I feel a lot better."