Daniel Ricciardo proves a hit with the crowd on Late Show with Stephen Colbert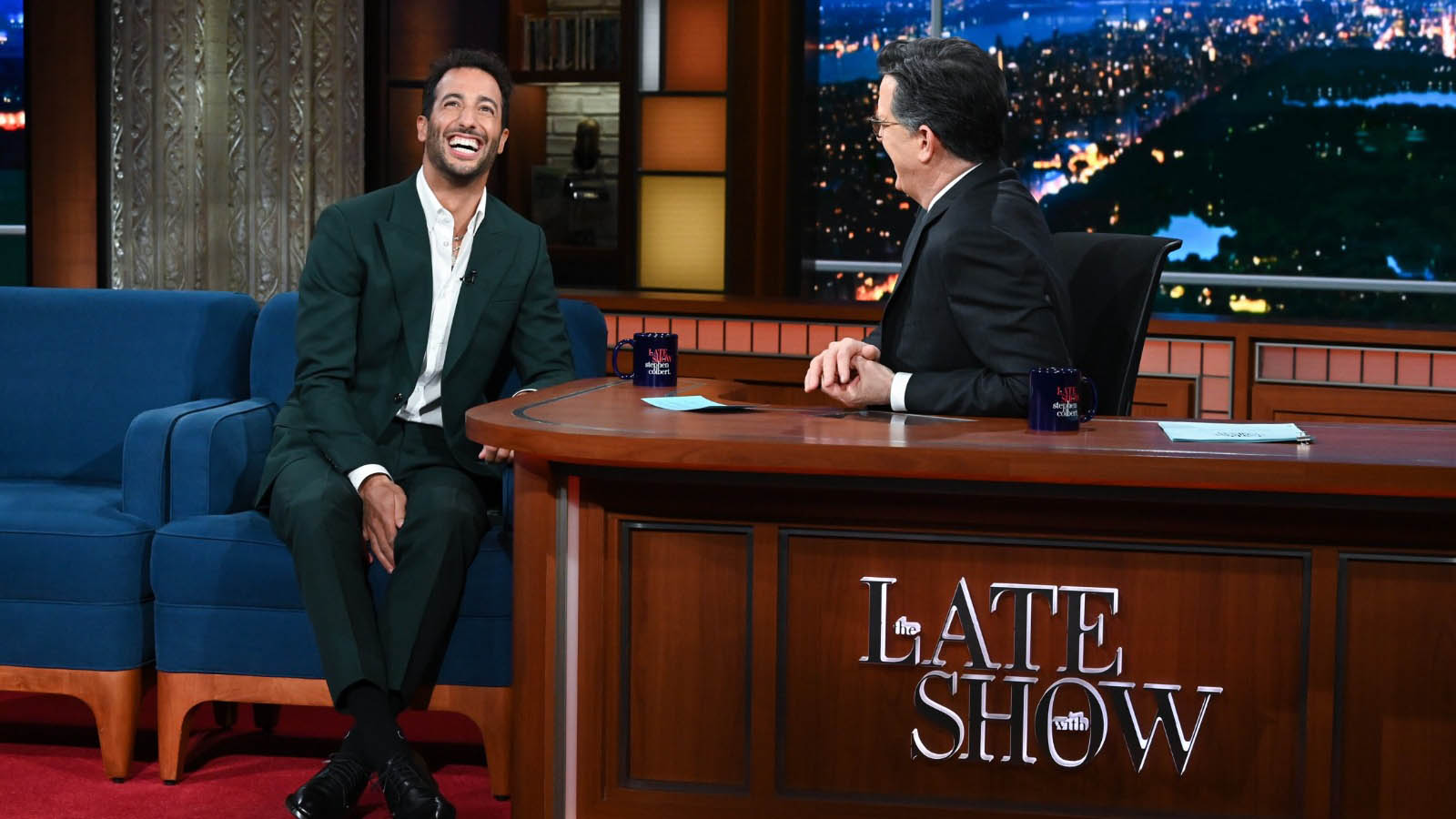 Ahead of Red Bull's RB19 launch in New York City, Daniel Ricciardo made an appearance on The Late Show with Stephen Colbert.
And, this will not come as a surprise to any of you, it took all of five seconds for him to crack his first joke as his infectious personality shone through in what was a quick-fire interview on Thursday night.
Colbert started by asking Ricciardo what he felt the reason was for F1's rapid rise in popularity across the United States and he got a typical Ricciardo response.
"I was gonna say something serious, but I think ultimately it's probably my good looks!" Ricciardo joked.
"I think it's the Drive to Survive series on Netflix which has kind of blown up. I think that's put F1 on the map worldwide.
"They're about to go into season five which is pretty wild. There's parts of the world where it's always been big, you know, like Europe, Formula 1 has always existed for many, many, many years and there's always been like a core following there.
"I knew the States…I feel it was inevitable to blow up here because you do sports so well and it was just, I would say, a matter of time but I feel like it accelerated through this Drive to Survive show."
PlanetF1 recommends
Red Bull Ford partnership rumours escalate ahead of New York City launch
Pat Symonds spotted an early sign that Red Bull were 'on top' of porpoising problems
Ranked: The 10 possible F1 2024 destinations for Daniel Ricciardo in order of likelihood
Ricciardo was also asked why F1 was so big in Europe to begin with, to which he replied: "That's like the hub of motorsport and Formula 1, like a lot of the teams are based there.
"So even like me coming from Australia, that's where I knew I needed to be. I needed to be in Europe. I needed to be there that's where like a lot of the teams are, the sponsors are and ultimately the industry.
Ricciardo also got a huge cheer when quizzed on the different fanbases he encounters around the world, saying there is a strong connection between Aussies and Americans.
"I mean, Australians and Americans are very similar. I feel like just very, like rowdy fun. Like yeah, let's hang for a beer later!"
Ricciardo is Stateside due to his new third driver role with Red Bull as they launch the RB19 in New York on Friday and this appearance on The Late Show with Stephen Colbert was a reminder (if anyone needed one) of just how much of an asset he is in promoting and showcasing F1 to a mainstream audience.
Featured image credit: Scott Kowalchyk/CBS ©2023 CBS Broadcasting Inc.