Ricciardo: Hamilton 'wasn't exaggerating' his back issues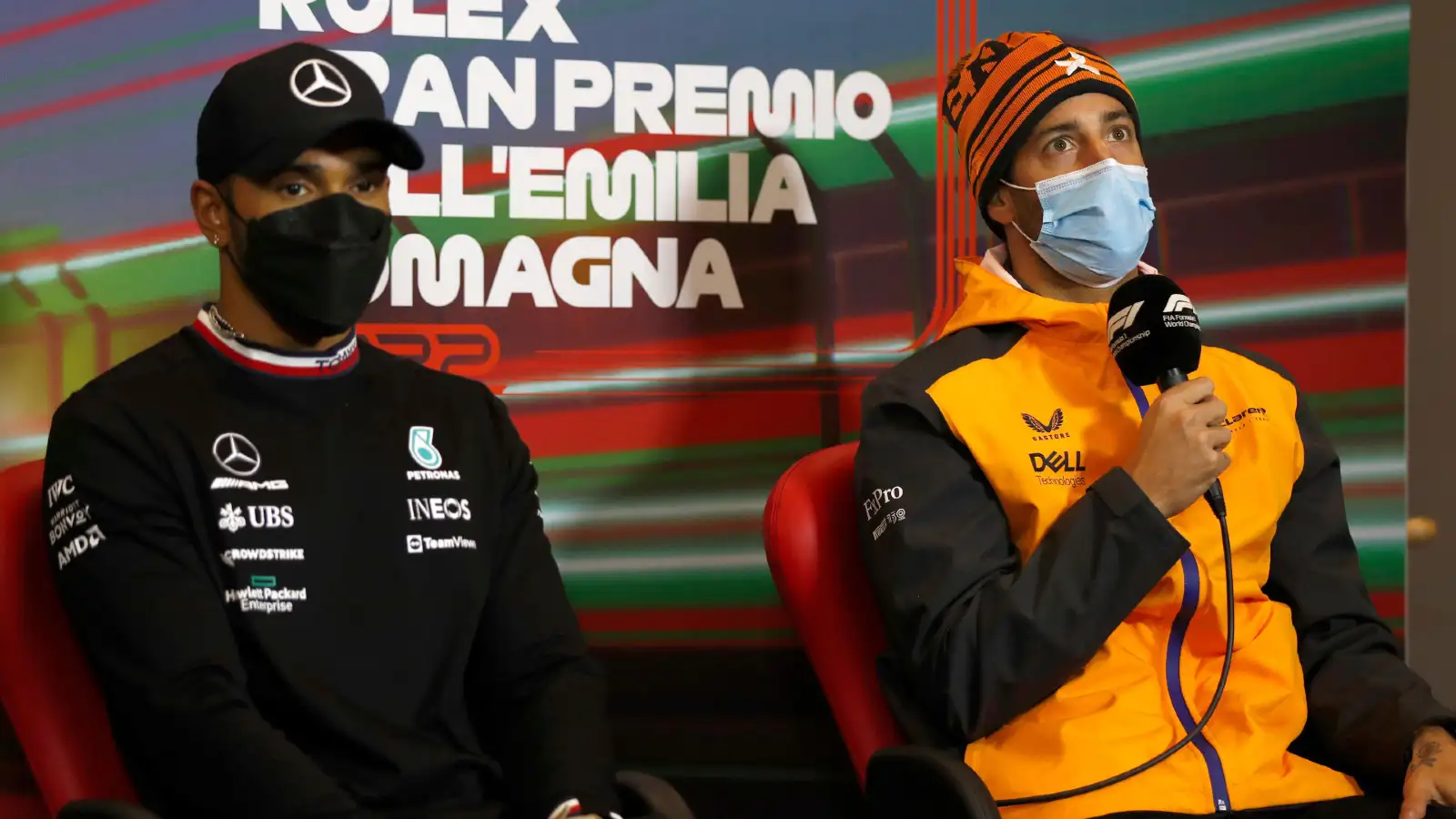 McLaren's Daniel Ricciardo has come forward to say Lewis Hamilton was not exaggerating his back pain at the end of the Azerbaijan Grand Prix.
The Australian has become a supportive voice behind the drivers criticising the extreme level of porpoising being seen on certain cars after a very painful race weekend in Baku for some.
With the aerodynamic phenomenon particularly strong on the long, bumpy straights of the Baku City Circuit, both Mercedes drivers, Lewis Hamilton and George Russell, spoke about the need for changes to be made to reduce the problem.
Other drivers, such as Carlos Sainz, Kevin Magnussen and Pierre Gasly, have also voiced concerns about the potential for long-term damage to be inflicted on the drivers due to the punishment their backs are taking from the cars bouncing along the straights.
Hamilton could be seen struggling to climb out of his Mercedes W13 after crossing the line in fourth place, having been heard on team radio complaining about a "cold back" – Mercedes have since explained there was no reason for Hamilton's back to go numb other than porpoising-related numbness.
Ricciardo, who himself said he was feeling "rattled" as McLaren encountered porpoising in Azerbaijan, said he had started to feel the same problems teams like Mercedes are encountering, and has since spoken more about the issue.
"There was talk about Lewis after the race," Ricciardo said in an interview with the Press Association.
"I saw some of his on-boards, I saw pictures of him getting out of the car and stretching his back, and he wasn't exaggerating. It really was uncomfortable.
"The good thing is it's very visible. If you have the car's audio, you can hear it jumping and bouncing, and from the images you can see the helmet is moving around too. It's not normal or comfortable. The position we sit in the car, we don't have much room to move so we aren't prepared for the impacts.
"If that's up to a rule change, or the way the teams are setting up the cars, I'm not 100% sure. But I wouldn't like anyone to go through any unnecessary injury or pain.
"We've spoken about it throughout the season but with Baku being such a big one, I'm sure it will get discussed in the drivers' briefing on Friday [at the Canadian Grand Prix]."
Hamilton's season has been tough throughout, even aside from the physical pain he is encountering while driving. His new team-mate Russell has been consistently quicker in qualifying and on race day, and has racked up a 37-point advantage over Hamilton in the Drivers' Championship.
Despite that, Ricciardo said he has full faith the seven-time former World Champion is still at the peak of his powers and simply needs the machinery to show it.
"I definitely think Lewis is as capable as ever," he said.
"We all knew George was quick, and it was just 'how quick is he? How good is he?' And he's proving he's very good. But I also wouldn't count Lewis out for having the ability to win this weekend, for example. I don't think he has lost anything – no, not at all."
Hamilton in agony but Mercedes pick up pieces
George Russell got on the podium again for Mercedes and Lewis Hamilton finished P4, albeit in a lot of pain.