Ricciardo: Max has ironed out much of his aggression
Daniel Ricciardo thinks Max Verstappen has "ironed out" much of the on-track aggression he displayed in his early years of F1.
The Australian, who was Verstappen's first team-mate after being promoted to Red Bull, knew all too well from their days together as colleagues how hard the Dutchman is capable of racing.
Their most famous collision was probably in the 2018 Azerbaijan Grand Prix, when they both crashed out, but there was another the previous year in Hungary – where the F1 circus has just decamped for the last race before this season's summer break.
Verstappen's style is in the spotlight following his dramatic exit from the British Grand Prix after touching wheels with Lewis Hamilton at Copse corner, the 51G impact into the barrier causing the 23-year-old to be taken to hospital for checks.
The World Championship leader was shaken and bruised by the incident and Ricciardo is pleased to be lining up alongside him at the Hungaroring, while he also acknowledged the way in which Verstappen has toned down his youthful over-exuberance.
View the latest Daniel Ricciardo merchandise on the official Formula 1 store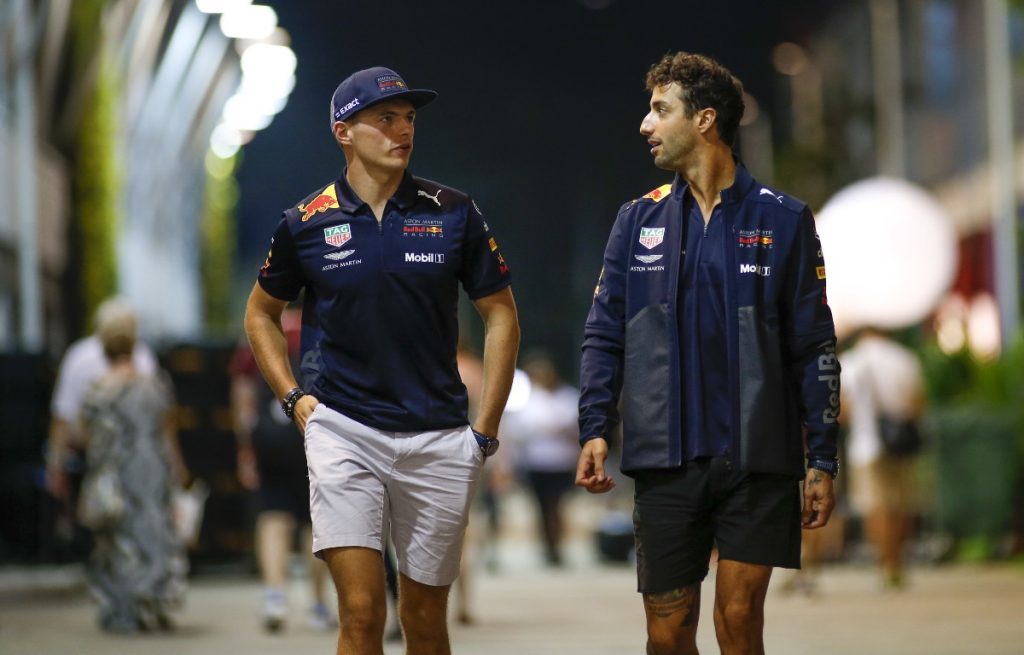 "The main thing was that Max got away safely. He was tested [in hospital] all evening but he is here racing this weekend," said the McLaren driver during his press conference on the eve of the Hungarian Grand Prix weekend.
"For his health and wellbeing it's great, but also for the sake of the championship. There's a great battle going on between Lewis and Max, so for the health of the championship it's obviously great that he's here competing.
"Max was under a bit of pressure in his first couple of years in F1 with some of the moves and I definitely think he has ironed a lot of that out and matured as a driver.
"For sure, he will always race hard, but I think we were team-mates for three years and came together twice – that's pretty low numbers."
Ricciardo put the Silverstone collision down to a "racing incident", even though Hamilton received a 10-second penalty from the stewards which he nevertheless overcame to slash Verstappen's World Championship advantage to eight points.
"Watching Max's on-board, there was room on the inside. Of course, they were racing hard but I would say hard but fair. Max was respecting Lewis, or knew he was there and gave him a bit of room," explained the 32-year-old.
"You know what's what. I didn't really see anything out of line with the incident itself.
"Obviously, the consequence was really the big talking point and it's a shame it happened at one of the quickest corners on the calendar. But luckily, Max was more or less okay and he's here to race this weekend.
"Deep down, all of us know racing etiquette and when to squeeze and when not to. We are pretty clear with that."