Daniel Ricciardo on where Max Verstappen transitioned from 'young boy to man'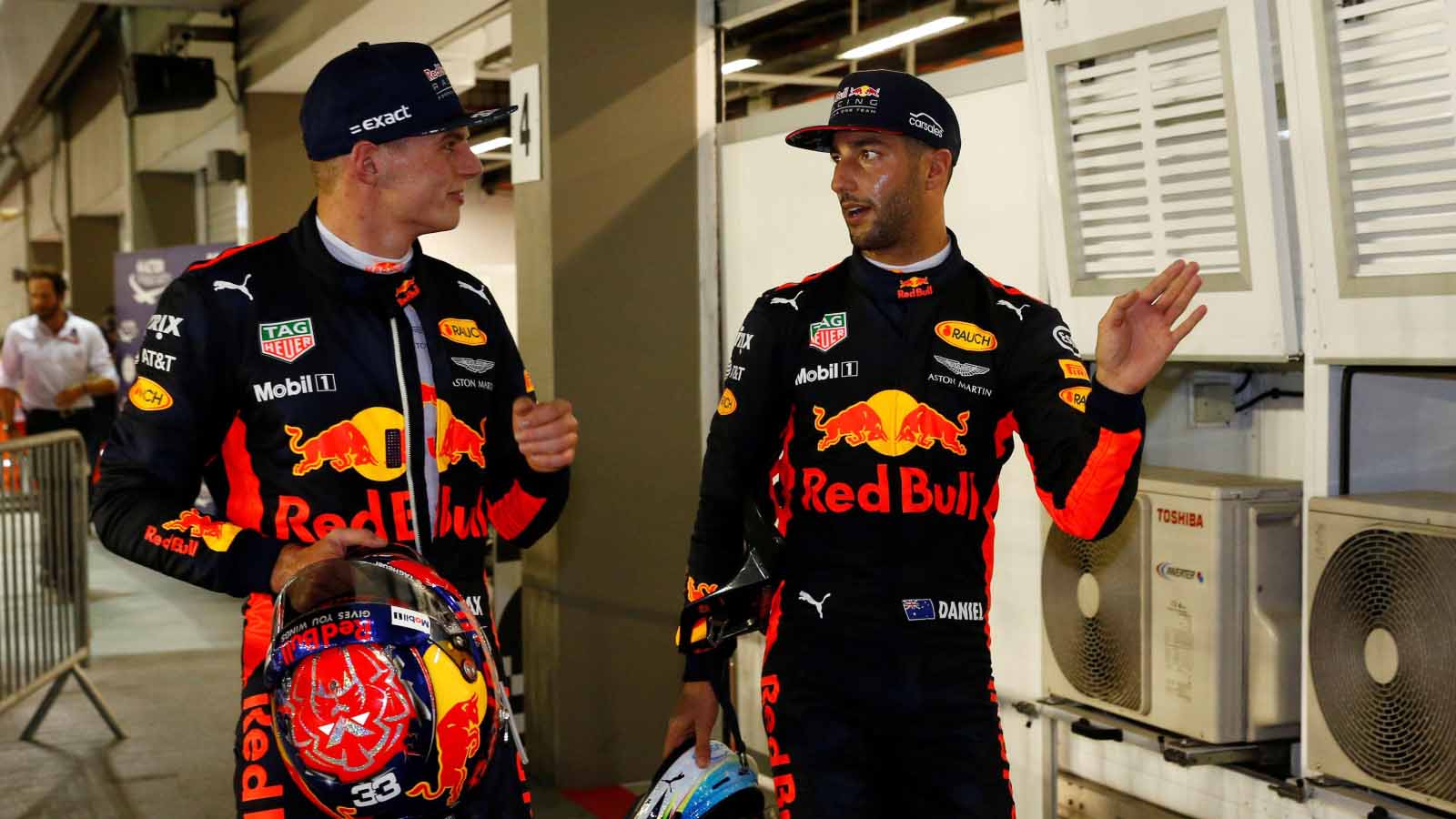 Daniel Ricciardo said his and Max Verstappen's third season together at Red Bull is where the Dutchman made significant gains in his performances, finding a new maturity which propelled him forwards.
Verstappen won his first race as a Red Bull driver when he promptly replaced the struggling Daniil Kvyat in early 2016, becoming Formula 1's youngest ever race winner in the process.
But on track, his driving was still raw in places as he had multiple accidents and crashes as he made his way in the early stages of his career, finishing behind Ricciardo in the 2016 and 2017 seasons, albeit spending four races in a slower Toro Rosso in 2016.
But the now-World Champion overhauled Ricciardo's advantage in 2018, finishing 79 points ahead of his team-mate as the Australian moved for the exit to take up a seat at Renault.
And it was in that year that the current McLaren driver thinks he came of age as a driver.
"He already kind of proved his speed from 2016, if not earlier, but in 2018, I remember the first four or five races he had crashes and quite a lot of mistakes," Ricciardo said in an interview with Viaplay.
"He quickly found a way to fix that and mature a lot. I think in 2018 he made the biggest transition from young boy into man, with some off-track maturity.
"It made on his track results more consistent. To go on and see what he has done, if it can't be me, I'm like: 'I'm glad it's him as at least I put up a fight to him.'
"It makes me look okay!"
Dynamic between Max Verstappen and Daniel Ricciardo gradually shifted at Red Bull
Ricciardo was very much the senior figure at Red Bull when Verstappen was rapidly promoted at short notice early in 2016, but the growth in his experience slowly made him catch up and eventually begin to beat Ricciardo in the sister car more regularly.
Team principal Christian Horner accused Ricciardo of running from a fight when he made the shock decision to move to Renault for 2019, part of his reasoning said to be that he could see the team shifting towards being more Verstappen-centric after the young talent beat the Australian in the Drivers' standings in 2018, with Ricciardo not wanting to play second fiddle at Red Bull.
But even if Ricciardo had opted to stay, the step Verstappen took in 2018 raised him up a level and whether the eight-time race winner would have been able to keep up or not remained to be seen.
In hindsight, a Mark Webber/Sebastian Vettel-esque change in team dynamic would have been increasingly likely the longer their partnership went on.
Read more: F1 2023 schedule: Record-breaking 24 race calendar announced by the FIA