Ricciardo on Merc pace: Don't be bitter, be better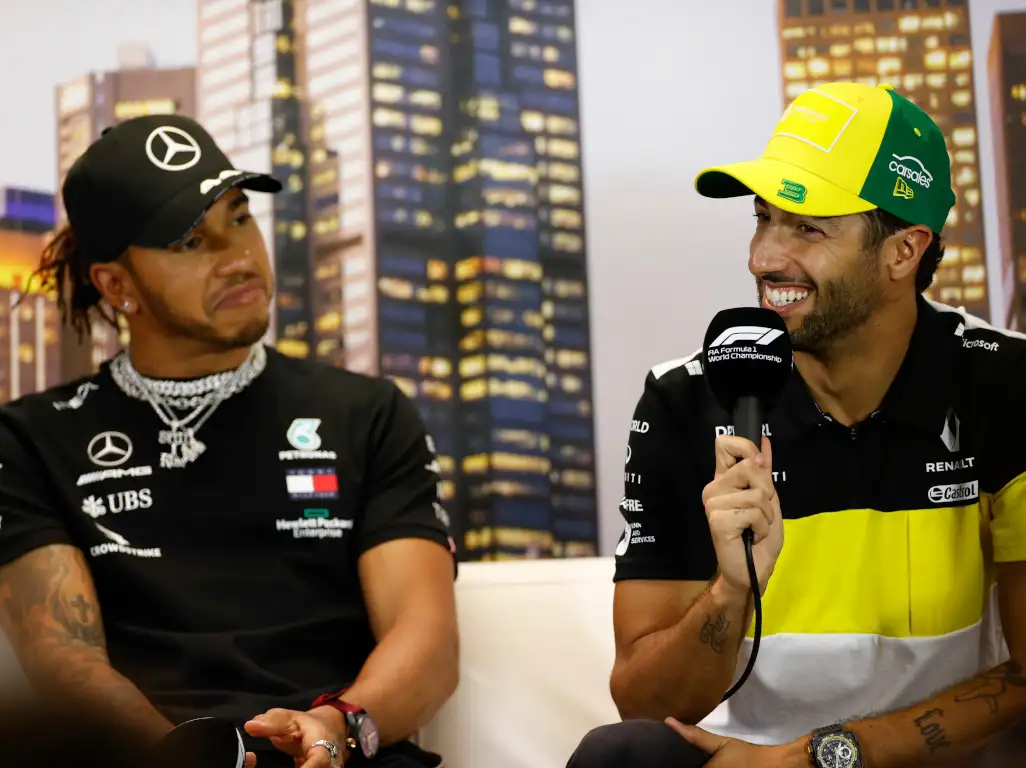 Seemingly racing towards a seventh successive double, Daniel Ricciardo says rivals shouldn't be "bitter" about Mercedes' dominance and rather use it as "fuel" to do better.
After three races of the 2020 season it already looks as if Mercedes are on course for a seventh consecutive championship double, having dominated F1 since 2014.
Lewis Hamilton is leading the Drivers' standings ahead of his team-mate Valtteri Bottas, the Brit already 30 points ahead of the best-placed non-Mercedes driver, Max Verstappen.
Over in the Constructors', Mercedes has more than double the points of second-placed Red Bull and could extend that advantage this Sunday at the British Grand Prix.
The new F1 2020 game is out now! Order for PS4, Xbox One and PC
Hamilton and Bottas will start the race from the front row of the grid, Mercedes' third front row lock out in four races, with Hamilton's pole position time a full second quicker than Verstappen in third.
Mesmerising 💫

Come onboard @LewisHamilton's W11 for his record-breaking Pole lap at the #BritishGP 🔥 pic.twitter.com/mgu0xN2dNf

— Mercedes-AMG F1 (@MercedesAMGF1) August 1, 2020
Mercedes' dominance is proving frustrating for its rivals who had hoped to at least close the gap this season only for Mercedes to extend it.
Ricciardo says rivals should doff their hats to Mercedes, especially when then Brackley squad comes up with innovations such as its Dual Axis Steering, DAS, system.
"I feel like I've always been on the side of taking my hat off to them and putting the [onus] on everyone else to find what they're doing and to work a little harder or in another direction," the Renault driver said via RaceFans.net.
"Even the DAS system, I think, when I saw that in winter testing, I was very complimentary because they have the ability to be the most complacent team on the grid yet I feel they are the least complacent.
"This is this is the bar that they've set and they keep moving.
"So it's admirable, it's frustrating as competitors, but I really hope for everyone, for all the teams, it's just more fuel for the fire and [they'll] just dig a little deeper to find some answers.
"I won't lie, it still is frustrating to see such performance. But all you can do is take your hat off to them, really.
"You can't be bitter, they are doing a great job."
But while Ricciardo may doff his hat to Mercedes, Toto Wolff concedes his team is "not making a lot of new friends" with its dominance.
For the second time in four race weekends, the Mercedes driver on pole position was more than a second faster than the fastest non-Mercedes car.
🤯🤯🤯

That's an 8th consecutive pole at Silverstone for the Team and career Pole No. 91 for @LewisHamilton!! 👊#BritishGP pic.twitter.com/XH0tIpLJMW

— Mercedes-AMG F1 (@MercedesAMGF1) August 1, 2020
"I think when you look at sports teams and their success, when it kind of tails off and goes, that's when you start to get complacent," Wolff told Channel 4.
"Also that happens when you started taking things for granted or when the team dissipates. We are all aligned, have the same values and objectives, and we want to stay together.
"But this [success] is no guarantee for the future.
"I guess with this kind of performance we are not making a lot of new friends, so we are getting attacks from every front, everything is being questioned, and that's another fight we need to sustain.
"But I guess you would rather have that then people having pity for you."
Follow all the action from the British Grand Prix with the PlanetF1 live centre