Ricciardo senses his 'moment' in chilly Germany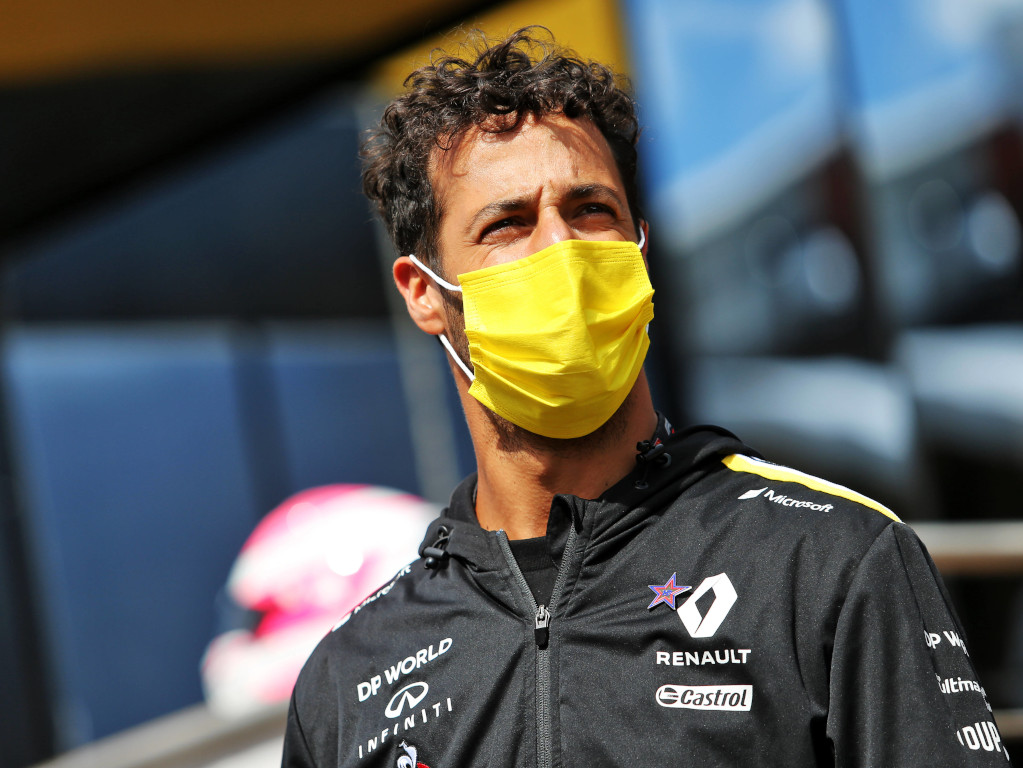 Daniel Ricciardo believes a continuation of the cold and wet weather at the Nurburgring could give a midfield runner such as himself the chance to "have your moment".
A dreary day in Germany enveloped the circuit in rain and fog and meant both Friday practice sessions for the Eifel Grand Prix were wiped out because the medical helicopter did not have good enough visibility to fly.
On a track that has not staged a Formula 1 race since 2013, the drivers will now have only FP3 on Saturday morning to acquaint themselves with the Nurburgring before qualifying.
Besides the rain, cold temperatures which could be in single digits for race day make this the chilliest grand prix most drivers will have experienced.
It all adds up to a highly unusual set of conditions – but which Ricciardo believes someone from outside the usual suspects of Mercedes duo Lewis Hamilton and Valtteri Bottas and Red Bull's Max Verstappen may well be able to exploit on Sunday.
"I think Germany wanted to steal Imola's limelight and become the first ever two-day race weekend. Tomorrow does look the driest of the three days so hopefully we should get some running in." @danielricciardo

Read it all 👉 https://t.co/aDvmmtfOff#RSspirit #EifelGP pic.twitter.com/q9X0hJS6nT

— Renault F1 Team (@RenaultF1Team) October 9, 2020
Get your hands on the official Renault 2020 collection via the Formula 1 store
"I'm excited to drive, but I was following the weather for the last week and wasn't excited to land in 10 degrees with colder for the weekend. I'm not built for the cold," the Renault driver told Sky Sports' Natalie Pinkham.
"Even in the dry, with such low track temperatures it's difficult to get the slick tyres going. I think that will be a challenge in itself.
"I don't think it will be a straightforward weekend, I think there will be certain challenges. But that's fine. You have a number of races throughout the year and you hope for varying conditions, so this could be the coldest track I've driven on in some time – I think probably even colder than we get in winter testing.
"There are other variables you're trying to deal with but I think that will be the big spanner in the works this weekend. Once the tyres drop below a certain temperature, it then gets more and more slippery and the only way to get them going again is to go faster and faster yet you're losing grip, so naturally you're going slower and it's a spiral effect.
"To get them going you have to take more risks when the grip's low, so that's a challenge but obviously we're all in the same boat in that situation. It's whoever holds it together the most, I guess.
"I've been saying 'when was the last boring wet race we've had?' so it does certainly throw some variety and some opportunity.
"I think for us in that midfield battle, these are the weekends when you really can have a chance and have your moment."
Follow all the action from the Eifel Grand Prix with the PlanetF1 live centre