Ricciardo no longer a 'sandbagging S.O.B'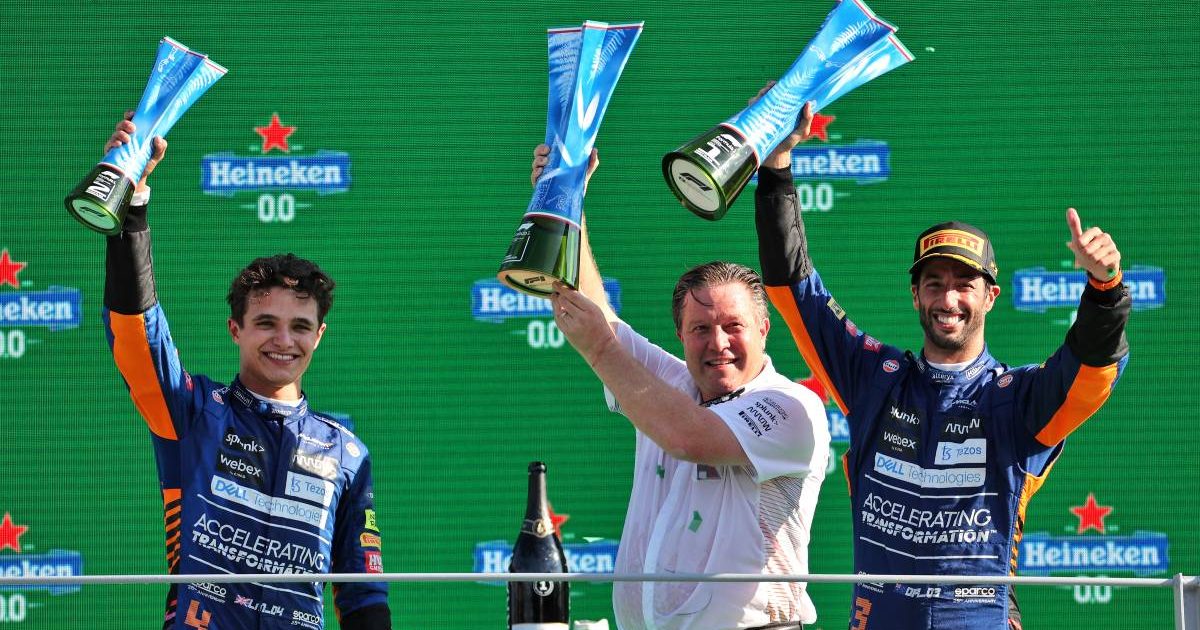 Daniel Ricciardo said he had a feeling on Friday that something good would happen at the Italian Grand Prix, and it turned out to be a victory.
The Australian repeated his strong start to sprint qualifying for the grand prix itself, this time making the pass on Max Verstappen to lead into Turn 1.
From there, the pit-stops would be crucial, but a very slow stop for Verstappen relieved all pressure on Ricciardo and after Verstappen and Lewis Hamilton had wiped each other out, it left Ricciardo leading and the other McLaren of Lando Norris in P2.
From there, McLaren charged on to record their first one-two finish since Canada 2010.
Asked about that fantastic start, Ricciardo told Sky F1: "Obviously it worked well for me yesterday, but to be honest even if we got the start, it was never a guarantee that I would lead the whole race.
"But I was able to just hold firm out front. The first stint, I don't think we had mega speed but it was enough just to keep Max behind.
"There were Safety Cars, there was this and that, but to lead literally from start to finish, I don't think any of us expected that."
The now eight-time race winner was not giving much away, but did reveal a feeling he had on Friday that something good was coming.
"I don't know, there was something in me on Friday, I knew something good was to come, so let's just say that," said Ricciardo.
Big Ric Energy. 🍯🦡#ItalianGP 🇮🇹 pic.twitter.com/qgGzBFUW0j

— McLaren (@McLarenF1) September 12, 2021
Stand out from the crowd with McLaren merchandise via the official Formula 1 store
Following this upset win, Ricciardo delivered a poignant message over the radio, addressing his struggles during the first half of his debut campaign with McLaren and the criticism which had mounted.
"Deep down I knew this was going to come, so thanks for having my back – and for anyone who thought I left, I never left, just moved aside for a while," he said.
Pushed for where this sudden return to form after the summer break has come from, Ricciardo initially was in a sardonic mood.
"Yeah, I've just been a sandbagging S.O.B the whole year," he joked.
"Thirds, fourths, fifths, you might as well just win, so that's what I did."
But as for the serious answer, he said: "Honestly, the August break was good, just to reset. I've felt better the last three weekends.
"And to not only win but to get a one-two, it's insane.
"For McLaren to be on the podium it's huge, let alone one-two, so this is for team papaya…I'm for once lost for words."