Ricciardo: Monza win 'worth every bad day and more'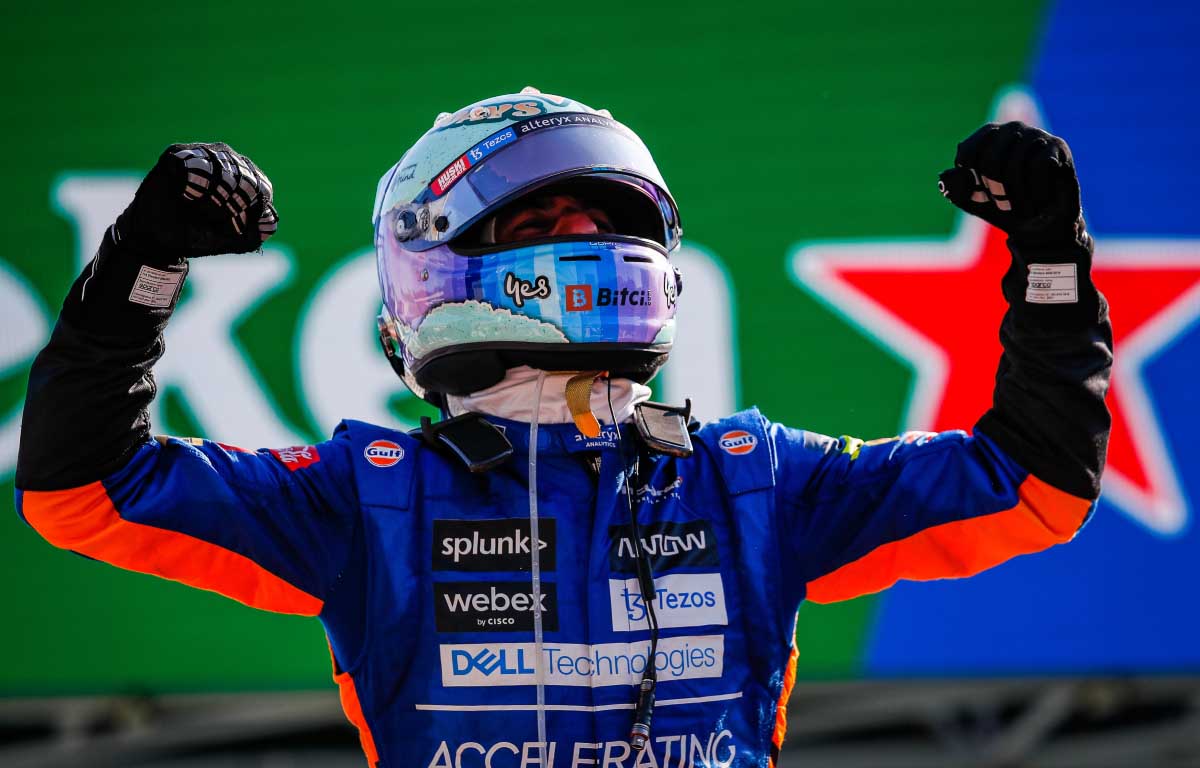 Daniel Ricciardo says his victory at the Italian Grand Prix this season was "worth every bad day and more."
It's been a difficult season for the Aussie in many ways, with him struggling to get to grips with his new machinery at McLaren and more often than not being second best to team-mate Lando Norris.
He has looked much stronger since the summer break though and that was particularly the case at Monza, where he claimed victory after getting ahead of Max Verstappen at the start.
That triumph more than made up for all the low points in 2021, he says.
It really meant everything to me," he told HYPEBEAST.
"One of the things I wrote after that was that it was worth every bad day and more. Sometimes it takes days like that to realize how cool the sport is and how much it means. All the lows I had this year, that win made up for and more.
"It was really cool personally to come through it and be able to score a victory. I'm sure given how the start of the season was, people would never have expected me to do that.
"I know there are people out there who know me and believe in me but to the majority, I'm sure no one expected that, so to be able to show that strength, will and desire to make it happen was amazing.
"And of course I was happy to break the drought. It's been a while since McLaren has won, and obviously Lando has had a few podiums this year, but I'm really happy to have gotten the win. That meant a lot to me."
The scenes in @danielricciardo's hometown of Perth 🥳🇦🇺

🎥 Subreddit r/Formula1#ItalianGP 🇮🇹 #F1 pic.twitter.com/8vEnzvKGc6

— Formula 1 (@F1) September 14, 2021
He led the race pretty much from start to finish, and it was the first time he had done since his time at Red Bull ended back in 2018.
Despite such a long time away from the front of the field though, being back there felt natural to him, which has says was "very important."
"I loved being the target and having everyone trying to chase me down. I loved leading again, it was such a nice feeling," he added.
"The most encouraging thing for me in that position was that it felt good and I was calm and confident. It didn't feel foreign or like a forgotten feeling, and that was very important to me.
"I was driving with a smile on my face and I really enjoyed every minute, though of course, I was also very relieved to see the chequered flag."
All things considered, while he admits there have been more tough moments than he expected, he'll remember this campaign fondly as it has given him "the highest of highs."
"I've had both ends of the spectrum, I've had more lows than I anticipated but then I also had a win which was a higher high than I expected," he said.
"It's been a whirlwind of a year but if the season ended today I would've walked away with the highest of highs so I'll take it with a smile and encouragement.
"I really like the team and the people and that's a massive part of it, and moving forward there are some encouraging signs of what we can achieve together, so there's so much to look forward to.
McLaren under pressure from Ferrari?
The gap between McLaren and Ferrari is now only three and a half points.