Daniel Ricciardo cites 'Nico Hulkenback' as an inspiration for F1 return chances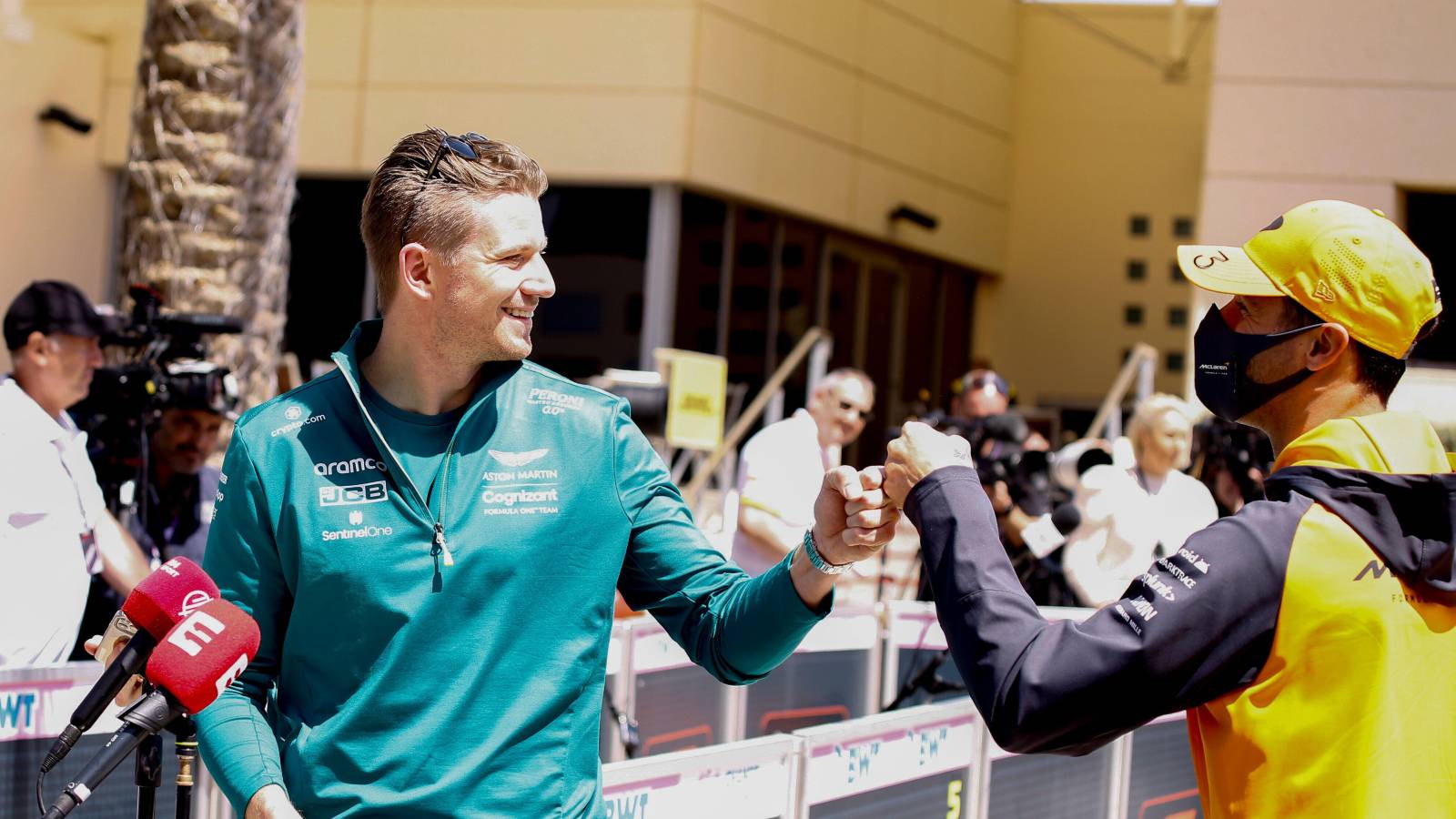 Daniel Ricciardo suggests a name change for Nico Hulkenberg upon his latest return, seeing him as proof that the door will not fully close.
Ricciardo is preparing for a season on the Formula 1 sidelines following his early McLaren exit, accepting a deal to become Red Bull's third driver rather than pursue an opening on the 2023 grid with a midfield outfit.
And as Ricciardo departs the grid, Hulkenberg is one of the drivers coming in, though not for the first time.
Hulkenberg's comeback days go way back, returning in 2012 with Force India, after leaving Williams at the end of 2010. Then as reserve driver for the team's future incarnations, Racing Point and Aston Martin, Hulkenberg appeared as a stand-in at the 2020 British, 70th Anniversary and Eifel GPs, as well as the 2022 Bahrain and Saudi Arabia GPs.
Now, Hulkenberg will return to the grid full-time in 2023 with Haas.
At this stage, you may as well call him 'Nico Hulkenback', says Ricciardo, who sees the German racer, as well as the likes of Fernando Alonso and Kevin Magnussen, as examples that once an experienced driver does drop off the grid, it is very possible to find a way back onto it.
"Hulkenback – he needs to change his name, because he's come back so many times now. It's no more berg, it's back," said Ricciardo, as per Crash.net.
"There is certainly something. I know myself obviously better than anyone knows me, and I know what I need or what I feel will help me and things like that, so I have confidence in taking the year off, because I know what good it will do for me.
"But of course then when you see other examples – and pretty good examples; Alonso or Magnussen, for example – that's kind of reassuring.
"We're all wired differently, and the year off could have a different effect on all of us, but actually I look at Alonso, for example, someone who loves racing all the time, and him having that time off and coming back.
I feel like for me to really remove myself a bit more than maybe what he would have done will be even more powerful for me personally and what I feel I benefit from.
"Long story short, that sort of stuff encourages me. It's the icing on the cake in terms of me feeling like I've done the right thing."
Daniel Ricciardo must control expectations to secure comeback
Understandably, Ricciardo has said previously that he wants to return to a position where he is in contention for wins and titles, rather than dive into a long-term project with a midfield team, though this may be a route that he is forced to go down.
Unless tensions flair between Max Verstappen and Sergio Perez again in 2023, and to an uncontrollable level, it is unlikely that Ricciardo will find himself sat in a front-running Red Bull from the get-go in 2024.
Of the examples he mentions, Alonso came back with the midfield Alpine team, the same true for Magnussen and Hulkenberg at Haas, which makes a comeback more realistic.
So, if Ricciardo decides that he wants to give himself the best chance of a place on the 2024 grid, then he may need another Renault or McLaren-style project.
Read next: Alex Albon can relate to how Daniel Ricciardo was feeling during F1 struggles