Daniel Ricciardo remains unconvinced by the idea of reverse-grid Formula 1 races despite Lewis Hamilton's surge through the field in Brazil.
The seven-time World Champion made up 15 places from the back of the grid in the sprint at Interlagos, having been excluded from qualifying as the rear wing on his Mercedes was deemed to be illegal by the FIA.
After then serving an engine penalty in the Sao Paulo Grand Prix itself, Hamilton improved his position by another nine places as, with a new power unit in his W12, he went from 10th to first to reduce his deficit in the title race to Max Verstappen to 14 points.
They were thrilling performances – and in particular, the one in sprint qualifying illustrated perfectly just what can be produced and achieved when the fastest cars start at the back.
However, Ricciardo, who was among those Hamilton passed in the sprint to ensure he started one place ahead of the Australian in the race, does not want to see such instances introduced to F1 as a matter of course.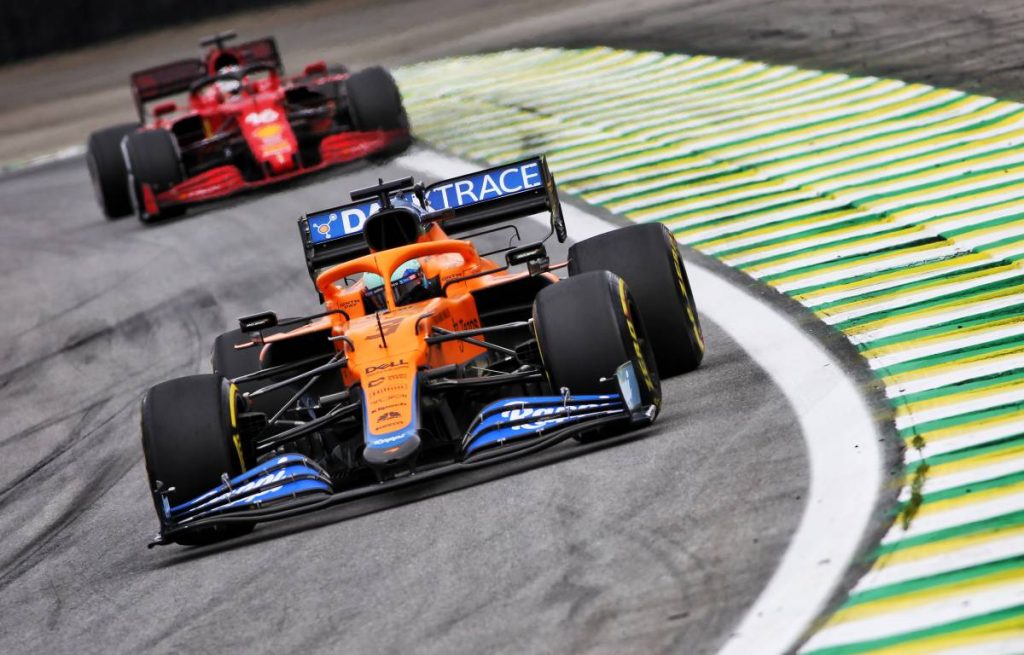 "Lewis having to start at the back certainly made the [sprint] race more exciting to watch," said the McLaren driver.
"The sprint race benefited from that. But I also think a win should remain a real win.
"A sprint race has less value [than the main race]. Even then, you want the winner to feel at the finish that they were really the best.
"If you only win because of a pole position, which you got because you were the slowest in qualifying…I don't know how much satisfaction that gives."
Ricciardo's comments are in contrast to those of Ferrari team principal Mattia Binotto, who doubled down after the Brazil weekend on his previously-stated opinion that reverse grids would be good for the sport.
"To be honest, I think it works," Binotto, who saw Carlos Sainz collect a World Championship point for Ferrari by finishing third in the Sao Paulo sprint, told Motorsport.com.
"Because of all the overtaking, that's very fun to watch. I think we should consider it for the sprint races. Now we've seen what happens then, we don't need to discuss it for long."
Three sprints have taken place this year at Silverstone, Monza and Interlagos and that number will be doubled to six next season with Ross Brawn, F1's managing director of motorsports, saying in his latest column for Formula 1: "This was, in my view, the best of the three.
"We think the foundations are very strong for the sprint and will be presenting more details of our plans for six events in 2022 in the coming weeks in discussions with the FIA and the teams.
"There are things we need to tweak, but Brazil showed the sprint is a great addition to the weekend and has made Friday, Saturday and Sunday big moments that are exciting for all of us."