Daniel Ricciardo explains why he owes George Russell a beer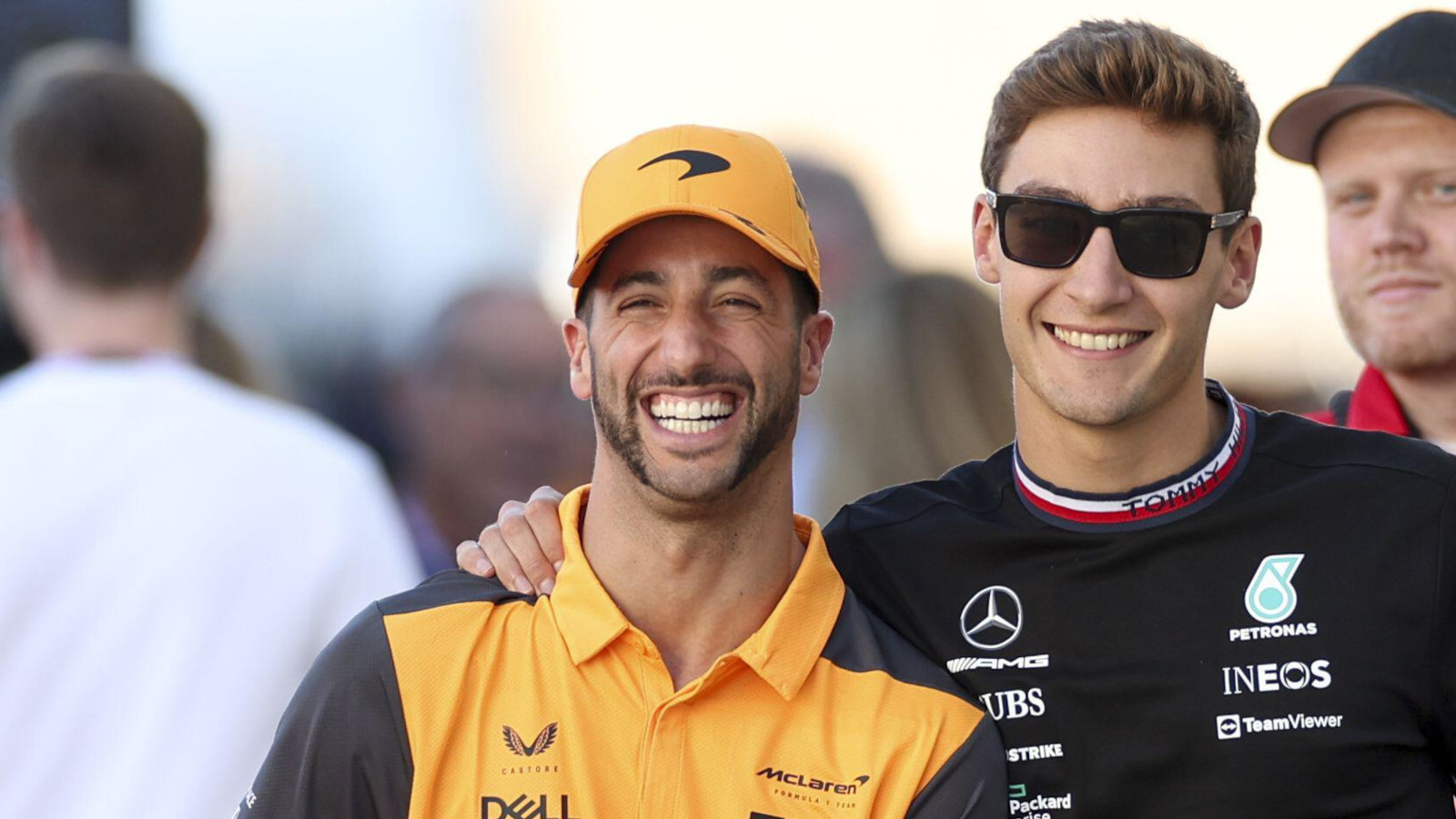 Daniel Ricciardo plans to buy George Russell a beer after the Mercedes driver helped him secure seventh place at the Mexican Grand Prix.
Ricciardo was back to his Honey Badger best at the Autodromo Hermanos Rodriguez as he set about recovering from a 10-second penalty for causing a collision with Yuki Tsunoda.
The McLaren driver was 12.5s behind Esteban Ocon at the time with several cars between him and the Alpine.
One by one he overtook them and the Frenchman to run P7 on the track. But in order to keep that position he needed to put 10s between himself and Ocon, he managed to pull away by 12.
But there was a worrying moment late in the race as Russell, running fourth, began to close in on the back of Ricciardo to lap him.
That would have meant blue flags with the lapped driver almost always losing time as they move out of the way… and then Mercedes pitted Russell.
Ricciardo was very grateful.
"In the last laps I was quite nervous because George was very close to triggering a blue flag for me," he said as per Motorsport.com.
"I knew I would lose a couple of seconds with that and that would have dropped me back into Ocon.
"So I was pushing like hell trying to keep that two-second gap, and then I heard he had come through the pits to [attempt] the fastest lap.
"He probably doesn't realise or doesn't know but I'll still buy him a beer!"
But while Ricciardo's recovery drive after the penalty was worthy of 'Driver of the Day', his clash with Tsunoda wasn't as he clipped the AlphaTauri as he made a lunge into Turn 6.
He, however, reckons having watched the replays he wasn't entirely at fault.
"I think it's one where for sure I'll take a bit more responsibility, but I can't say it's 100% my fault," he told Sky Sports.
"But anyway, you know, that was the little bit of a difficult moment in the race, but after Tom [Stallard, his race engineer] told me I had 10 seconds I didn't respond.
"I was pretty dark. But then I felt like I still had really good pace, so I got on with it. And I managed to somehow make it work."
Will Ricciardo and Russell be team-mates next season?
Ricciardo and Russell could be team-mates next season, the eight-time grand prix winner reportedly on the short list to become Mercedes' official test and reserve driver.
Turning down Haas, the Aussie made it clear he doesn't just want to make up the numbers and would rather spend a year on the sidelines with an eye on returning to the grid in 2024.
Stating that "a bit of time away from a race seat will do me good", he says he is in talks with several teams about a reserve role with Mercedes on that list.
However, Toto Wolff recently refused to be drawn on the rumours, saying while having a driver with Ricciardo's experience could "definitely be an advantage", he doesn't want to "start any rumours here because the truth is that we haven't decided anything yet."
But with Mercedes losing both their reserve drivers to rival teams, Stoffel Vandoorne joining Aston Martin and Nyck de Vries set to race for AlphaTauri next season, Ricciardo may yet be heading to Brackley in the months to come.
Read more: Jenson Button 'struggles to see' Daniel Ricciardo taking top seat after year out