Daniel Ricciardo calls for 'maturity and respect' from F1 paddock guests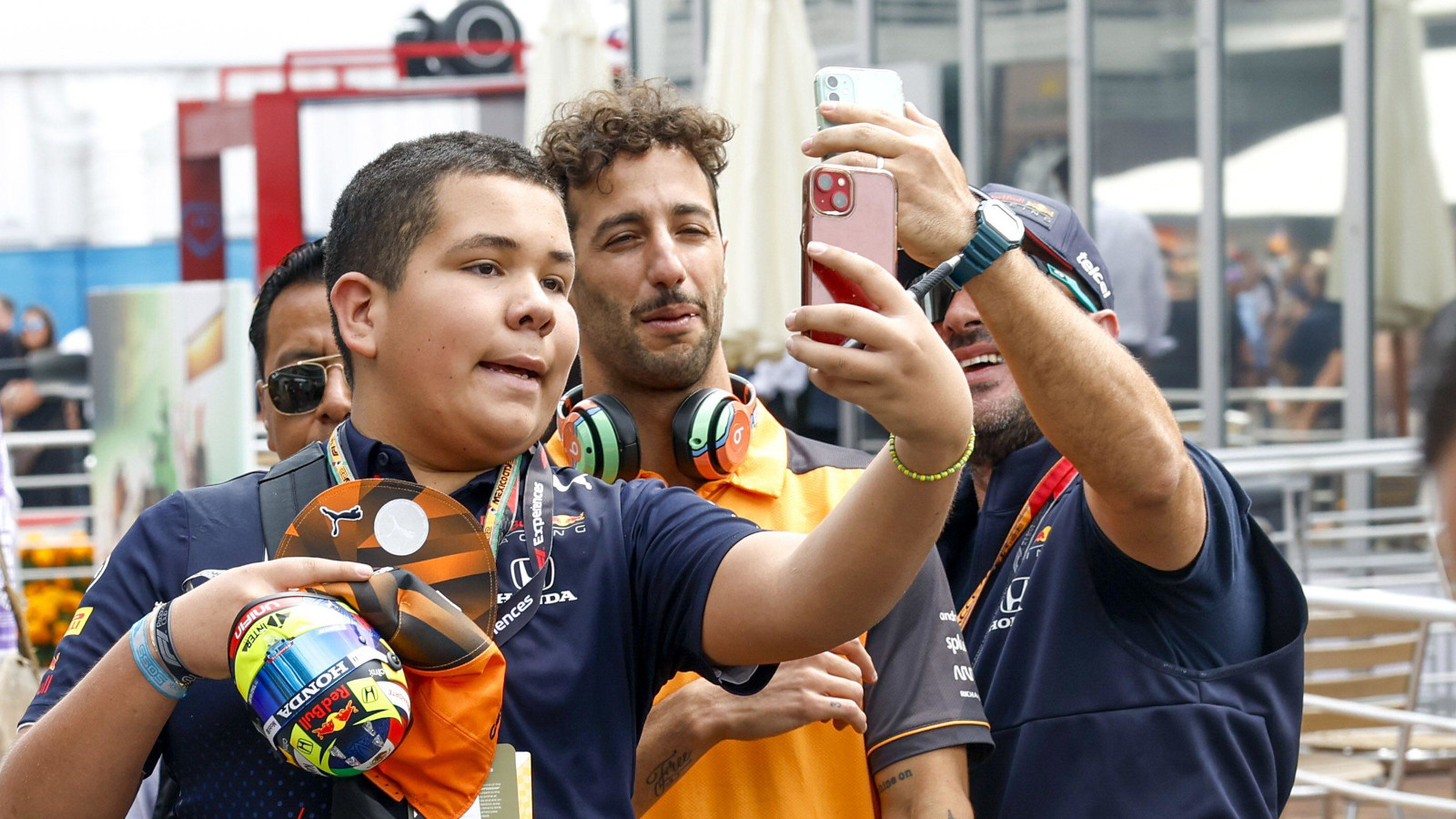 After a number of drivers complained about the behaviour of some guests in the Mexican Grand Prix paddock, Daniel Ricciardo has called for "rules" for those allowed into the inner circle.
Formula 1 was racing at the Autodromo Hermanos Rodriguez this past weekend, Max Verstappen taking victory in what can only be described as an amphitheatre of excitement.
Mexican fans are well known for the atmosphere they create, but at times it was a bit too much.
Pierre Gasly reported he felt "mobbed" by fans in the paddock and even had a stranger open his bag.
"Letting people in is fine, but it's true I feel like some guests sometimes are not really respecting the space we need," he said.
"And people are coming into garages before qualifying and asking for pictures when they are not even from our team.
"We are working here, and obviously we give time to the fans when we can.
"I know this weekend I didn't dare come out of the hospitality because otherwise you just know you will get mobbed.
"Sometimes it gets quite hectic, because I arrived at the hospitality with my bag with my passport [inside] open and I didn't even feel it."
The busy Mexico GP paddock is becoming a real issue for some drivers 😠#F1 #Motorsport #MexicoGP pic.twitter.com/mNYEsdwZoA

— Motorsport.com (@Motorsport) October 30, 2022
'Adults need to act like adults'
Ricciardo's solution is for a set of guidelines to be written out and paddock guests to be made aware of "the rules inside the paddock".
While the Australian enjoys the atmosphere in the paddock, he says there should be boundaries.
"To be honest, this year has got more hectic," he told The Race.
"I think there are two sides to it. The paddock used to lack atmosphere. I remember eight years ago, 10 years ago, the paddock was actually a pretty dull place.
"I like having an atmosphere in the paddock, I think it should be a fun place to be.
"But there should also be boundaries. I think to be in the paddock and have a VIP pass, it's a privilege. And I think you also should act with some maturity and have respect.
"That hasn't always been shown this year. People lose their minds.
"If they set some guidelines, maybe that helps because there isn't that at the moment.
"If it's just a bit of awareness, maybe they will be a little more cool.
"I don't want to see it change. Adults need to act like adults."
Race day Paddock in Mexico.

Busy, buzzing, brilliant. #MexicoGP #F1 pic.twitter.com/fHxnRboqMX

— John Sertori (@Adorimedia) October 30, 2022
Andreas Seidl warns against overreaction
However, Ricciardo's team boss Andreas Seidl has warned against an overreaction.
Formula 1 has often in the past been criticised for being out of reach for the fans, the sport keeping its distance from the masses.
Today, under Liberty Media, it is more accessible, the owners trying to engage with fans wherever possible.
"The direction Formula 1 took is definitely the right one and a good one," said the McLaren team principal.
"I appreciate a lot the atmosphere that is around now in the paddocks throughout the season. Here, it's clearly too extreme.
"And I think we just need to follow up and have a good discussion with Formula 1, how we can make sure that especially in countries like here in Mexico, where the fans are also passionate for what we are doing and so enthusiastic, we just always keep the right level of respect.
"I'm sure we will find solutions and we can keep enjoying this new atmosphere we have in the paddock throughout the world."