Ricciardo on 'crazy' debut ahead of 200th F1 race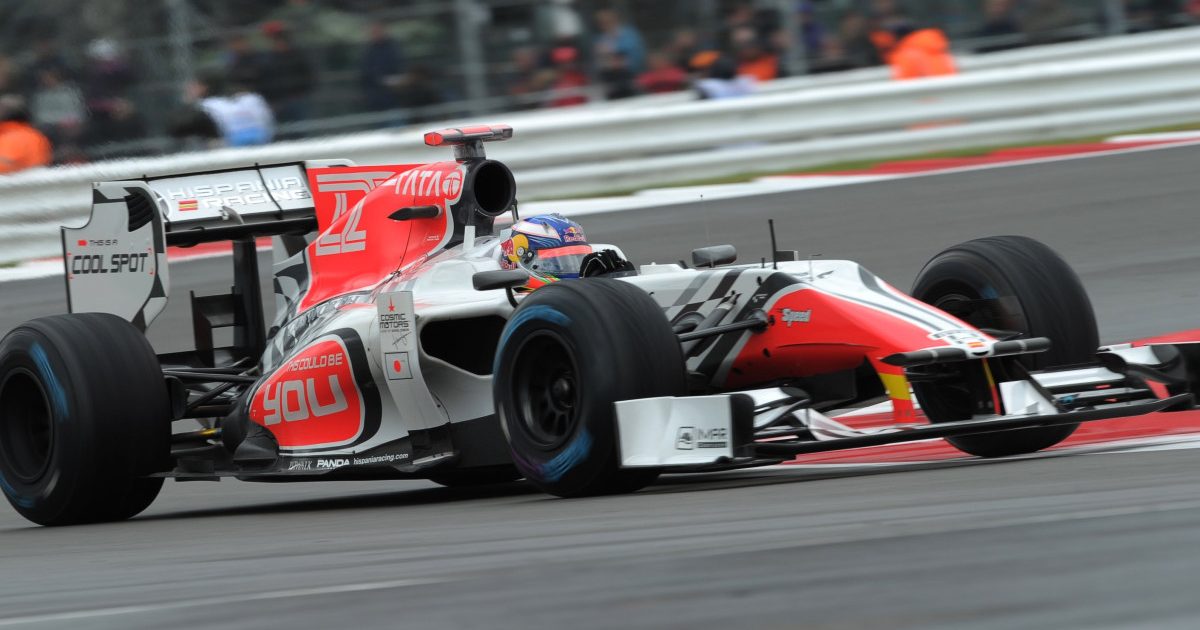 Daniel Ricciardo took a trip back to how his sudden Formula 1 debut came about, on the eve of his 200th race in the series.
The Aussie has become one of Formula 1's most experienced drivers on the current grid, taking seven wins in his 199 starts so far, all of those arriving at Red Bull.
Now a McLaren driver, Ricciardo is set to contest his 200th race, but the circumstances of how his career started made for quite a whirlwind of a debut.
As part of Red Bull's driver programme, Ricciardo debuted at the 2011 British Grand Prix on loan at HRT, not that he was given much notice.
"I wouldn't say it was the most exciting weekend from a race results point of view or anything, but I guess it's where this 200 Grand Prix journey started," he said on the In The Fast Lane podcast.
"The circumstances were crazy, I was a Toro Rosso reserve driver that year and I knew there were some talks about were they going to keep the current Toro Rosso line-up for the whole season?
"So I was like 'if I'm going to get a chance halfway through the year it's going to be in a Toro Rosso'.
"And then, I guess probably one good result later from one of the guys there and it was like 'oh, no we are going to keep them, but we still want to put Daniel in F1'.
"'So I'm going to call him a week before Silverstone and tell him he's racing for HRT'. Who I knew nothing about, other than they were on the grid, normally at the back."
It would be Dr Helmut Marko who delivered the news to Ricciardo, who could not quite believe what was happening.
"It was wild, but I do remember being in the house I was living in England, and my parents were there, and I saw Dr Marko on the phone and I was like 'this is going to be interesting'," Ricciardo recalled.
"I walked into the living room, he told me, and I walked back into the kitchen where my parents were, and my mum knew straight away, as a mother knows, they just know that look when something is up.
"So she was like 'what's up?' [I said] I'm racing F1 next weekend!"
For his debut at HRT Ricciardo found himself alongside the experienced Vitantonio Liuzzi, a driver Ricciardo knew well having seen his success in karting.
"He was one of the guys that when I first started go-karting, he was winning World Championships in karting," said Ricciardo of Liuzzi.
"Me and my mates that we raced with when we were young, we knew the name Liuzzi really from the start, so it was kind of surreal being his team-mate."
HRT were a backmarker in Formula 1 throughout their existence from 2010-12, and so already Ricciardo faced a stern challenge in a difficult car.
But just to make his first qualifying session more difficult, it was raining, and he had zero experience on the Pirelli tyres.
"The seat fit, trying to learn the team, and then I think it was wet as well so we were qualifying in the rain, it was a lot," he admitted.
"I don't think I had driven on Pirelli's yet either, so it was my first time on Pirelli's, which were very different from the Bridgestone's I had tried.
"There was a lot going on, but hey, what an experience."
A very young Honey Badger 🦡️ #ThrowbackThursday to when @danielricciardo made his 2011 debut with HRT at @SilverstoneUK 🇬🇧 #F1 pic.twitter.com/B567C4HfcL

— F1 Australian Grand Prix (@ausgrandprix) April 8, 2021
View the latest Daniel Ricciardo merchandise on the official Formula 1 store
Being a part of the 2011 grid, Ricciardo found himself lining-up against many World Champions, those being Michael Schumacher, Fernando Alonso, Sebastian Vettel, Lewis Hamilton and Jenson Button.
And so, even though he believed in his own ability, Ricciardo admitted that he was intimidated by the star power around him.
"Definitely pinch me," he said of the feeling as he took to the grid.
"I think as well because I only had a week's notice, where it [would have been] different if I'd have done a full pre-season and did all the photoshoots and all that.
"This was surreal, I won't lie I was intimidated by being there, yes I was excited and believed in myself, I knew I didn't just get put there for the sake of being put there.
"But you have got all these World Champions on the grid and now you're part of those 22 at the time. Pretty wild.
"I think [Rubens] Barrichello was giving me advice in the press conference, I was like 'how did all this happen?'
"It was like I just didn't even know my name, it was crazy."