Ricciardo 'instantly regretted' whacking Norris in the face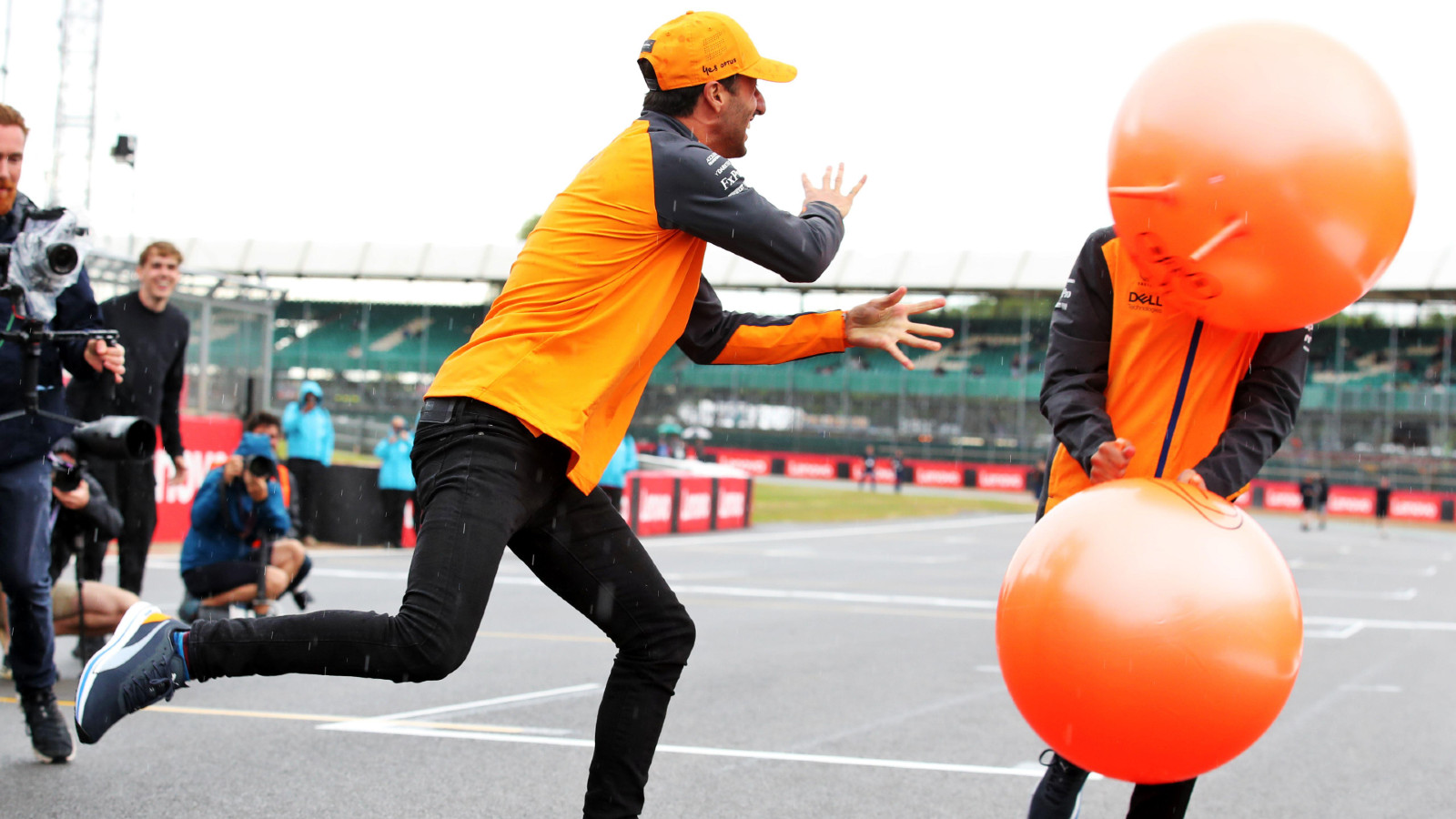 McLaren's Daniel Ricciardo has explained his immediate panic after whacking Lando Norris in the face with a space hopper.
The two McLaren drivers took part in a pre-British Grand Prix event on the pit straight at Silverstone earlier this month where, spurred on by Sky F1's David Croft, they raced each other by bouncing on space hoppers.
With Norris not quite able to use the space hopper particularly well, Ricciardo stormed to a clear win to the amusement of the crowd, with Norris choosing to pick up the hopper and simply run to the finish line.
However, just as Norris drew level with his team-mate, Ricciardo grabbed his own space hopper and threw it into Norris' face – Lando being thrown backwards as the rubber ball hit him in the nose and mouth.
While the two drivers and the crowd lost themselves in laughter, the Australian has admitted he panicked the instant he threw the space hopper into his teammate's face.
"I will say that the space hopper, it literally took me back to being at school," he said at the launch of the McLaren Turbo Series on Partypoker.
"You know at school, as soon as you do something you know is wrong, it's like you instantly have instant regret?
"It's like 'why did I just do that?' and it was a kind of the same feeling that took me back to if I was doing something silly at school which you know is going to get back to the teacher or the principal – it was the same.
"As soon as it left my hands, I was like 'oh no, he's literally going to fly backwards and injure himself, and I've done it in front of his home crowd. The British fans that I have are now going to absolutely hate me and Lando is going to be hurt and not be able to race' – all these things quickly ran through my head.
"I went into instant regret mode and… oh my gosh. Luckily, someone was watching saying 'Lando will not be hurt and everything will be OK!'.
Ricciardo also revealed that Norris has become one of his closer friends on the grid, having had to spend a few months thawing a seemingly initially awkward partnership as the two drivers teamed up for the first time last season.
Asked about who his closest friends on the grid are, Ricciardo said he gets along with most of the drivers.
"It's tough to say, because I do genuinely have friends on the grid," he said.
"As much as I give him a hard time, Pierre Gasly is actually a good kid – I really like Pierre.
"Obviously, Lando, getting to know him better now in the second year, I think we've actually had quite a few laughs.
"Max [Verstappen] as well, all our competition aside, I think we really grew a strong respect for each other.
"There's actually quite a few drivers that I would happily go to dinner with and have a good time with. But I think a lot do have a guard up, because they don't want to let the competition get in the way or whatever.
"I think, probably after racing once we let our guard down, then you might see a lot more of us hanging out."