McLaren foresee Ricciardo remaining part of plans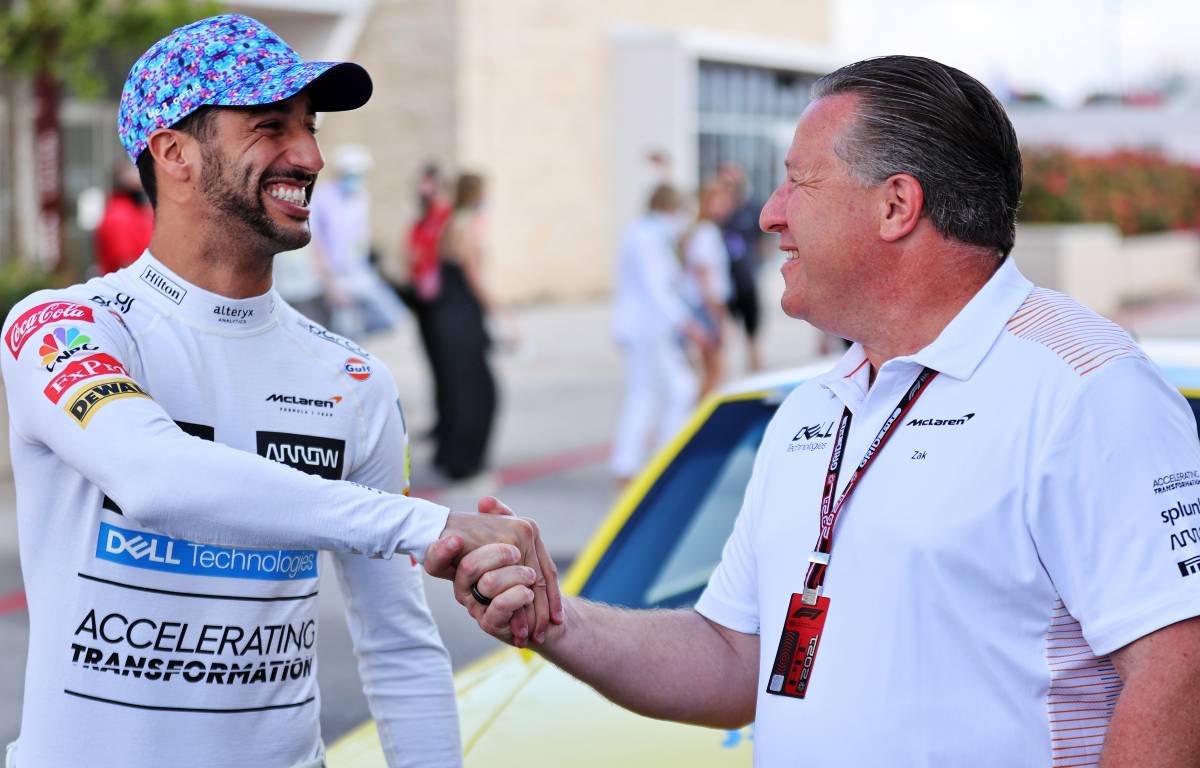 Zak Brown has indicated Daniel Ricciardo is safe in his McLaren seat for at least the next two seasons.
The Australian driver is understood to have a contract until the end of 2023 plus an option for an extension.
But his future has been put under the microscope somewhat by a largely underwhelming first year with McLaren, except for the outstanding highlight of leading home a team one-two in the Italian Grand Prix.
Ricciardo's colleague who chased him home at Monza, Lando Norris, has been rewarded for making a big step forward in 2021 with a recent contract extension that ties him to McLaren until the end of 2025.
There have been suggestions that if Ricciardo, who will turn 33 in July, does not raise his game substantially this coming season, he may not remain with McLaren for 2023.
However, Brown, the team's CEO, did not hint at anything of that nature in discussion with Associated Press reporter Jenna Fryer while attending the opening race of the new IndyCar season in St. Petersburg, Florida.
A few updates from @ZBrownCEO today at #IndyCar in St. Pete:

Pato O'Ward can't move to #F1 with McLaren for some time.
"Right now we don't have a seat available. Lando is under a very long-term contract, so that seat is done. Daniel, we have another couple years with him."

— Jenna Fryer (@JennaFryer) February 26, 2022
Brown was responding to a question about whether Pato O'Ward, who races for the Arrow McLaren SP team in IndyCar and drove in the 2021 F1 end-of-season test in Abu Dhabi, could be in line for a Formula 1 spot.
"Right now, we don't have a seat available," said Brown. "Lando is under a very long-term contract, so that seat is done.
"Daniel, we have another couple [of] years with him."
Brown is also reported to have "acknowledged it was difficult" for Ricciardo, and also the other Arrow McLaren SP driver, Felix Rosenqvist, "to struggle as they did last year at [the] same time their team-mate skyrocketed".
Regarding O'Ward, he is set to have a couple of FP1 outings for McLaren this year, when IndyCar commitments allow, as part of the mandatory requirement for teams to blood a rookie driver on two occasions in the initial Friday practice session.
Fryer reports Brown said another "current IndyCar driver is also under consideration" but did not reveal who.
As for Ricciardo, he recently said of his own future: "Time isn't really an issue, we have time. Not that we want it to take five years, but it's there if we need it.
"I know Lando did the extension, but I have an option there and I feel quite strongly we are in this together.
"And even through some of the lows last year I was still really enjoying this McLaren environment and the team, so it's an environment I want to have success in and thrive in."
Ricciardo to stay at McLaren for rest of career?
Daniel Ricciardo has said he's open to remaining a McLaren driver until the end of his career.