Ricciardo delighted with Renault quali turnaround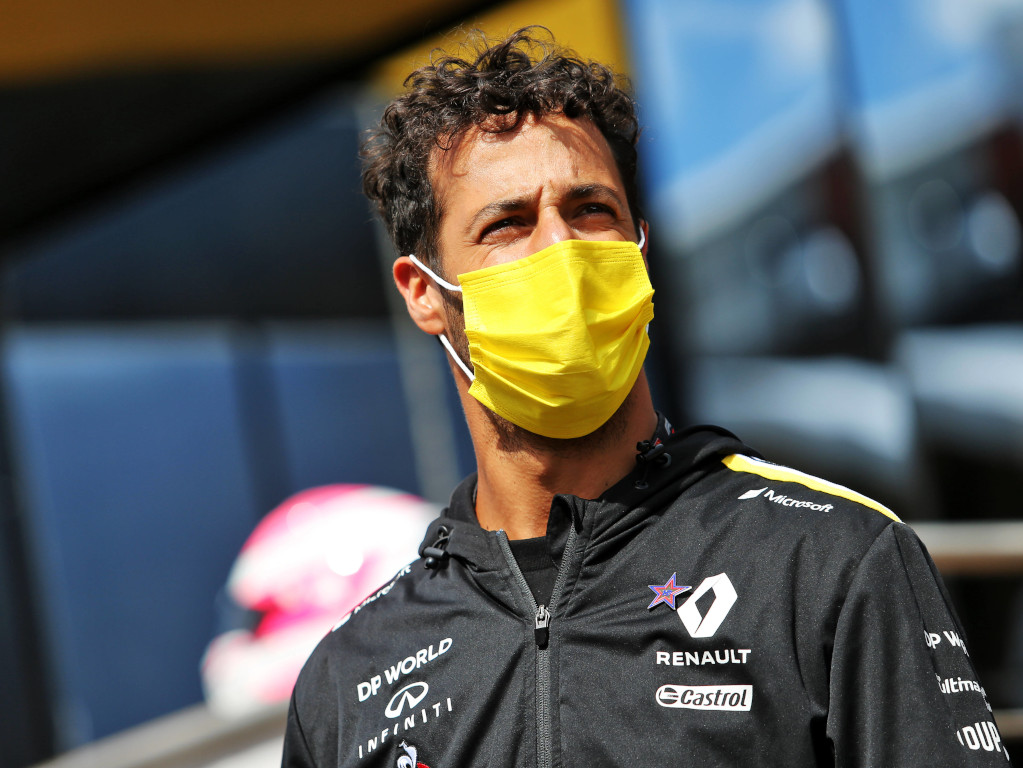 Daniel Ricciardo was delighted to see the changes Renault made to his car before qualifying pay dividends at the Tuscan Grand Prix.
The Aussie finished the final practice session in P17, marking a sharp decline from the impressive pace that Renault showed at Spa and Monza.
But the French team flourished in qualifying with Ricciardo putting his R.S.20 P8 on the grid at Mugello, whilst Esteban Ocon had to settle for P10 after he brought out the yellow flags with a trip through the gravel. That mistake cost several drivers who were on flying laps, Ricciardo included.
Nonetheless Ricciardo was delighted to see the upturn in form between practice and qualifying after changes were made to the car.
"We changed the car after this morning, we were seventeenth and struggling," he told reporters.
"We knew we had a bit to do, but I felt already from Q1 that the car was better and I just had to find the limit of it.
"So I think I got pretty close in Q2, to put ourselves into Q3 with one set of tyres I think was unexpected after this morning, so I think we're all a bit relieved and happy with that one.
"The first run in Q3 was messy, we made a few changes with aero balance just to try to be a bit aggressive but it didn't work.
"Let's say we would have done much better in the last run, but look both cars in Q3 after this morning I think we have to take that."
Damn, a spin from Esteban also compromises Daniel's lap….

P8 // Daniel 1:16.543
P10 // Esteban no time#RSspirit #TuscanGP

— Renault F1 Team (@RenaultF1Team) September 12, 2020
Get your hands on the official Renault 2020 collection via the Formula 1 store
Whether or not cars will be able to overtake around the fast and flowing Mugello on race day has been a hot topic for debate.
But Ricciardo feels Charles Leclerc, who starts from P5 in Ferrari's 1000th race, is out of position.
So, he hopes that the Monegasque driver can make the race interesting for the wrong reasons.
"I hope so, I watched the F3 race and there were lots of DRS moves and it looked like they could battle and follow," he explained.
"I think with Charles [Leclerc] in fifth I'm not sure he's got a fifth-place race car so that in itself might create a little bit of a battle for that top five, so I think him qualifying there will make it exciting."
Ocon apologised to the drivers whose laps got ruined by his spin. Mercedes' Valtteri Bottas was particularly annoyed since he felt it cost him a shot at pole position.
"It's one of the sessions where you try to push the limit more and more throughout the qualifying session, "I felt great, I felt there was a lot of time that could be gained from my Q2 time, so I thought it was the moment to do it," he explained.
"But unfortunately, it was a bit over the limit. I'm sorry to the other drivers that couldn't complete the lap, obviously.
"Everyone pushed hard on this track and it bites you when you go over."
Follow all the action from the Tuscan Grand Prix with the PlanetF1 live centre