Ricciardo fans can now have their own 'shoey'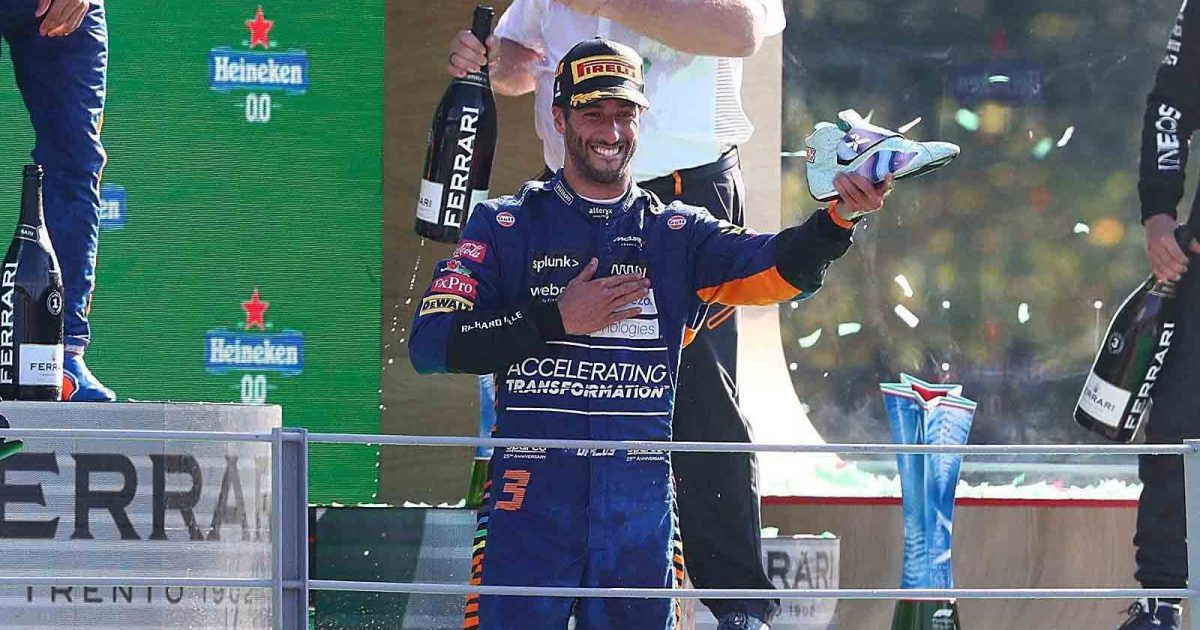 Drinking champagne from a sweaty shoe is objectively disgusting, but Daniel Ricciardo has created something that should be a more pleasant experience.
The McLaren driver has released a new batch of his DR3 wine, but he added a personal touch by the creation of the Ricciardo Decanter – a decanter made in the exact shape of the Australian's racing boot.
Ricciardo released an advert for the second edition of his wine range, with the thermo-moulded boot shaped glass being added to the range available to fans.
*Adds Ricciardo Decanter to birthday wishlist* 👞 #F1

[via @danielricciardo]pic.twitter.com/MM8Yw3JAPK

— PlanetF1 (@Planet_F1) April 4, 2022
"It's so good, I struggled to find a vessel worthy of the wine," he said with a smile. "I needed something truly refined, something truly Ricciardo, something that would make the wine taste like a podium finish.
"They said decant, I say decan…"
The 'shoey' has been a Ricciardo tradition in his appearances on the podium through his career, with the likes of Sir Patrick Stewart, Mark Webber, Lando Norris, Martin Brundle, Gerard Butler and Lewis Hamilton having also sampled the delights of a dash of champagne poured into the Aussie's racing boot from the grand prix that had just taken place.
Ricciardo's home race will take place in Melbourne this weekend, in Formula 1's first race at Albert Park since 2019, with the past two years' events having been cancelled due to the Covid-19 pandemic.
He had not been able to go home to Australia for almost two years, before finally getting to do so during the off-season – albeit with a two-week quarantine period in a hotel before he could see family and friends.
Only 1,100 Ricciardo Decanters have been made, so anyone wanting to buy one will have to act fast to do so, which is available on the St. Hugo Wines website.
On track, he is yet to get off the mark in 2022 so far, having retired from the Saudi Arabian Grand Prix in a McLaren that is yet to show a fully competitive package.
Why McLaren's recovery needs to come soon
McLaren have lagged behind at the start of the season compared to where they were, so podiums are far-fetched ideas for now.