Ricciardo struggling to sleep since Monza victory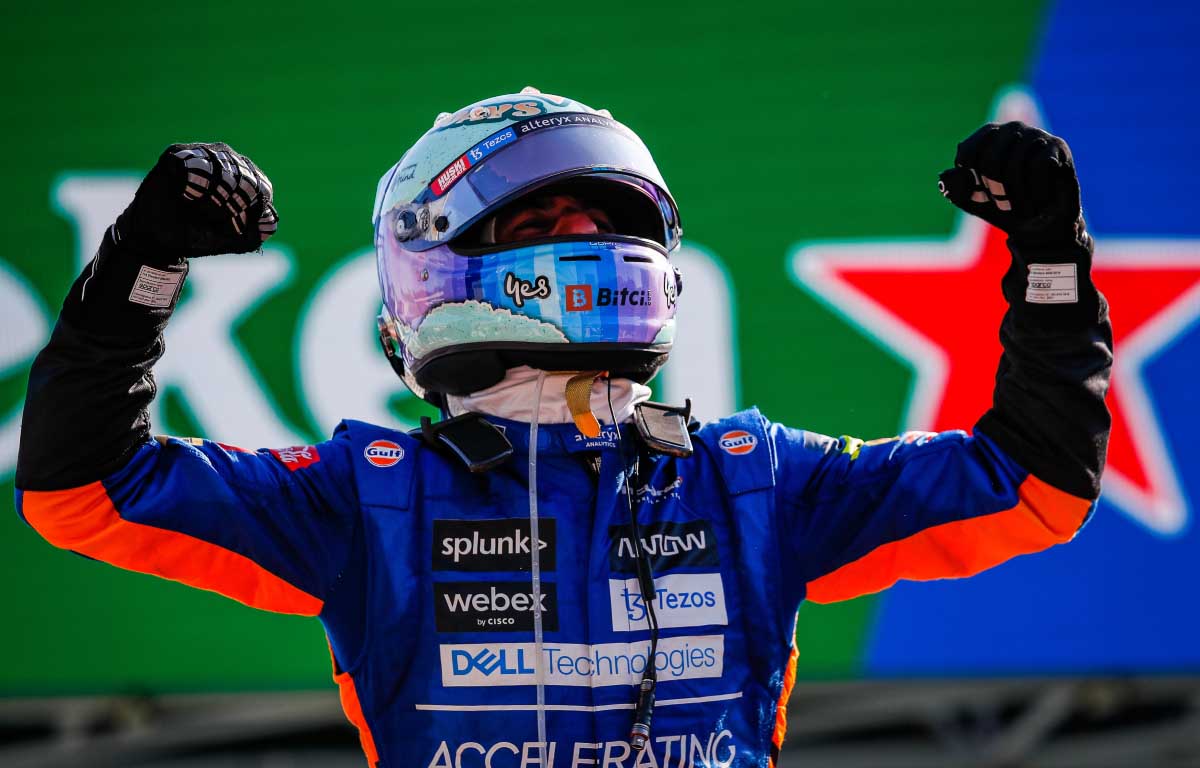 Daniel Ricciardo has admitted he is not sleeping well after his win at Monza, as he is still enjoying the excitement of his first victory since 2018.
The popular Australian took his eighth win in Formula 1 in shock circumstances in Italy last weekend, and said afterwards his P1 finish after spending time in the midfield had made his "crappier days" feel worth it now he has tasted victory again.
While he would not have been blamed for enjoying a night out or two after his win, Ricciardo owed his sleep struggles to something else entirely.
"It's not from partying," the McLaren driver told the BBC. "It's just kind of the excitement. It's still running through my mind. And I've had an overwhelming amount of love and messages and [contact from] friends back home. It's been quite cool. So it's been hard to switch off…you want to hold on to it for as long as you can.
"I will just replay moments of the race in my head. There are very vivid moments and memories of the race.
"Like, with 10 laps to go and what I was telling myself, what my mindset was, was to stay cool. And then the last lap, going for the fastest lap. I didn't even know what the fastest lap was but I knew there was some grip left, so I was like 'let's just go'.
"I wanted to make a statement. All these things keep me up. There are so many things that happened over the weekend that keep me up."
The moment @DanielRicciardo added his own piece of McLaren history to the MTC trophy cabinet. 🏆🥰

And he picked a spot alongside a very special trophy. 👏🇦🇺 pic.twitter.com/Umk6gu1I8H

— McLaren (@McLarenF1) September 16, 2021
View the latest Daniel Ricciardo merchandise on the official Formula 1 store
Ricciardo's victory was McLaren's first since 2012 and both he and Lando Norris visited the team's factory to celebrate with staff back at their Woking base, with the 32-year-old excited to play his part in bringing success back to his employers after such a long barren spell.
"That's where I'm so pumped that I could be a part of it and help bring this first win in a long time to fruition," Ricciardo said.
"That makes me so happy and excited because I see what it means to everyone. People can see my emotion on the podium, but there are people who have been at this team a long time, long before even I started racing, and the last eight or nine years there has been drought.
"So to come back, and especially for the ones that have stuck through the thick and thin, it's awesome. It's cool.
"I've obviously had some personal struggles with the team this year from the performance point of view. But now to come out of that with this result, it makes me appreciate what I have at this team and playing a part now is quite fulfilling."