Daniel Ricciardo targets fun last eight races with McLaren future decided
McLaren's Daniel Ricciardo is aiming to have a 'fun' last eight races with the team before he departs for pastures new.
The Australian driver had a busy weekend at the Belgian Grand Prix, coming days after the announcement from the team that the two parties will go their separate ways at the conclusion of 2022.
While Ricciardo had a contract for next season, his third year of a three-year deal, the Woking-based team sought a way out of the contract as the former Red Bull and Renault racer has failed to meet expectations.
Ricciardo is yet to announce what his plans for 2023 are, with the most likely avenue for him being a return to the now-Alpine team as they seek a replacement for Fernando Alonso as the Spaniard is off to Aston Martin.
The eight-time Grand Prix winner has made it clear he wants to stay in Formula 1, with no interest in heading to another racing series, and Ricciardo said the Belgian weekend was particularly unenjoyable – until the lights went out to start the race.
"It certainly hasn't been the most fun weekend going through all this, but at the same time it was nice to get back in the car and just try to put everything behind me and have a bit of fun," he told Racer.
"When all the red lights were going on I was smiling and I was just happy to be in that moment again. There were certainly some parts of it I enjoyed.
"I'm glad that the bulk of this announcement is done, and hopefully it gets a bit more fun for the last eight."
Daniel Ricciardo slips out of the points
Having started the race from seventh on the grid, he finished 15th at the chequered flag – a victim of being caught up in a DRS train led by 10th-place finisher Alex Albon. His race wasn't helped by having to revert to an older-spec rear wing after third practice, due to an issue on the newer, upgraded wing.
"I think it was visible to see our struggles," he said.
"Not to be pessimistic but I knew coming into the race that we would probably find it hard through the first and third sector with the rear wing that we were forced to use from yesterday.
"Obviously, I hoped that I'd have enough speed in the second sector to try and make something happen – but we just couldn't overtake with the speed we had."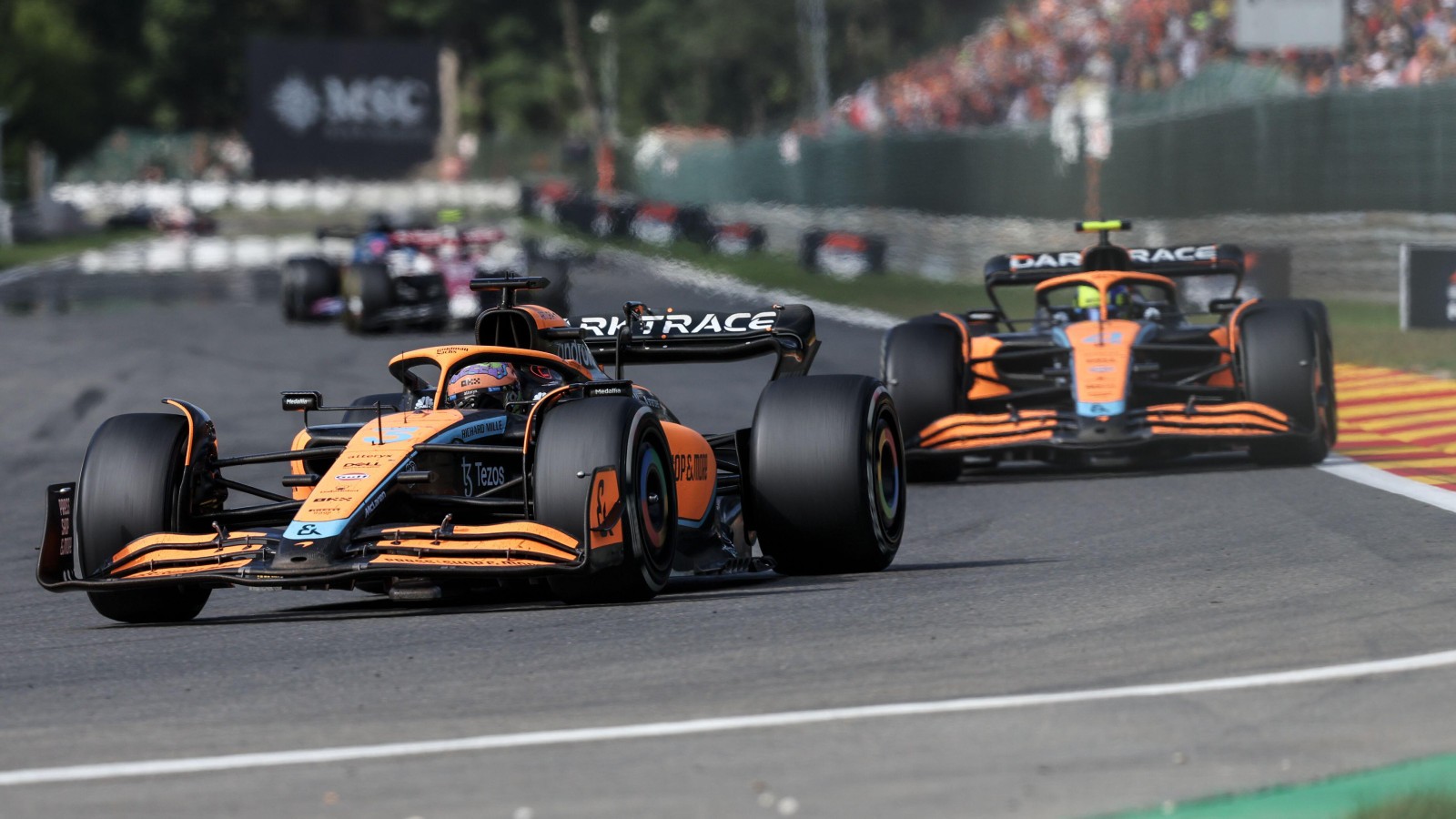 With McLaren going home scoreless from Belgium, Alpine's healthy scoop of points means that it's the Enstone-based team with the momentum behind them as the season enters its final third.
As a result, Ricciardo reckons the chances of McLaren taking fourth place in the Constructors' Championship are becoming slimmer with every race.
"It's for sure tricky. It's tough," he told Racer.
"As we've seen, a big weekend can obviously make a big shift for sure, but we feel like we're probably a few steps away from a big weekend. It's going to be tough. I think we just need small steps at a time.
"I feel like the last few weekends they've consistently been a quicker package. Tough task for now. For sure not impossible. But I don't want to say, 'Yeah, we're going to do it', because I think right now they are a bit quicker."