Ricciardo's thoughts ran away with him after first F1 win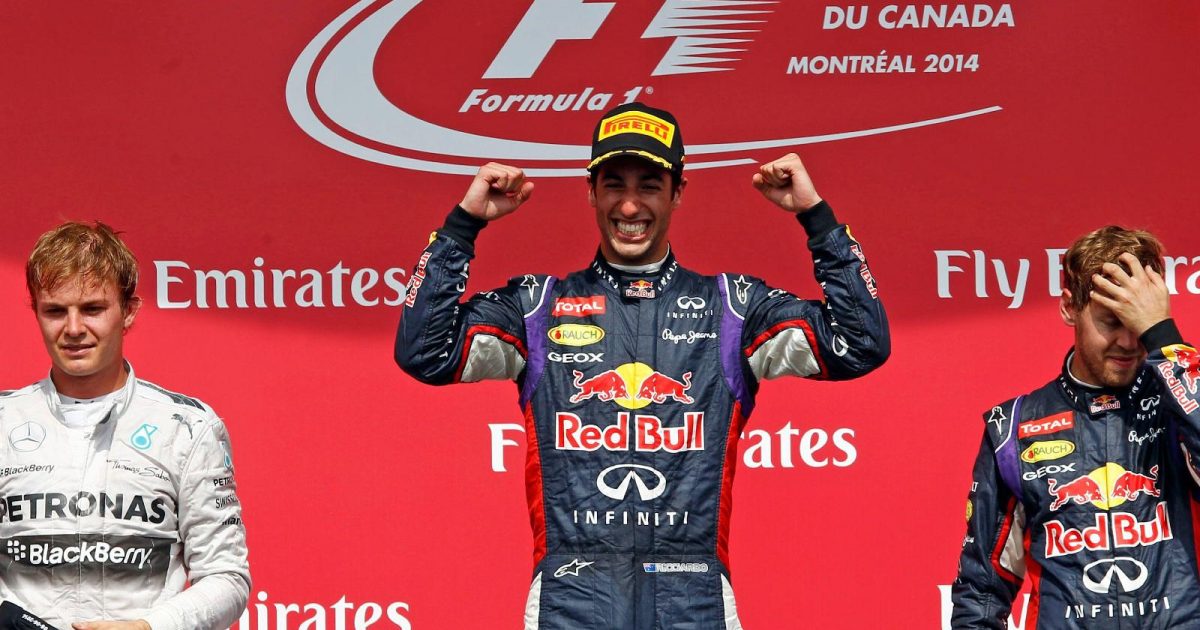 Daniel Ricciardo has admitted his feelings got away from him after his first Formula 1 win and he became convinced he would be a World Champion.
The Australian entered the sport in 2011 and three years later, he earned his maiden win when he crossed the line first with Red Bull in Montreal for the 2014 Canadian Grand Prix.
Since then, Ricciardo has gone on to win seven more times, most recently in 2021, but has admitted that first victory made him feel like he was certain to win the following year's World Championship.
Speaking to the New York Post, the McLaren driver said that his "thoughts got ahead of me" following the win in Canada.
"I'd kind of convinced myself 'oh I'll be World Champion next year, we'll have a better car,'" he said.
"I thought, 'if I can win this race, I'll win so many more.' My thoughts got ahead of me," he continued.
"But I think my actions were ok: it's not like I did stupid stuff and bought myself a yacht [or] started becoming arrogant. But in my mind I probably got too excited for what's to come."
McLaren struggle through Canadian GP weekend
Daniel Ricciardo and Lando Norris both finished outside of the points on Sunday to cap off a poor Canadian GP for McLaren.
Ricciardo did not clinch that year's Championship but instead came eighth while Lewis Hamilton would go on to win the top prize. Despite that first win coming eight years ago, the Australian said he can still remember what it felt like and that the moment "confirmed his belief" in himself.
"I can still touch on all the feelings I had," Ricciardo said.
"Your first win, you kind of feel like you're invincible. My expectation for what was going to happen next was probably too high in terms of thinking I'd win a lot more than I have," he added.
Now at 32 years of age, Ricciardo has not won the World Championship and looks unlikely to do so in the near future. There was even speculation that his place in the sport for the future was not guaranteed as McLaren grew frustrated with his performances.
Despite this, Ricciardo has cut a relaxed figure and said that he has been able to separate racing from the rest of his life.
"[Having] a bad race is unfortunately too common in this sport, so I don't want that to dictate the way I feel the week after," he said.
"I've been exposed to this already last year. I removed myself from it last year and that then started to affect my friendships at times."