Daniel Ricciardo is standing firm in his criticism of F1 for repeatedly showing replays of Romain Grosjean's fiery crash, saying the Haas driver's wife, Marion, agrees.
Grosjean walked away with burns and a sprained ankle when he crashed heavily at the Bahrain Grand Prix, his Haas splitting in two on impact and bursting into flames.
Grosjean climbed from the wreckage, helped over the barrier by F1 doctor Ian Roberts.
After F1 was aware that he was out the car, and not seriously injured, the replays of the crash began, running for almost 90 minutes as the rest of the drivers waited for the grand prix to be restarted.
Ricciardo wasn't impressed, expressing his "disgust and disappointment with F1", adding that the constant replays were "completely disrespectful and inconsiderate for his family, for all our families, watching".
Formula 1 defended its decision while Haas team boss Guenther Steiner said it was right to show the replays as Grosjean wasn't badly hurt and it made fans understand the dangers that the drivers face every time they climb into the car.
Ricciardo, though, stands by his criticism especially after speaking with Grosjean's wife, Marion, in the Sakhir paddock.
"Once they showed [the crash] once and then we'd obviously seen him jump out and get into the medical car I felt like that was all we really needed to see," he said via The Race.
"The constant replays, there was a lot, and I felt like that could have waited.
"I think at the time I said 'until tomorrow', but even until after the race. We obviously still had a race to do.
"I felt like it was inconsiderate to his family, but also it was a distraction because every time we'd go into the garage and try and find out what was happening the only thing it seemed like was endless replays and trying to get engineers' attention or the mechanics' everyone was a little bit, let's say, spaced out or rattled, which is completely understandable.
"I actually bumped into Romain's wife, Marion, and she appreciated my comments and I think that's all the validation I needed."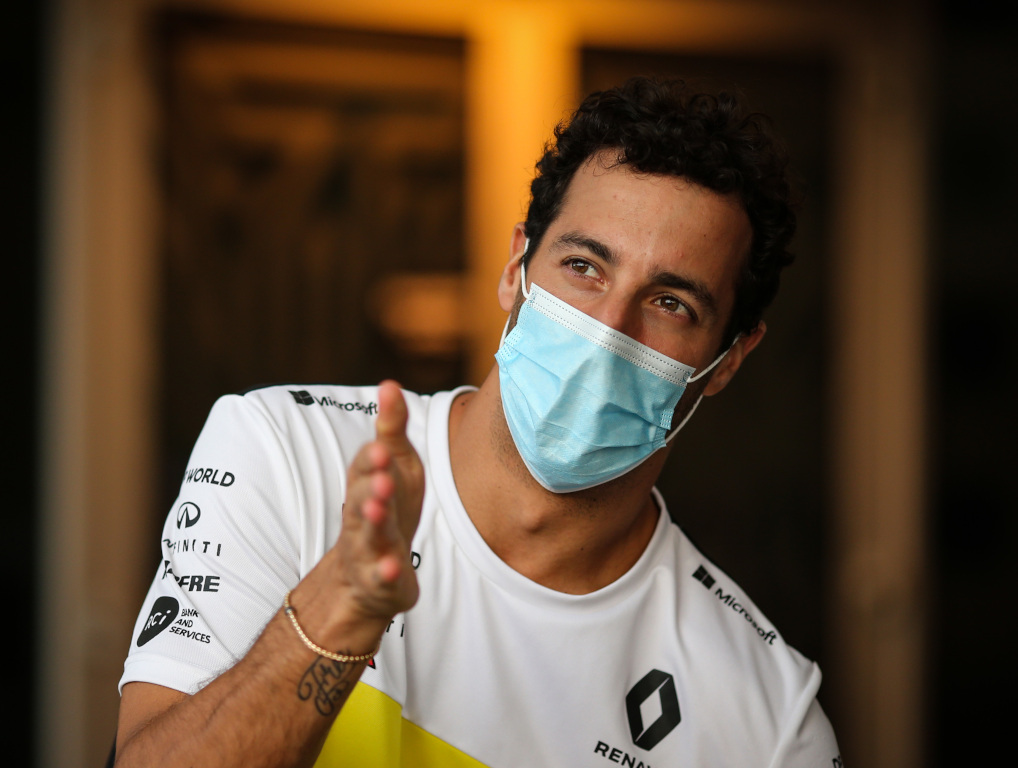 Get your hands on the official Renault 2020 collection via the Formula 1 store
Ricciardo added that Formula 1, as it showed the replays, could not have known for definite that Grosjean was okay as he could have suffered internal injuries.
"It was 54g or something, the impact, and from my understanding there could be further complications maybe later that evening that we don't know about internally," he added.
"It just felt like it was a bit abused.
"I didn't feel it needed to be showed as many times as it did, or at least in that moment. Wait another couple of hours perhaps.
"I know they've got to fill the time. I don't have a suggestion, but I'm sure they could fill it with less flames and something else."
The Renault driver is expecting Formula 1 bosses to explaining their reasoning to the drivers in an upcoming meeting.
"Obviously after the race I was still, let's say, not only a bit heated but then had to dissect my own race, and I didn't feel it was the right time," he said.
"I will hear them out today and hear the reasons, and go from there. I'm happy to hear them, happy to be educated."
Follow us on Twitter @Planet_F1 and like our Facebook page.