Ricciardo 'maybe getting a car' from Brown after win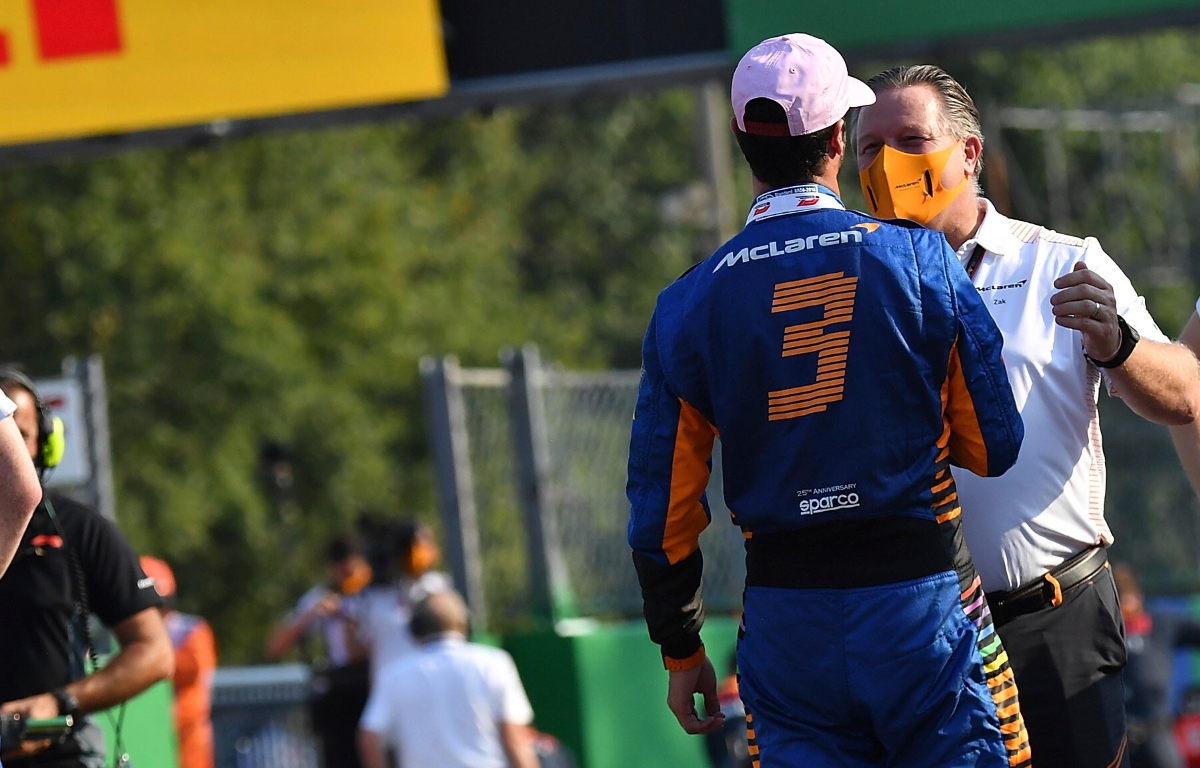 Given the bet the two made before the start of the season, Daniel Ricciardo is hoping to get a car from Zak Brown after winning in Monza.
When the Aussie signed for McLaren for the 2021 campaign and beyond, Brown said that if he scored a podium in his first season, the American would let him drive one of Dale Earnhardt's – Ricciardo's idol – race-winning NASCAR Chevrolets in his ownership.
Ricciardo did just that at the Italian Grand Prix, and what's more, he won the race, crossing the line ahead of team-mate Lando Norris to secure a 1-2 finish.
Given he did more than what the bet entailed, he reckons it's only fair that he gets Earnhardt's car permanently.
"I'm like, maybe getting a car," he said as per speedcafe.com.
"Because it was always a podium, you get to drive it – we never talked about a win!
"I gave him my shoe that he drank out of, so maybe he gives me the car. It's a good trade!"
Remember our podium bet, @DanielRicciardo? Just warming it up for you. 🏁 #DR3 #3forever @DaleJr pic.twitter.com/nFILfKCKRD

— Zak Brown (@ZBrownCEO) September 11, 2021
View the latest Daniel Ricciardo merchandise on the official Formula 1 store
With his victory, Ricciardo became the 20th man to stand on the top step of the podium as a McLaren driver in Formula 1, joining an illustrious group.
Among that group is Brazilian legend Ayrton Senna, who tasted victory more times for the British team than any other driver.
Ricciardo says that being a part of the same group as the three-time World Champion, in particular, is surreal to him.
"There's like a couple of things, with two heroes," he added.
"Dale Earnhardt [is a] big hero of mine, and to have the chance to get behind a wheel of one of his cars is crazy. That'll certainly be a kind of pinch-me moment.
"And then the other one was, I'm sorry if I sound a bit self-absorbed right now, but I think McLaren, I think of Senna. That's the early memories.
"I've seen the trophies in the cabinet at the MTC [McLaren Technology Centre], and to have a winning trophy now with my name in pretty much the same cabinet is crazy.
"So these are two little things which I certainly appreciate, and they're two little surreal moments that I guess have hit me."
PlanetF1 verdict
Daniel Ricciardo's confidence boost after latest win
Daniel Ricciardo picked up his eighth career victory over the weekend, his first since the 2018 Monaco Grand Prix.