David Coulthard sees Toto Wolff's 'brutal' W14 assessment as a low blow to designers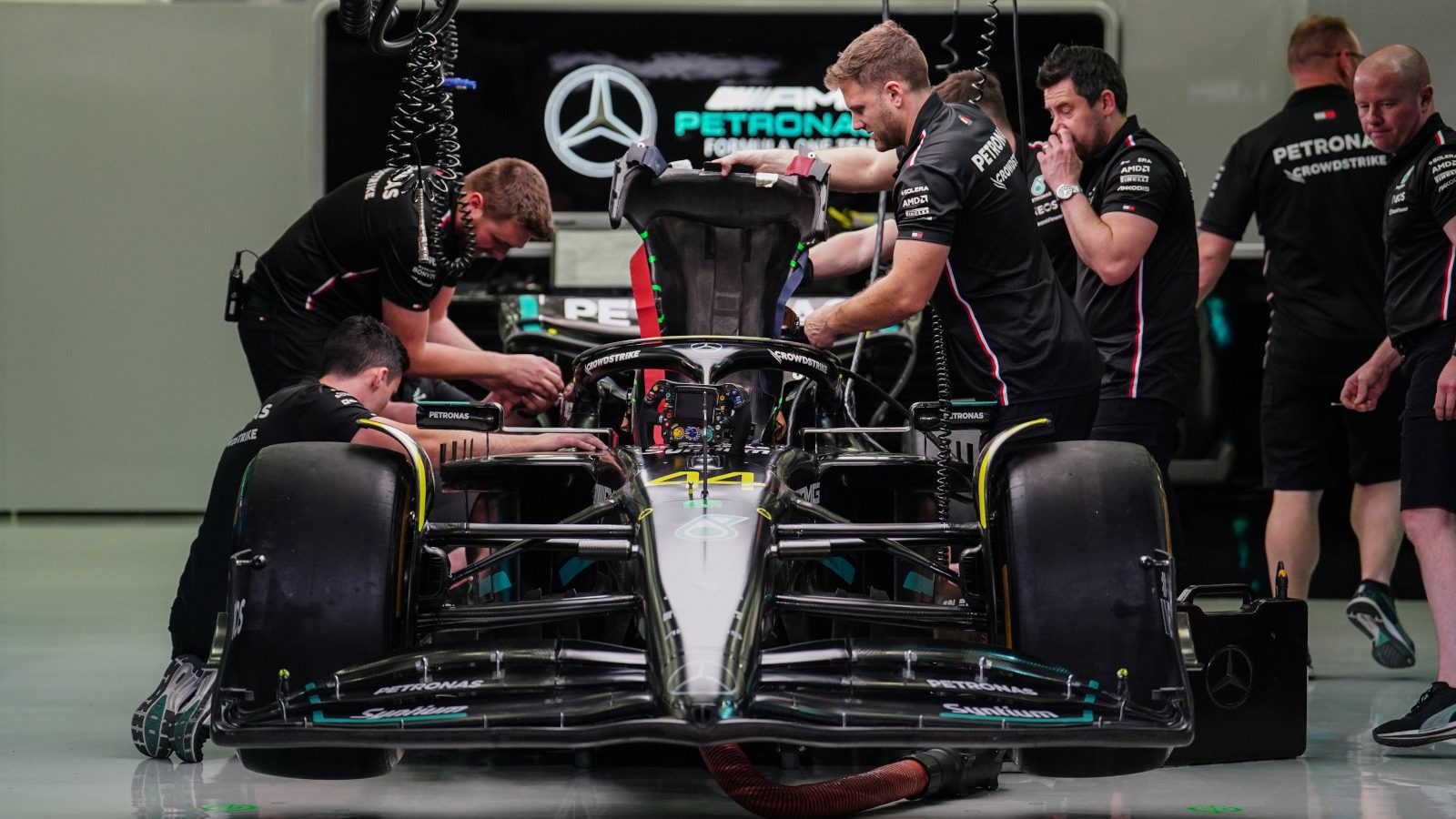 Former F1 driver David Coulthard believes Toto Wolff's damning indictment of the W14 is a "big kick in the whatnots" for the Mercedes design team.
Going down a very different design route to their rivals last season, Mercedes put zero-pods on the W13 with Wolff backing his design team all the way.
He said after the Miami Grand Prix he had to give his people the "benefit of the doubt" after all they "produced great race cars in the past and we believe this is the route to go."
Come the end of the season, Mercedes finishing up with just one race win, he again backed them as he was adamant Mercedes had not "suddenly taken a stupid pill."
But with this year's W14 once again off the pace and lacking in downforce, Wolff has conceded that maybe Mercedes do need to change the car's concept.
Speaking after qualifying for the Bahrain Grand Prix where George Russell and Lewis Hamilton were over six-tenths down on pole-sitter Max Verstappen's time, Wolff voiced doubts about the car.
"I don't think this package is going to be competitive eventually," he told media, including PlanetF1.com. "We gave it our best go, also over the winter, and now we just need to all regroup and sit down with the engineers, who are totally not dogmatic about anything."
With his drivers fifth and seventh in the race, Hamilton ahead of Russell with both 50-plus seconds behind Verstappen, he again said the W14 "concept needed to change".
Coulthard reckons that's a "big kick in the whatnots" for the Mercedes design team.
"I think it was brutal," he told Channel 4 of Wolff's assessment.
"This car has only been alive for six days, a few days of testing, three days here. I don't know where he's coming from with that.
"But yeah, they've got a completely different strategy with the sidepods. They clearly have to try and follow the pack now. But that is like a big kick in the whatnots for design team."
PlanetF1.com recommends
Mark Webber: Mercedes need to 'pull their socks up' to keep Lewis Hamilton
Fernando Alonso jokes he 'didn't like' Lewis Hamilton's 'surprise' in P5 battle
The complete driver and teams' standings after the Bahrain Grand Prix
The Scot also questioned whethet the Mercedes W14 is as bad as Wolff made it out to be.
Yes they were destroyed by Verstappen in Bahrain but so too was the rest of the field with third placed Fernando Alonso 38s behind the reigning World Champion while Hamilton was only 12s adrift of the Aston Martin.
"I think it will have confirmed that relative to the winning car," he said, "Max won that at an absolute canter.
"Relative to being defined as best of the rest, potentially they are. Okay Leclerc didn't finish but it's not as bad as he sort of stated after qualifying."