Either McLaren and Aston have it 'a bit wrong, or a bit right'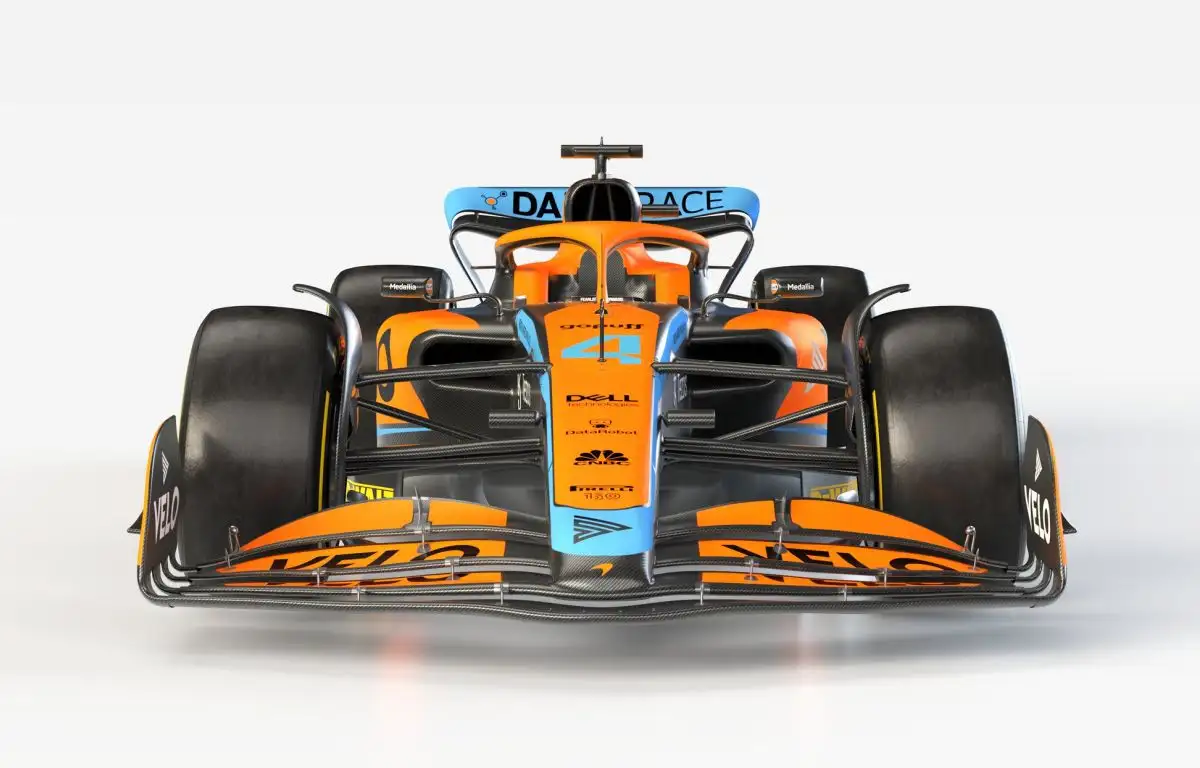 Two of the real cars F1 has seen so far, McLaren and Aston Martin, have gone with very different approaches to this year's technical regulations.
Sky Sports' pundit David Croft concedes one of them could have it a "bit wrong" but they won't know until next week's shakedown.
McLaren and Aston Martin both unveiled real cars in their 2022 launches, the only two teams to do so although we have since seen the Williams and the Alfa Romeo on the track.
The one big notable difference between the MCL36 and the AMR02 is their suspension layouts.
While McLaren have gone with the unconventional, using a pull-rod front suspension and a push-rod rear, Aston Martin have gone with the traditional design with a push-rod front and a pull-rod rear.
McLaren's technical director James Key said at the launch of the MCL36 that the team has "either got it really, really right or…"
But, as he explained, "the whole suspension layout is about aerodynamics. At the front, it's the only thing you've got to play with between the entrance of the floor and the front wing, and depending on how you treat the front wing and where the entry to the floor needs its load condition will kind of set out what you think the best front suspension geometry is."
He added that he is "fairly confident it will work as expected."
Croft says only time will tell if McLaren have got it right, or if the Aston Martin layout is the better of the two options.
"Of the launches we've seen so far – McLaren haven't gone the same way as Aston Martin with their suspension for instance," he told FoxSports.
"So you think, one of them might've got it a bit wrong.
"One of them might've got it a bit right, or they might both be right, we just don't know until they hit the track."
McLaren are "fairly confident" the unconventional suspension system on the MCL36 will turn out to be the right approach.https://t.co/8GpVQ5KeR5 #F1 pic.twitter.com/1J8uPsVDmd

— PlanetF1 (@Planet_F1) February 13, 2022
The Briton also spoke about McLaren's line up for this year's championship, saying in Daniel Ricciardo and Lando Norris the Woking team has two drivers who are capable of winning races.
Last season Ricciardo did just that at the Italian Grand Prix, Norris second on the day.
"Is Daniel the lead driver?" he said. "Maybe not, to be fair, and maybe that's a position that's good for both Lando and Daniel.
"Because on any given Sunday McLaren has a driver line-up that are both capable of winning a race. And that's what a team needs, strength and depth.
"It's no good having a star striker if you don't have a team to back him up.
"And I think McLaren have two drivers who can put on a lot of pressure, given the right car, on Mercedes, Red Bull, and Ferrari who I think are going to be up there, and Alpine and Aston Martin if they come to the party."
McLaren recently signed Norris to a new long-term extension, the Briton staying on until the end of 2025, while Ricciardo has hinted that it is only a matter of time before the team takes up their option on him for 2023.
Croft applauded the harmony within the team, saying that can only drive McLaren forward.
"Daniel has lost nothing of his ability and his race-winning ability," he said.
"In Lando he had a team-mate who on the day was happy to play the team game as well, and that shows a lot to the outside world about the partnership and the trust and willingness to work together that Daniel and Lando have.
"That should carry on for this year as well, both are very happy, they're very settled at McLaren … they're not looking for long-term new contracts, their future is quite settled.
"Lando has just signed a new deal, Daniel is really happy with McLaren and not looking to move elsewhere, so that creates harmony that can only be good for the team."
PlanetF1 Verdict
Either McLaren or AM have it a 'bit wrong' or 'bit right'
David Croft believes that McLaren or Aston Martin have it a bit wrong.