David Croft: Verstappen v Russell battle 'looked like F1 v F2' at Saudi Arabian GP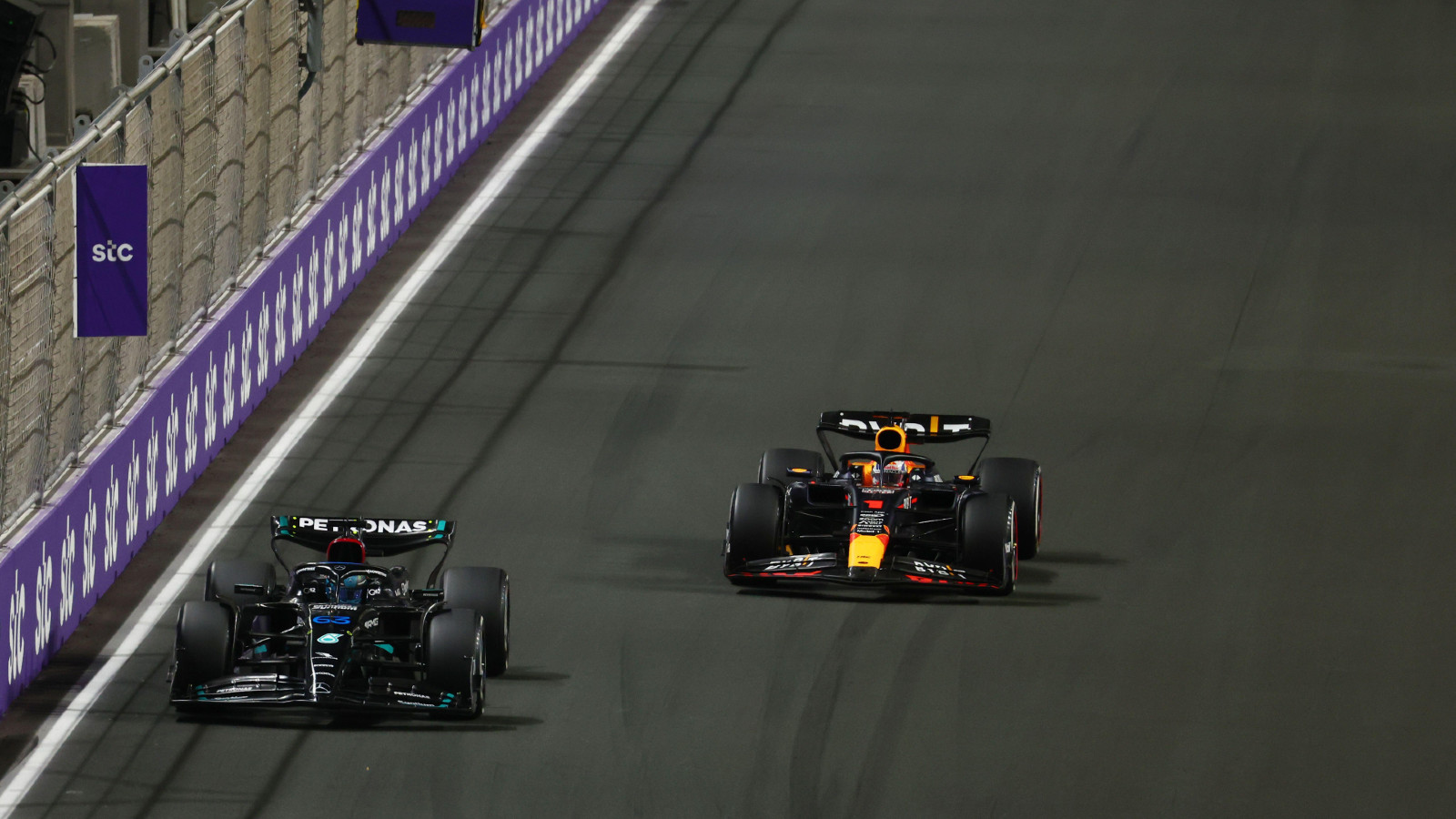 Sky F1's David Croft couldn't help but compare Max Verstappen's overtake on George Russell to drivers in completely different classses of machinery.
Verstappen's charge through from a 15th-place grid slot was aided quite considerably by a mid-race Safety Car intervention, which allowed him to close up on the leading drivers.
One of these was George Russell, who fell into the clutches of the Red Bull on the 23rd lap of the race as Verstappen stalked him down through the second sector of the lap.
Without DRS, Russell was powerless to defend against Verstappen as the Dutch driver opened up his DRS and simply sailed past the Mercedes – the speed differential startling as Croft commentated on the moment.
"What can George Russell do to keep the Red Bull behind him?" he said.
"He hasn't got DRS, and Max Verstappen will have his rear wing open wide… there it goes! And he just breezes down the inside!"
PlanetF1.com recommends
Mike Krack questions 'ambiguous' rule with FIA now set to clarify official wording
Lando Norris warns Oscar Piastri fight could've played out differently with points on the line
Nico Rosberg critical of Max Verstappen's attitude over RB19 reliability issues
With co-commentator Martin Brundle simply exclaiming, "What?!" at the overtake, Croft compared it to being similar to watching drivers in different classes of cars battling, rather than being two leading F1 cars.
"That looked like F1 against F2 given the pace difference between the two cars," he remarked. "that is not an insult in any way, shape, or form to anyone involved in the design of that Mercedes car.
"It's just that the Red Bull looked like it was in a different class!"
Lewis Hamilton, whose most recent victory in F1 was at the Jeddah Corniche Circuit against Verstappen in 2021, said that he didn't see a point in even trying to defend against Verstappen once the Red Bull had caught up to him.
Asked if Red Bull's dominance is a worrying sign for Formula 1, Hamilton replied: "I don't know, it's not for me to say, but I've never seen a car so fast.
"When [Mercedes] were fast, we weren't that fast. That's the fastest car I've seen compared to the rest, I don't know why or how but he came past me with serious speed.
"I didn't even bother to block because there was a massive speed difference."