Day 2 midday: Ricciardo impresses, Red Bull breaks down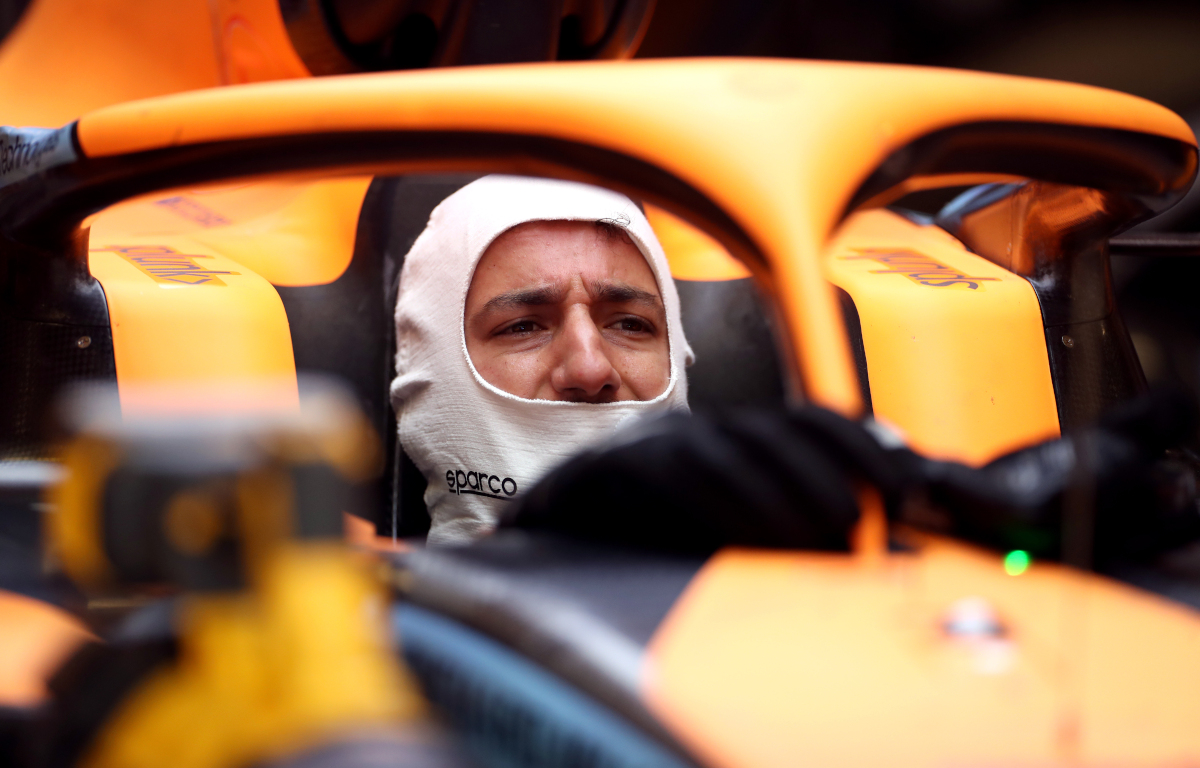 McLaren's impressive start to pre-season testing continued on Thursday with Daniel Ricciardo P1, while Sergio Perez brought out the first red flag of pre-season.
McLaren's new MCL36 had shown both pace and reliability on the opening day of testing at the Circuit de Catalunya on Wednesday.
But as the first day's pace-setter Lando Norris put it, he "didn't want to be P1, if anything I'd rather be last because now the expectations are so high".
Those expectations went up a notch on Thursday when Ricciardo set the pace in the morning session ahead of Carlos Sainz's Ferrari.
Aero rakes, aero rakes everywhere 🤗

Take a closer look at these intricately designed rakes on our 2022 cars, that are providing important airflow data to the teams 🔎#F1 pic.twitter.com/gImPtHfdWI

— Formula 1 (@F1) February 24, 2022
Sainz had been quickest after the opening hour with a 1:21.010, shaving tenths off that in the second hour before lowering the benchmark time to a 1:20.546.
That looked to be the time to beat through to the lunch break only for Ricciardo to put in a late run, clocking a 1:20.355 on the C3 Pirelli tyres, putting him 0.2sec up on the Spaniard.
But it was not just pace that both McLaren and Ferrari again displayed with Ricciardo and Sainz also two of the busiest drivers with 65 and 71 laps respectively.
Pierre Gasly was third for AlphaTauri ahead of Alex Albon and Lance Stroll.
The morning's running was briefly halted midway through the fourth hour when Perez, replacing Max Verstappen in the RB18, stopped on track at the exit of Turn 13 having ground to a halt.
Red Bull were quick to get to their car, loading it into a full body bag to keep its secrets hidden before it was lifted onto a flatbed truck and returned to the pits.
Red Bull reported it was a gearbox issue, one that was quickly resolved.
Checo's Red Bull under wraps following its off @Circuitcat_eng pic.twitter.com/oI8hKJwRB6

— Ian Parkes (@ianparkesf1) February 24, 2022
One notable thing that stood out on Thursday morning was how the drivers were struggling on the straights as their cars bounced up and down. As one pundit put it, it is not violent but definitely visible.
Finding the sweet spot with a car that is fast on the straights but much slower than last year's cars through the slow corners is another headache the teams are having to resolve.
The cars are 43kg heavier than last year's, while the stiffness of the suspension is also affecting them.
For the second day running it was not all smooth sailing for Alfa Romeo and Haas.
Valtteri Bottas completed just 21 laps in the Alfa Romeo.
The Finn was the last driver to set a lap time as his mechanics worked around the cooling area around the left side of the car. And even when his day did get under way, it was stop-start as the team dealt with various niggles.
Problems for Alfa Romeo with Valtteri Bottas out of the car, his mechanics working around the cooling area #F1 pic.twitter.com/yXONbSvwIp

— PlanetF1 (@Planet_F1) February 24, 2022
Mick Schumacher blotted his copybook as while the Haas looked convincing in his hands for most of the morning, he was the day's only spinner as he lost the back end on the entry to Turn 13.
Schumacher finished the morning sixth quickest ahead of Bottas, Perez, Lewis Hamilton and Esteban Ocon's Alpine. It was a quiet morning for Hamilton, who completed just 40 laps.
Times
1 Ricciardo McLaren 1m20.355s C3 – 64 laps
2 Sainz Ferrari 1m20.546s C3 – 71 laps
3 Gasly AlphaTauri 1m20.764s C3 – 60 laps
4 Albon Williams 1m21.531s C3 – 47 laps
5 Stroll Aston Martin 1m21.920s C3 – 55 laps
6 Schumacher Haas 1m21.949s C3 – 65 laps
7 Bottas Alfa Romeo 1m22.288s C3 – 21 laps
8 Perez Red Bull 1m22.412s C2 – 38 laps
9 Hamilton Mercedes 1m22.562s C2 – 40 laps
10 Ocon Alpine 1m23.280s C2 – 66 laps