Ditching wind tunnels cannot be short-term plan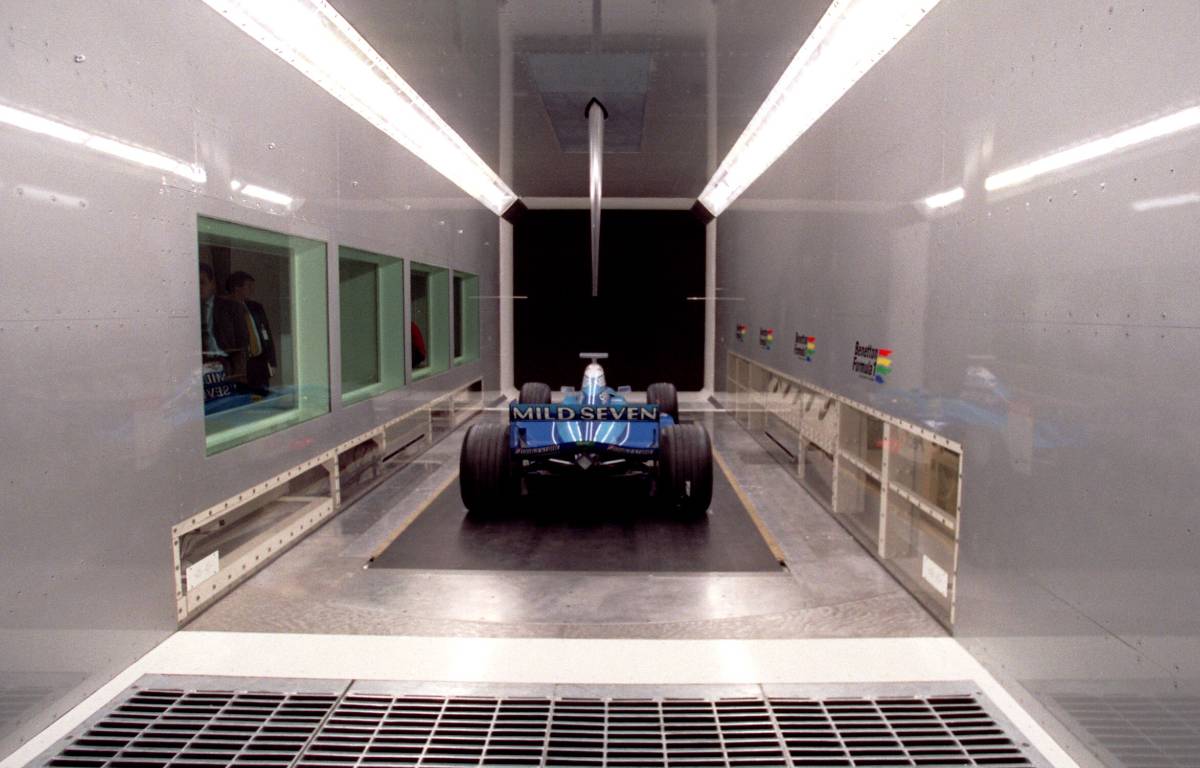 Team bosses have confirmed Formula 1 is looking to move away from wind tunnels – but in the short term it would cost them more.
Recently, Formula 1's chief technical officer Pat Symonds revealed eight of the 10 Formula 1 teams are in favour of eliminating the use of wind tunnels within the next 10 years.
Wind tunnels have been a crucial part of developing a Formula 1 car ever since the 1980s but with a cost cap now in play, it could potentially save teams a lot of money if a wind tunnel was no longer needed.
But Ferrari principal Mattia Binotto said this is very much a long-term strategy, as ditching them now would actually cost teams more.
Formula 1 has moved already to reduce testing time in the wind tunnel with the introduction of a sliding scale, with teams afforded fewer hours the higher they finish in the Constructors' Championship.
"Banning the wind tunnel has been discussed for 2030, not earlier. That was the proposal. It's a long time from now to then," Binotto told reporters in Monaco.
"I think all the teams are open to the discussion, and open to accept it eventually because it's a long time from now. Are we today ready to ban the wind tunnel? Not at all.
"I think in general it has always been about design simulations and testing, and testing is still very important whatever it is – aerodynamics, power units etc. I think in terms of cost reductions we are already reducing at the moment the hours in the wind tunnel, which is a step in the right direction.
"Banning it completely, if you would do it today, the testing would be on track and that would be even more expensive rather than doing it in the wind tunnel, so I don't think the times are mature today for a decision.
"I think it's right to discuss it but I think the testing is part of our normal engineering process, so for today it's important to have the wind tunnel and let's see how much simulation will develop in the future."
F1 TV are offering PlanetF1 readers 10% off their Access and Pro subscriptions! Click here and use the code PLANETF10 at checkout*
*offer expires midnight on Sunday, June 6
Alpine CEO Laurent Rossi echoed the words of Binotto, stating Formula 1 is not at a stage yet to eliminate wind tunnels.
"Eventually, if it helps curbing the cost obviously it's a good measure," he said.
"Now it remains to be seen what the CFD [computational fluid dynamics] to track reliability is and I think we are not there yet, to the point that we can just get rid of the wind tunnel altogether.
"So I guess at some point we might phase it out with progress of simulation, but in the meantime it will probably rely on the measures that are in place now – the ATR [aerodynamic testing regulations] and such – which are limiting the number of hours, which is already a step in the good direction."
"I can absolutely mirror Laurent's feedback," added Mercedes boss Toto Wolff.
Meanwhile, Red Bull team principal Christian Horner said the topic of wind tunnels was something he "brought up a few months ago", questioning their place in a series like F1 which wants to become more environmentally friendly.
"It's a topic I brought up a few months ago to say take a longer-term view because a wind tunnel isn't particularly efficient, it's not very environmentally friendly," he said.
"And with the world evolving in simulations, the tools, the way CFD is evolving so rapidly – for example, the Valkyrie was developed…it never went in a wind tunnel once during its whole development phase.
"And I think if you take a 10-year view on this, so it's far enough out that these effectively dinosaurs of machinery that are heavily consuming electricity and power become a thing of the past and Formula 1 should be the cutting edge of technology.
"We are seeing more and more investment from the tech sector, so why not be the showcase for that tech with Formula 1, and I think if it's something like 10 years away, there's a glide path towards it that every team knows it's coming and you adjust your investment over the period of time accordingly."
Follow us on Twitter @Planet_F1, like our Facebook page and join us on Instagram!