Lewis Hamilton told to leave Mercedes and make rival move to Ferrari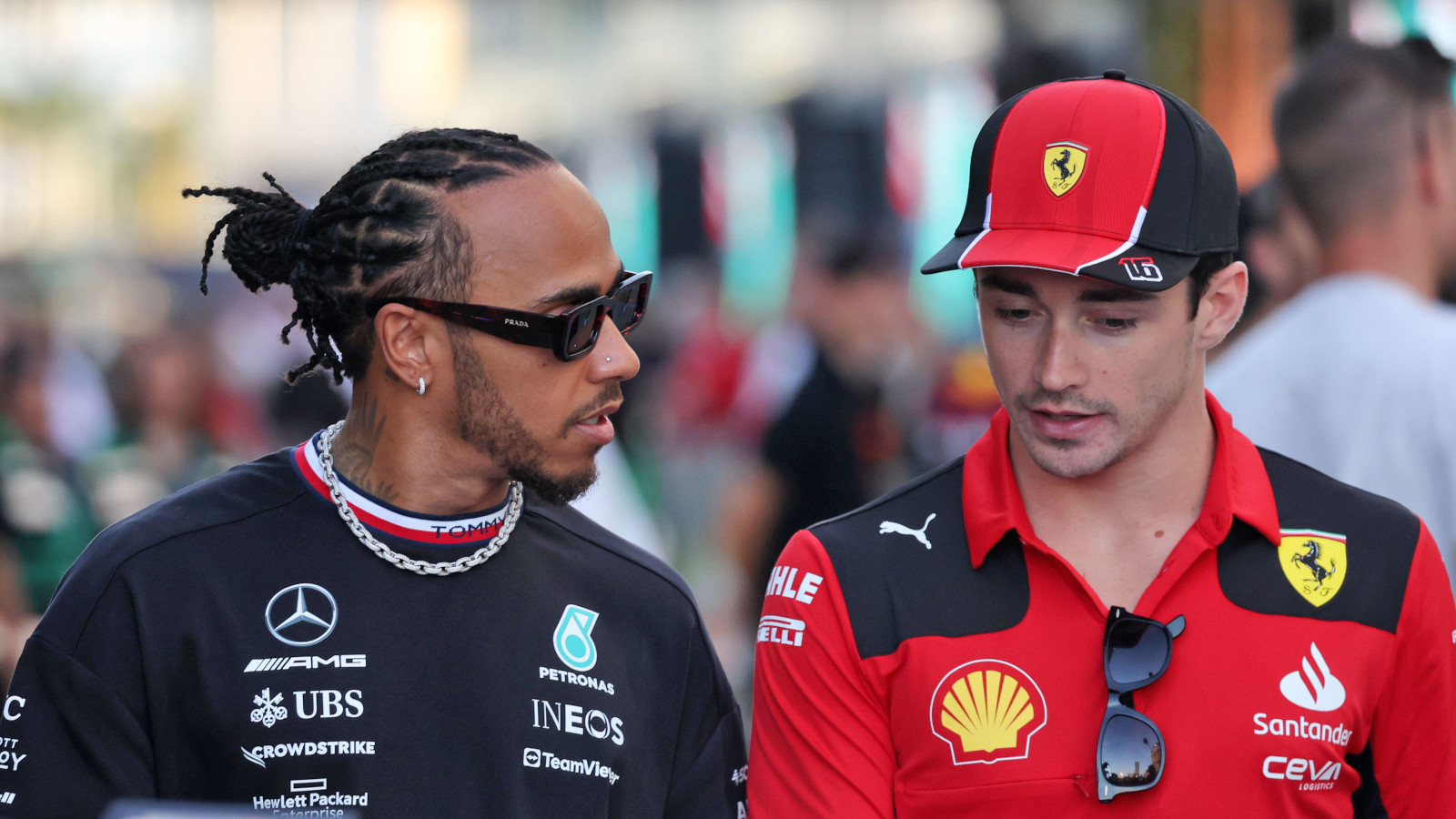 Former F1 team owner Eddie Jordan believes that Lewis Hamilton leaving Mercedes for Ferrari is the move which "Formula 1 needs" and one he wants to see happen.
The future of Hamilton in Formula 1 is once more a major talking point in the sport with the seven-time champ's Mercedes deal set to expire following the F1 2023 season, and the Brit has made little effort to hide his frustration regarding the current Mercedes package.
Having set about trying to return to the front of the grid in F1 2023, following a disappointing 2022 where Mercedes claimed just one pole and victory courtesy of George Russell, the team instead seems to have taken a step backwards at the start of the new season.
Two rounds have passed, the Bahrain and Saudi Arabian GPs, with a P4 for Russell proving the team's best result from those rounds, while for Hamilton it has been a pair of P5 finishes as he talks of a total disconnect between himself and Mercedes' latest creation.
Mercedes team boss Toto Wolff has said the team risks losing Hamilton in the next few years if they cannot return to the front of the grid, but with his future undecided beyond the current year, Jordan, former owner of the Jordan Grand Prix team, wants this to be the opening that allows Hamilton to join Ferrari.
"Formula 1 needs Lewis Hamilton in a Ferrari and Ferrari needs Lewis Hamilton," Jordan told OLBG.
Right now Formula 1's winning ticket is Red Bull, the team having established themselves as the untouchable early frontrunner of F1 2023, taking a pair of one-two finishes and both pole positions on offer.
But, while most would argue that Hamilton's 2021 title rival Max Verstappen would be the one shutting the Red Bull door on Hamilton, Jordan feels it would actually be a reluctance from Red Bull to lose Sergio Perez which would keep Hamilton out of that line-up.
"Hamilton should look to go to another Championship-winning team, but the drama is who is going to move aside?" Jordan pondered.
"Red Bull would not let Sergio Perez go for Hamilton because they try to encourage drivers who have been through their teams to try and reach the top like Max Verstappen did.
"Hamilton is a McLaren man, but I can't see him going back there because of the position they're in. The only other places I see Hamilton going is Ferrari or staying at Mercedes.
"At the moment, there's no contract signed and Toto Wolff said if he was Hamilton he would consider leaving. What would I be thinking if I was Hamilton, am I really loved here? What is actually happening at Mercedes?
"I'm not in the thick of things like I used to be. I don't know Wolff's point of view on the situation but I believe when he says he wants Hamilton to stay, but the Mercedes is not good enough for Hamilton."
Of course if Hamilton was to leave Mercedes at the end of his current contract, then the next major talking point would be who takes his place in that line-up?
Jordan has thought about that too, and would like to see a driver swap with Hamilton joining Ferrari and Charles Leclerc going the other way to Mercedes.
"Charles Leclerc is very much a Mercedes type of driver, and to see Leclerc and George Russell fight it out would be great," said Jordan.
"Now that would be interesting. That could be a deal in heaven. I know Leclerc quite well as a person and he's magnificent, but so is Hamilton, so who is to say it would be any different.
"I'm sure everyone in F1 would love to see a swap between Hamilton and Leclerc, that would be mouth-watering. When I dream of Hamilton going to Ferrari, it is just a thought because he has won seven World Championship titles [sic] with Mercedes so he might want to stay.
"Then again, all the great drivers would feel the pull of a great team like Ferrari, that's where I think Hamilton should end up."
PlanetF1.com recommends
Ranked: The five possible F1 options facing Lewis Hamilton in order of likelihood
Lewis Hamilton: Red Bull are quicker now with RB19 than Mercedes ever have been
Toto Wolff says Mercedes have 'year or two' of poor performance before Lewis Hamilton leaves
Ferrari unlikely to appeal to Lewis Hamilton right now
While it would be a really cool sight to watch Lewis Hamilton go racing in Ferrari machinery, the team's current place in the Formula 1 pecking order means it is doubtful that Hamilton would see them as a better bet for future title success than Mercedes.
Mercedes' pace issues early in F1 2023 have been well-documented, and perhaps made to seem so severe just because of the level of success which they are used to, but for on-track performance alone, the most recent outing in Saudi Arabia suggested that Ferrari have more work to do than Mercedes to reel in Red Bull.
While Leclerc was only a tenth down on Perez's pole time, again we saw that race pace is a big area of concern for Ferrari. Carlos Sainz started P4 as Leclerc dropped to P12 due to a power unit-related grid penalty already, the final results being P6 for Sainz and Leclerc P7.
Both Ferraris finished comfortably behind the Mercedes duo as those outfits look to bring Aston Martin under control before they can even start thinking about Red Bull.
So, while emulating Michael Schumacher, who Hamilton sits level with on seven titles, by taking Ferrari back to title glory and clinching that record eighth crown does sound like a storybook ending to a legendary Hamilton career, somehow it seems like this will not really appeal to Hamilton right now.