Eddie Jordan: 'Not a chance Sergio Perez will be replaced by Daniel Ricciardo'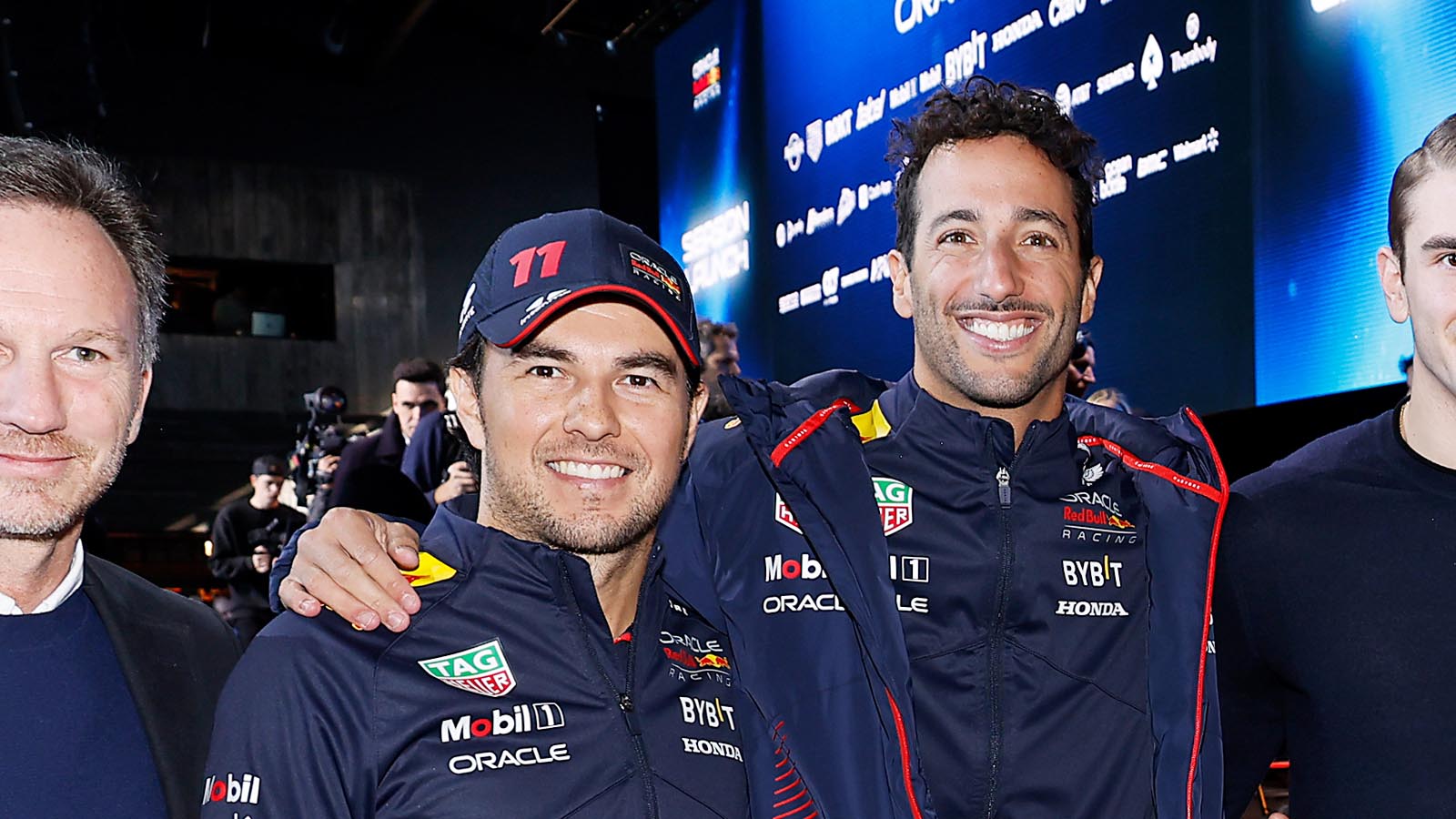 Sergio Perez's seat is safe at Red Bull in Eddie Jordan's opinion, despite the presence of Daniel Ricciardo lurking in the garage.
The much-loved Honey Badger will be sorely missed in Formula 1 this season. McLaren opted to terminate his deal early after failing to unlock the Aussie late-braker's world-beating pace, ending a 12-season stint on the grid.
Christian Horner handed his former driver a lifeline, bringing him back into the Red Bull family as a reserve option – four seasons after they broke-off a partnership that brought seven GP victories.
The Verstappen-Perez partnership was dubbed Red Bull's greatest driver pairing by Christian Horner – even ahead of Sebastian Vettel and Mark Webber – but cracks appeared at Interlagos last season when Verstappen refused to let "Checo" pass for some extra points, even with his Drivers' title wrapped-up.
With a driver of Ricciardo's talent and stature back on Red Bull's books, some fans and pundits had speculated that Horner and Co might be lining their Aussie reserve up for the full-time drive should Perez slip up
Jordan, no stranger to complicated driver dynamics from his days as a team owner, doesn't share such as dim a view of Perez's future on the World Champions' lineup.
"There's not a chance Checo Perez will be replaced by Daniel Ricciardo," the Irish pundit and respected motorsport expert told OLBG.
"Checo is a darling in that team. Remember what Checo does, he is brilliant foil for Max, he is strong, he can win when he needs to win, or when he has the chance and opportunity to win. There was a bit of a kerfuffle between the two of them, and the opportunity to be second in the championship was a different issue.
"It's a perfect scenario for Red Bull, as it was for Michael Schumacher and Eddie Irvine. Irvine was happy, he understood the rules, he was being paid on the basis of what he agreed to do.
"I'm sure Checo is the same. He brings good sponsorship to the team, I doubt Daniel Ricciardo does, not to the same level as the Mexican can bring.
"The biggest thing Red Bull have is continuity. They will not want to change that. Ricciardo has been there before, he knows he doesn't have to be given special treatment, he knows how the team operates, the same people were there; Christian Horner and Adrian Newey.
"They're the key people in that team, Daniel knows them well but it would have to be as a result of a driver not being able to participate, but just to sack Checo, I don't see that at all."
Where next for the Honey Badger?
If there is no route back into the cockpit with Red Bull, Ricciardo will have to look elsewhere. In a highly competitive environment, with fresh talent always rising through the ranks, that could get complicated.
Ricciardo turned down a deal with Haas for this season, deciding he'd rather spend a year on the sidelines to refresh instead. The Aussie's ambitions are simply higher up the grid and with that in mind, McLaren's struggles in testing this season might make him feel a little better about severing ties.
Formula 1 moves fast and the longer a driver watches from the sidelines, the likelihood of him finding a route back onto the grid reduces. Red Bull's sister team AlphaTauri has been floated as an option but once again, Ricciardo would need to accept being a bit-part player on the 20-man grid.
Lewis Hamilton or Fernando Alonso's sudden retirement are two events that could open doors for Ricciardo at the top table, while Audi linking-up with Alfa Romeo in 2026 makes the Swiss team a more interesting prospect. That would require Guanyu Zhou having a poor 2023 campaign, with Valtteri Bottas looking at home there.
For now, Ricciardo will just need to be patient. A one-time drive in place of Perez or Verstappen this season would provide a much-needed opportunity to remind the world of his powers in a race-winning car. The fans surely won't be against it either…