Emerson Fittipaldi's 1972 title win honoured by Lotus with 'Evija' hypercar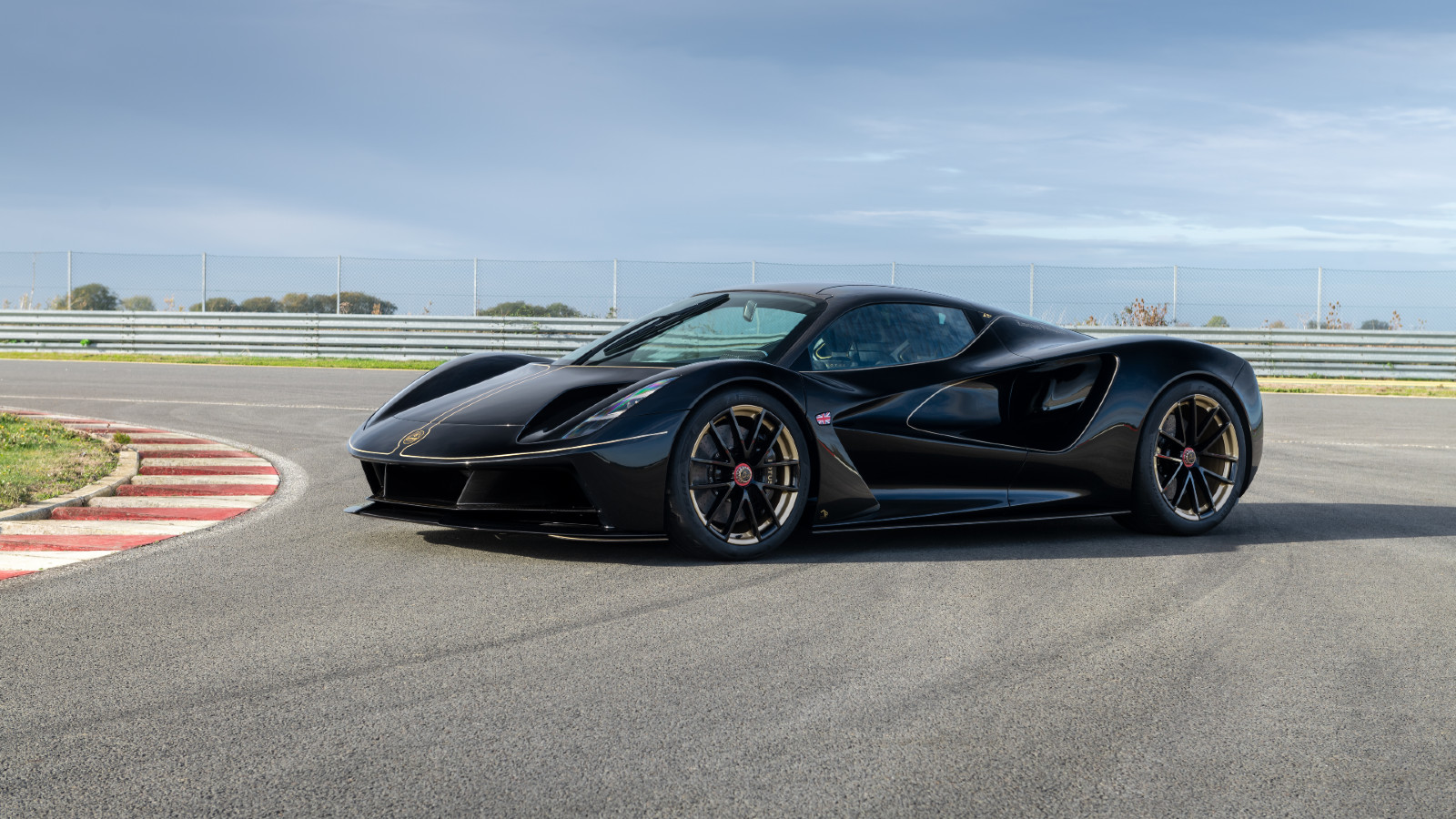 50 years on from Emerson Fittipaldi's Drivers' Championship win with Lotus, the carmaker has revealed their stunningly rare tribute to the F1 Champion.
Lotus have unveiled the 'Evija' hypercar, which commemorates Emerson Fittipaldi's 1972 Drivers' Championship win, to become the world's most powerful production car.
Racing the Lotus Type 72 50 years ago, Fittipaldi won five of the 11 races that year and clinched the title as Lotus wrapped up the Constructors' trophy.
To mark the anniversary, Lotus have shown off the Evija two-seater, of which just eight examples of the all-electric two-seater will be built by hand in Norfolk in the UK.
The car features the black and gold colour scheme as raced by Fittipaldi on the Type 72, with the exterior hand-painted and some special nods to the F1 car included.
For example, a hand-tinted plan view of the Type 72 is etched into the carbon-fibre roof, while Fittipaldi's signature has been stitched into the dashboard.
Aluminium that was used on the Type 72 has been recycled, with the rotary dials of the instrumental panel crafted from the metal. The car is capable of 0-60mph in less than three seconds and reaches 186mph in nine seconds. The limited maximum speed is 217mph.
Fittipaldi himself was in attendance at the launch of the car, where he had the chance to drive his Type 72 on track before taking the wheel of the Evija.
All eight surviving Type 72s were rolled out on track as well – the reason for why just eight Evijas will be built.
"Emerson Fittipaldi and my father enjoyed a very special relationship, and their spectacular success was a brilliant team effort by the dedicated designers and mechanics at Team Lotus," said Clive Chapman, Managing Director.
"One of motorsport's most admired drivers, it is always emotional whenever Emerson is reunited with the Lotus Type 72, which he describes as the greatest car he ever raced."
Jenson Button carries out Lotus test drive
2009 F1 World Champion headed to Lotus HQ ahead of the launch, driving the Evija and the Type 72 on their test circuit.
"It sounds like a jet engine! You think of an EV as quiet but it's not," he said after jumping out.
"The torque is astronomical. It's amazing, it puts a big smile on your face. It feels like a spaceship, the drivability and direction in the steering certainly lets you know you are driving a Lotus; I am amazed by the agility of it. It is a Lotus of the future and I can't wait to drive my own Evija."
More information and the technical specifications of the Lotus Evija can be viewed on the Lotus website.
Read More: Porsche still pursuing 'viable paths' for a way into Formula 1