Emilia Romagna Grand Prix 2023: Start time, schedule, Imola weather and live stream
Formula 1 makes its next stop at Imola for the Emilia Romagna Grand Prix, where multiple factors could threaten Red Bull's early dominance.
So far five rounds have passed in F1 2023, and the whole lot have featured an unstoppable Red Bull force, Max Verstappen claiming three grand prix wins to Sergio Perez's two, with four one-two finishes secured between them.
Business as usual at Imola then? Well, not necessarily. The weather for example looks changeable across the weekend, so while we know Verstappen seemingly only becomes stronger in the wet, the same is true for several others when this great leveller comes out to play, Aston Martin's Fernando Alonso and Lance Stroll, plus Mercedes' George Russell coming to mind.
And speaking of Mercedes, their first major W14 upgrade of the season is set to arrive at Imola, creating plenty of intrigue with the "layout" of that tricky challenger set to change. We also wait to see what Ferrari have up their sleeves on home soil.
Plenty of reasons to tune in then, and here are all the details you need for the Emilia Romagna Grand Prix race weekend…
Emilia Romagna Grand Prix: What are the start times for each session this weekend?
Friday, May 19
Free Practice 1: 1330-1430 local [1230-1330 UK]
Free Practice 2: 1700-1800 local [1600-1700 UK]
Saturday, May 20
Free Practice 3: 1230-1330 local [1130-1230 UK]
Qualifying: 1600 local [1500 UK]
Sunday, May 21
Race: 1500 local [1400 UK]
Where does the 2023 Emilia Romagna Grand Prix take place?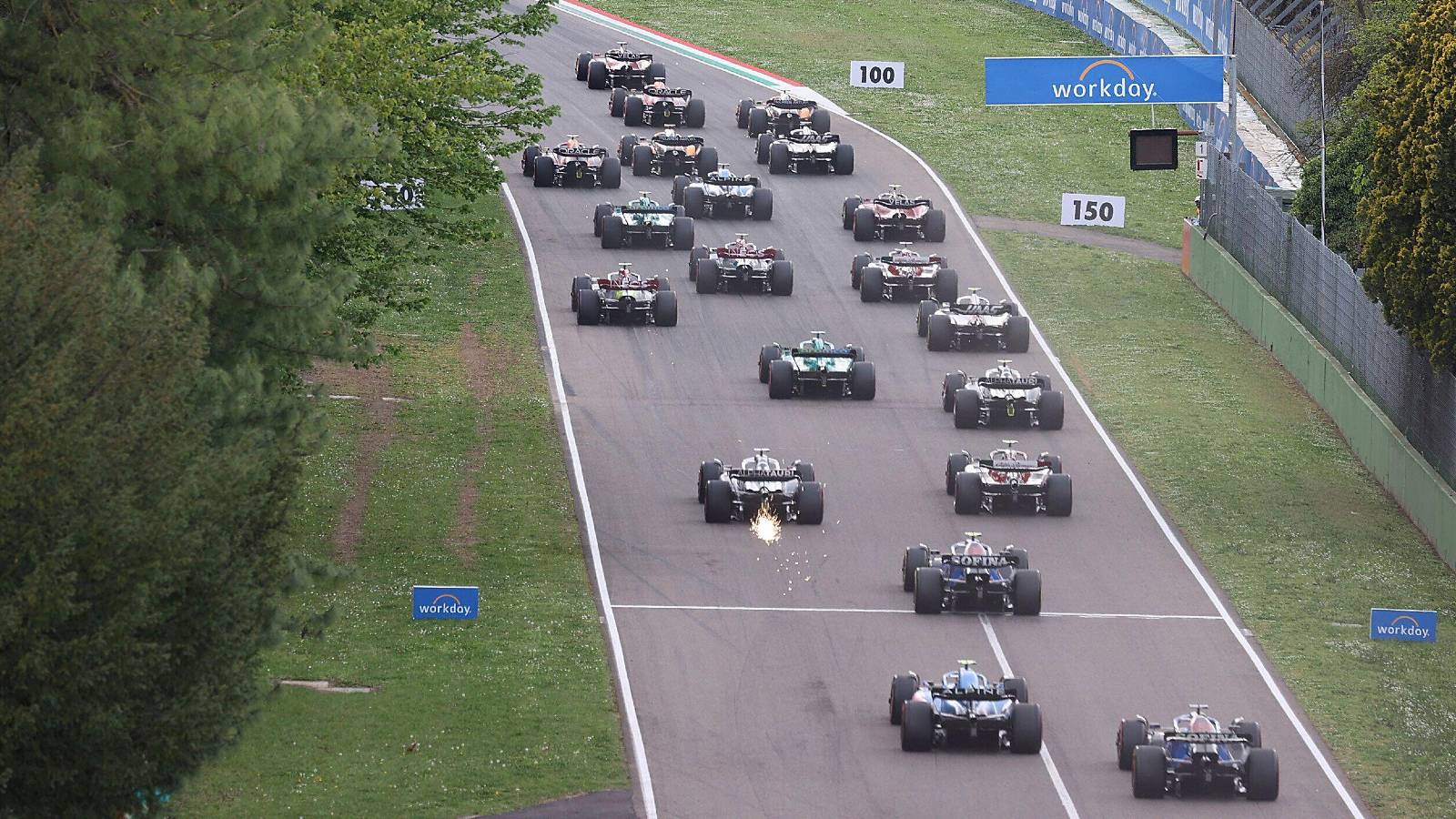 The Emilia Romagna Grand Prix was a new name on the Formula 1 calendar in 2020, but its host track has a long history in the sport.
The Autodromo Internazionale Enzo e Dino Ferrari is a 3.050-mile track, consisting of 19 turns and is based in the Italian town of Imola, 25 miles east of Bologna.
As for where the race gets its name from, well simply Emilia Romagna is the region of Italy in which the track is based.
Unlike most major international circuits, Imola runs in an anti-clockwise direction, with its official name designed as a tribute to Ferrari's founder Enzo Ferrari, and his son Alfredo Ferrari who died in 1956 at the age of 24.
How can I live stream the 2023 Emilia Romagna Grand Prix?
Formula 1 is available to watch via different TV broadcasters depending on which country you reside in, and the Emilia Romagna Grand Prix is available to watch live on the following channels in these major markets in 2023:
Australia: Fox Sports
Austria: Sky Sport F1, ORF, Servus TV [live races split between them]
Brazil: TV Bandeirantes, BandSports
Canada: RDS, TSN
China: Great Sport (RTS) [Shanghai only], CCTV, Guangdong Sports [broadcast in Guangdong only]
France: Canal+
Germany: Sky Sport F1 [race live on Sky Sport YouTube channel]
Italy: Sky Sport F1, TV8
Japan: Fuji TV Next
Netherlands: Viaplay Xtra [free-to-air highlights on NOS]
Spain: DAZN F1
United Kingdom and Ireland: Sky Sports F1 [free-to-air highlights on Channel 4]
United States: ESPN, Spanish language broadcast available on ESPN Deportes
For those looking to watch live races online, F1 TV Pro is available in selected countries, which allows you to watch every session live, have access to exclusive live timing, documentaries and live shows – and is available to watch on any of your chosen devices via web, iOS, Android, Amazon Fire, Roku and Chromecast.
F1 TV Pro* viewers can watch all the live action from all 23 race weekends this season completely ad-free! Click here for the ultimate F1 viewing experience.
What is the 2023 Emilia Romagna Grand Prix forecast?
Information from BBC Weather suggests that the heaviest rain of the week will come and go at Imola by Thursday, though this does not mean that a dry race weekend is on the way.
Friday looks set to be dry, though there is a rain threat approaching 20% during FP1, before that threat drops to zero for the second practice session.
Saturday though threatens to produce some wet-weather running, with light rain throughout the day forecast. The rain risk remains 70% throughout FP3 and qualifying.
And then come Sunday, where we could be left with a mixed-up grid, once more there is a good threat of rain showers, with the potential for more persistent light rain to set in. When the lights go out at 1500 local time, there is a 50% chance of rain.
What are the tyre compounds for the 2023 Emilia Romagna Grand Prix?
Pirelli will bring the softest tyres in their range to the Emilia Romagna Grand Prix, while it seems like the intermediate and wet tyres could also see some action.
As for the slick rubber, the C3 compound will serve as the hard tyre, the C4 will be the medium and the C5 shall be the soft.
Which drivers have won the Emilia Romagna Grand Prix?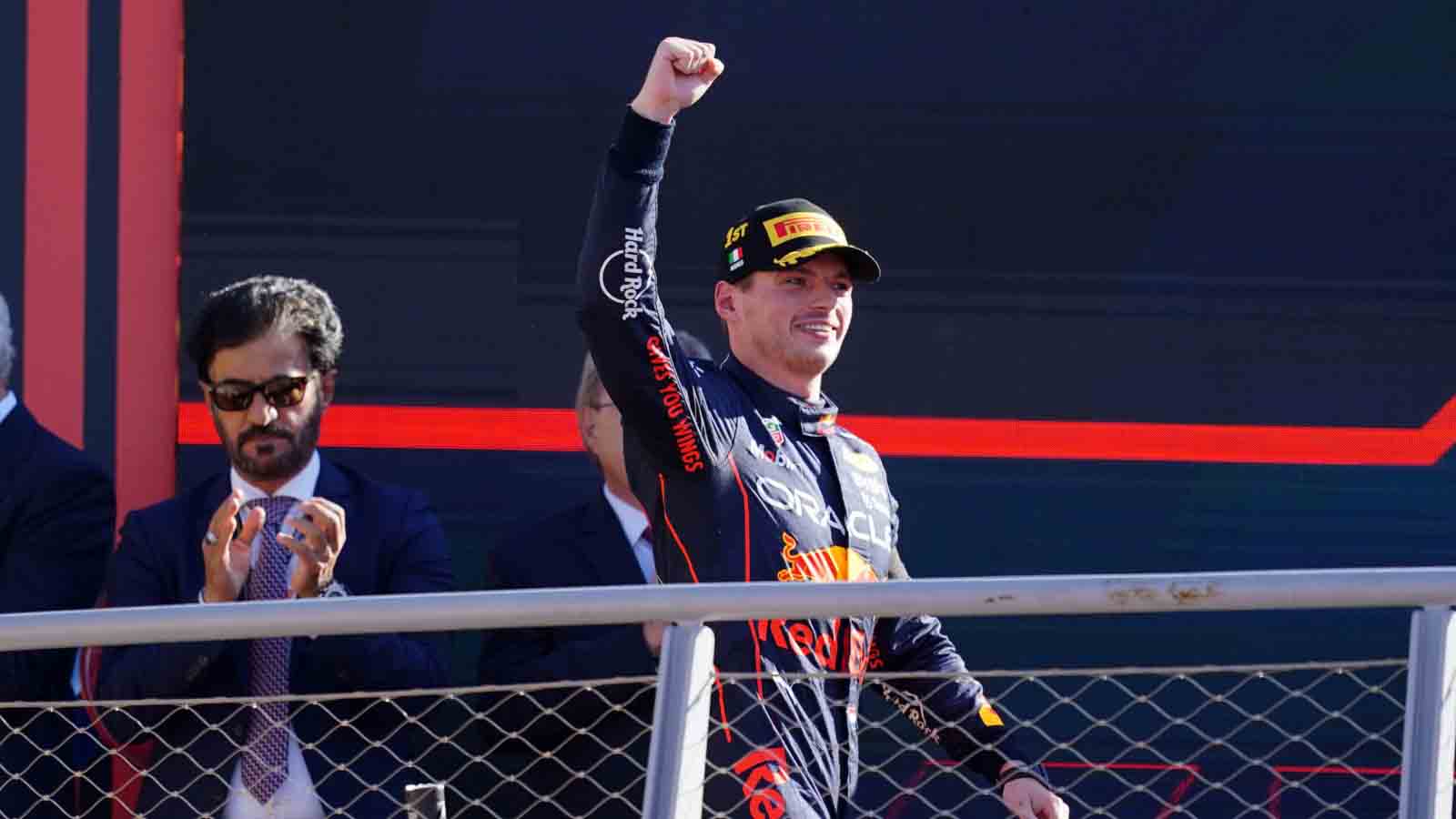 While Imola has a history in Formula 1 stretching all the way back to 1980, racing action under the Emilia Romagna Grand Prix name is a fairly recent addition to the F1 calendar. That being said, the event already has a repeat winner.
And that is Max Verstappen, a driver who having won the two most recent Emilia Romagna GPs in 2021 and 2022, will be out to make it a hat-trick as he continues his march towards a third World Championship crown in as many years. Mercedes' Lewis Hamilton is the only other winner of the Emilia Romagna GP.
But, before the Emilia Romagna GP, Imola was playing host to the San Marino Grand Prix, so let's take a look at the 10 most recent victors at this venue. Interestingly despite the 14-year gap between the last San Marino GP and first Emilia Romagna GP, Verstappen and Hamilton are not the only past Imola victors still active on the grid.
2022 – Max Verstappen, Red Bull
2021 – Max Verstappen, Red Bull
2020 – Lewis Hamilton, Mercedes
2006 – Michael Schumacher, Ferrari
2005 – Fernando Alonso, Renault
2004 – Michael Schumacher, Ferrari
2003 – Michael Schumacher, Ferrari
2002 – Michael Schumacher, Ferrari
2001 – Ralf Schumacher, Williams
2000 – Michael Schumacher, Ferrari