New Red Bull junior underwent brain surgery 12 months ago after horror F2 crash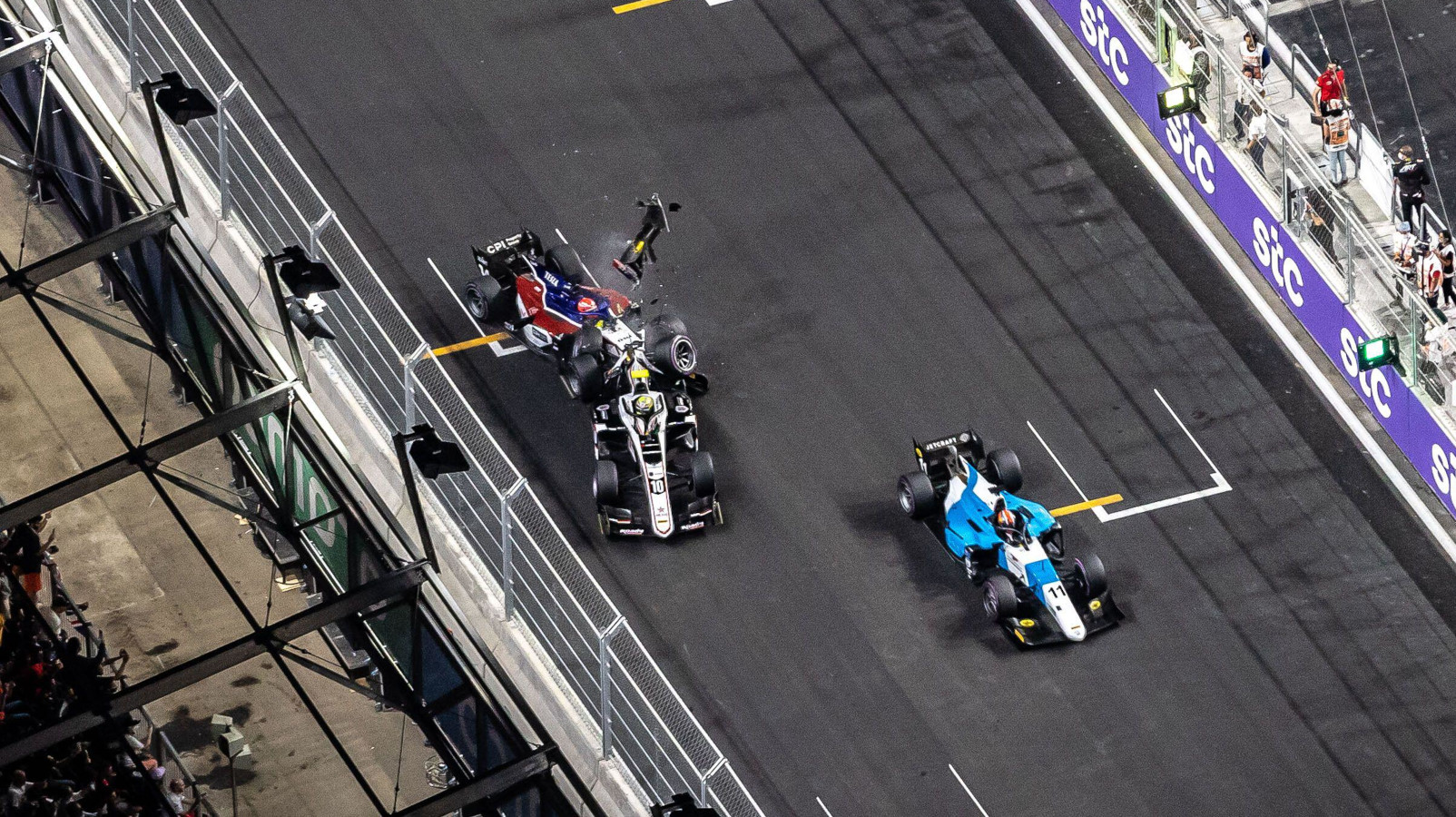 Enzo Fittipaldi had to undergo brain surgery after last year's horror crash at the Formula 2 Jeddah weekend, his brother Pietro has revealed.
Grandsons of the legendary Emerson Fittipaldi, both lads have followed him into motor racing with Pietro signed as Haas' reserve driver while his younger brother races in Formula 2.
Enzo stepped up into Formula 2 last season, joining Charouz Racing System, where he was involved in a high-speed crash at the start of the final race for the Jeddah weekend.
Unsighted, he smashed into the back of the stalled Theo Pourchaire with both drivers taken to hospital where it was reported Enzo had suffered a broken heel as well as cuts and bruises.
His brother Pietro has now revealed he also had a brain haemorrhage that required surgery.
"He had a massive accident last year, shattered his heel," Pietro said as per The Race.
"A lot of people don't know but when I was doing the test here last year [post-season Abu Dhabi test with Haas], and I got COVID, I stayed stuck in quarantine for 14 days, that's when he flew back home and he actually had brain haemorrhaging and they found it out and went to the emergency room.
"He had like very severe brain haemorrhaging so they had to do brain surgery on him and everything.
"We thought he wouldn't be able to come back in the beginning of the season.
"Obviously he was fine after but it was a very close call and he came back still with the bone not fully recovered."
Enzo returned to the Formula 2 grid in March this year, once again lining up with Charouz Racing System.
While it was a slow start to the season, point-less in the first two rounds, he was on the podium at Imola and added a further five top-three results later in the season to finish P8 in the standings.
Pietro: "He struggled in the first two races but then had a mega season, six podiums, was fighting for top three in the championship here this weekend.
"It didn't go their way [in the finale] but they still did pretty well and I'm super happy for him that he signed with Red Bull.
"I know how good Enzo is and for sure, the dream there is to have him race in F1 as well."
Red Bull recently announced they'd signed Enzo to their young driver programme.
Pietro has vowed to do everything he can to help his 21-year-old brother's F1 dream come true.
"We're always super competitive with each other and that pushes us forward," Pietro added.
"With my experience, I'm for sure going to help him as much as I can.
"He was here today [at the test] looking at some stuff and trying to give me some feedback in-between runs.
"And obviously the dream is to have both Fittipaldi brothers racing in F1 together, that would be f***ing amazing.
"All we can do is push, maximise every opportunity we have, like he's been doing this year."
Read more: Nico Rosberg cannot understand how Daniel Ricciardo didn't live up to the hype