'Big deviation' between Alonso and Ocon's set-up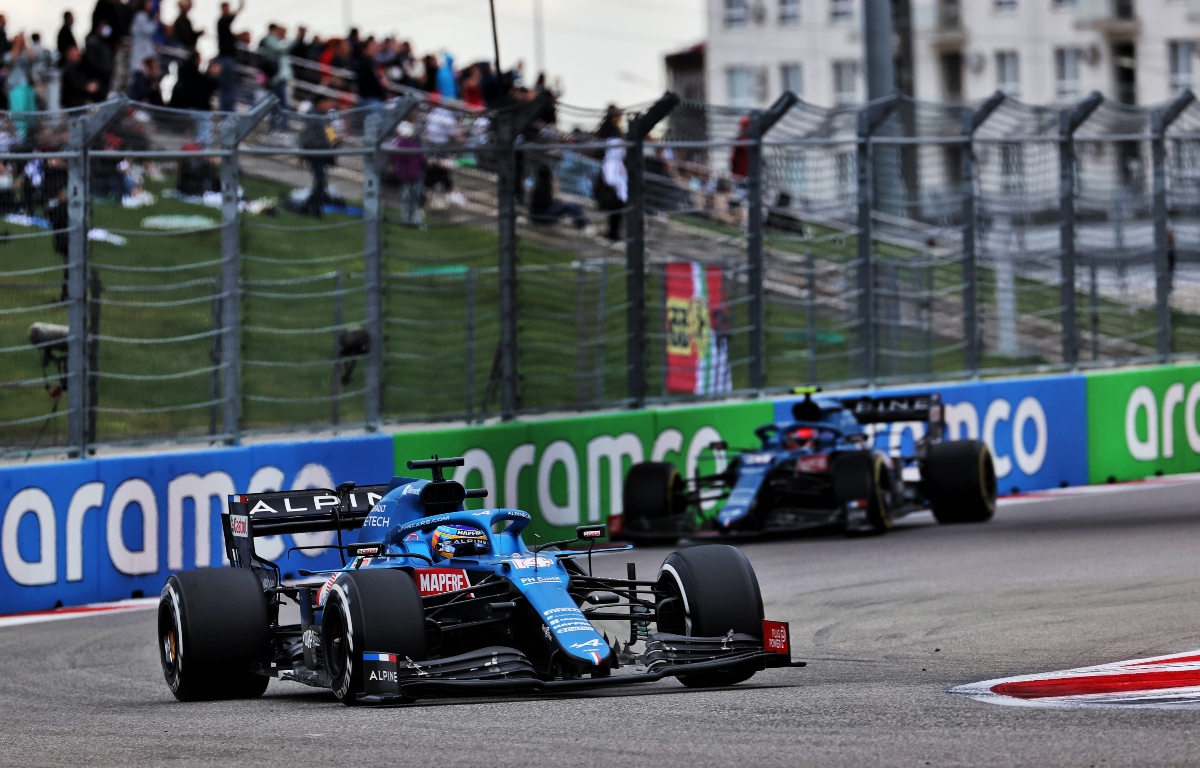 Esteban Ocon says he and team-mate Fernando Alonso had considerably different set-ups at the Russian Grand Prix.
Unlike at most of the rounds this season, Ocon was a long way off Alonso in terms of pace at Sochi, being firmly second best to him in both qualifying and the race.
On Saturday, he finished Q3 four places down on the Spaniard, while on Sunday he was even further off, crossing the line in P14 while Alonso secured P6.
The Frenchman says that the Alpine pair had different set-ups as they gave different feedback earlier in the weekend, and he feels this partly explains the gap between them.
"You know, the cars were very similar in terms of set-up in the last three or four races, practically identical," he said after the race.
"But in this race, there has been a big deviation because we did not give the same feedback, we did not have the same comments.
"So yeah, we have a couple of ideas on what it could be. We're just looking to fix it for the next race."
He's made all the more confused about the deficit by the fact that, in terms of driving alone, he felt that he was as good as he was in previous rounds where he was much closer to Alonso.
"I mean, I felt good at the wheel, as I did at Monza or Zandvoort. So no, there is no particular reason for me," he added.
We are biased. We know we are. But come on… This is one hell of a driver line-up. 🤩#RussianGP pic.twitter.com/0skl3lop7j

— Alpine F1 Team (@AlpineF1Team) September 27, 2021
Get the new look Alpine merchandise via the official Formula 1 store
It was a disappointing weekend in what has been a good season for Ocon, with him winning his first F1 race and generally being a close match for his seasoned team-mate.
In fact, he says it was one of his low points of the season, but is confident he'll bounce back in Turkey.
"Yes, it has not been the best Sunday for us. Probably one of the most difficult of the year," he said.
"I think the positive was the start, which was quite good and I gained a bit of ground… We managed to stay in a good position for the first few laps, but after that, it was quite strange.
"Pacing-wise, we lacked quite a bit of time per lap at each turn and lost ground to the car in front, unable to attack or defend myself.
"So yeah, there's a lot to go over, a lot of work before we get to Turkey. We'll work it out…"
PlanetF1 verdict
Fernando Alonso shows Esteban Ocon how it is done
Fernando Alonso had another solid performance at the Russian Grand Prix.