Did Lewis Hamilton battle highlight Esteban Ocon is underrated in F1?
Esteban Ocon resembled a brick wall as he kept Lewis Hamilton at bay in Japan, leading to the suggestion he is flying under the radar in F1.
For a time it appeared the Japanese Grand Prix would be cut very short, the race suspended for over two hours after an incident-filled opening lap in heavy rain.
The Japanese GP did resume though, with 29 laps completed in the end, Ocon spending a good chunk of those laps defending P4 from Hamilton in the Mercedes.
Hamilton had a pace advantage in his W13, but Ocon's Alpine was more effective in a straight line. If DRS had been active, the speed boost from that would have likely rendered the Alpine's straight-line pace redundant, but that is not how it played out.
With the full Suzuka race having taken place on a wet track, DRS was never enabled and so a good old-fashioned overtake was needed from Hamilton if he was to clear Ocon.
But Ocon was placing his A522 perfectly to close the door on Hamilton through the corners, including when he tried the overtake which his team-mate George Russell had perfectly executed through the S Curves a few times already. Then down the straights, Hamilton was unable to make a lunge as that straight-line speed protected Ocon.
Behind them, Alonso was also enjoying the benefit as he made a late pit-stop for fresh intermediate tyres, his rise back up the order completed with a pass on Russell to finish P7.
The Ocon-Hamilton battle was certainly a highlight of the race, ex-Red Bull driver Christian Klien enjoying it very much while also stating his belief that Ocon flies under the radar in Formula 1 somewhat when it comes to his talent.
Asked during the F1 Nation podcast for his thoughts on Ocon's car positioning in that Hamilton battle, Klien replied: "Perfect. It was just perfect.
"Lewis Hamilton was for sure quicker at that point of the race and obviously missing some of the top speeds, so therefore his positioning of the car, reading what Lewis Hamilton was going to do,  was just perfect and he didn't crack under pressure.
"And I think anyway Esteban is a little bit of an underrated driver. He has a lot of good races that are a little bit under the radar sometimes."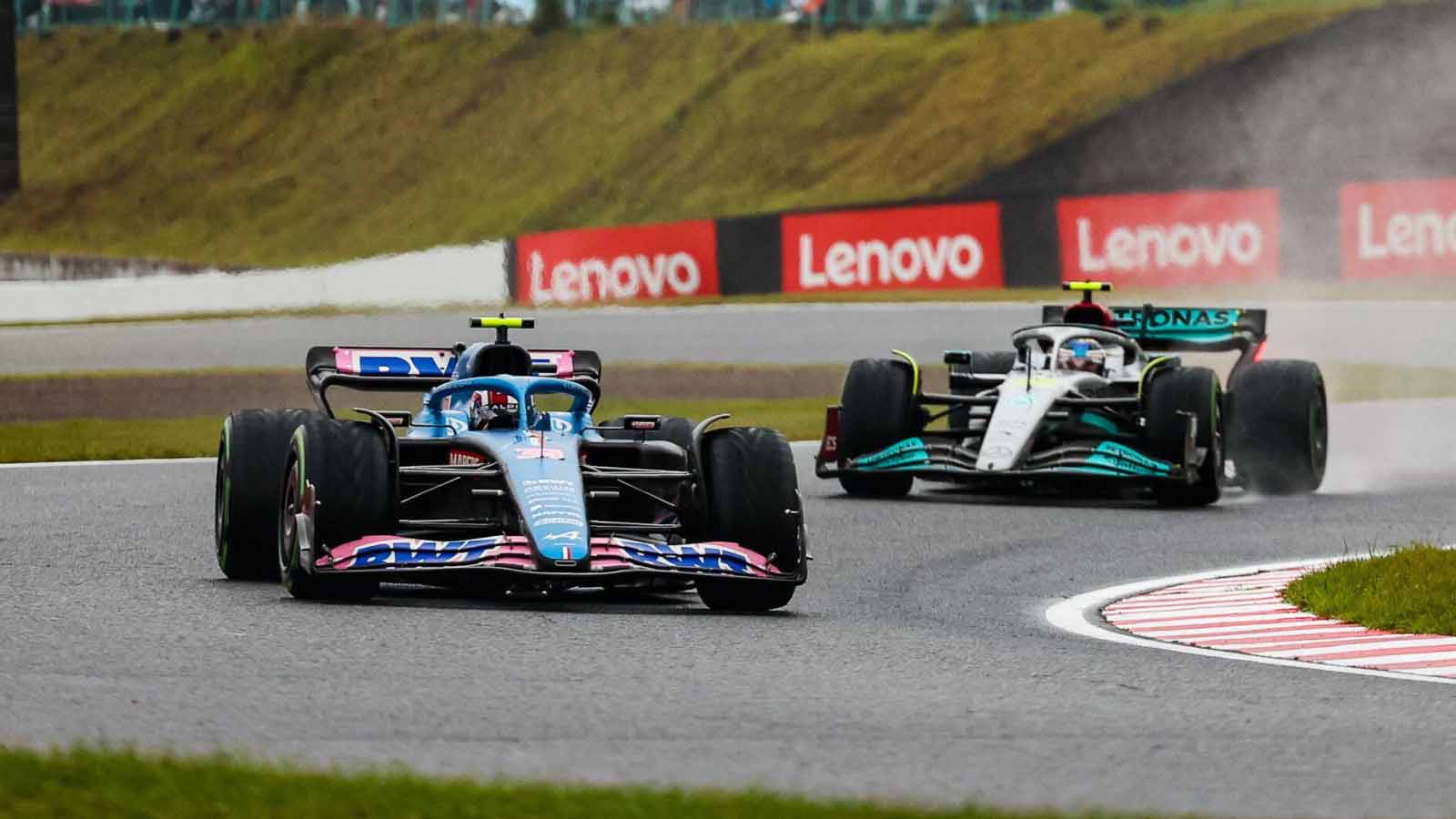 Esteban Ocon would agree he is underrated
The Frenchman has previously commented on his performance level against Alonso, regarded still as one of the elite talents on the Formula 1 grid.
In Ocon's opinion, only Hamilton has done a better job as team-mate to Alonso, back in 2007 in what was his rookie F1 season with McLaren.
"If I look at Fernando's career, the only one of his team-mates who has been his equal is Lewis, all the others have not done better than me," he said.
"Personally, I feel I'm doing a good job and yes, it's a bit strange sometimes to see on the outside there are those who perceive it a bit differently."
Klien concurs Ocon has more than held his own against Alonso at Alpine. Although Alonso's run of bad luck earlier in the 2022 season hampered his points tally, Ocon's 78 points to Alonso's 65 so far cannot be swept under the carpet.
Put to Klien that Ocon is 'Mr Consistent', Klien replied in agreement: "Yes, and you see that also in the points compared to Fernando.
"Of course, Fernando has been a little bit unlucky this year for sure, but even Fernando feels like he's performing on such a high level again. It's incredible. But Ocon has something to answer there all the time."
Read more: Where does Esteban Ocon rank among Fernando Alonso's toughest team-mates?