Ocon eager to continue Alonso partnership: He's still a lion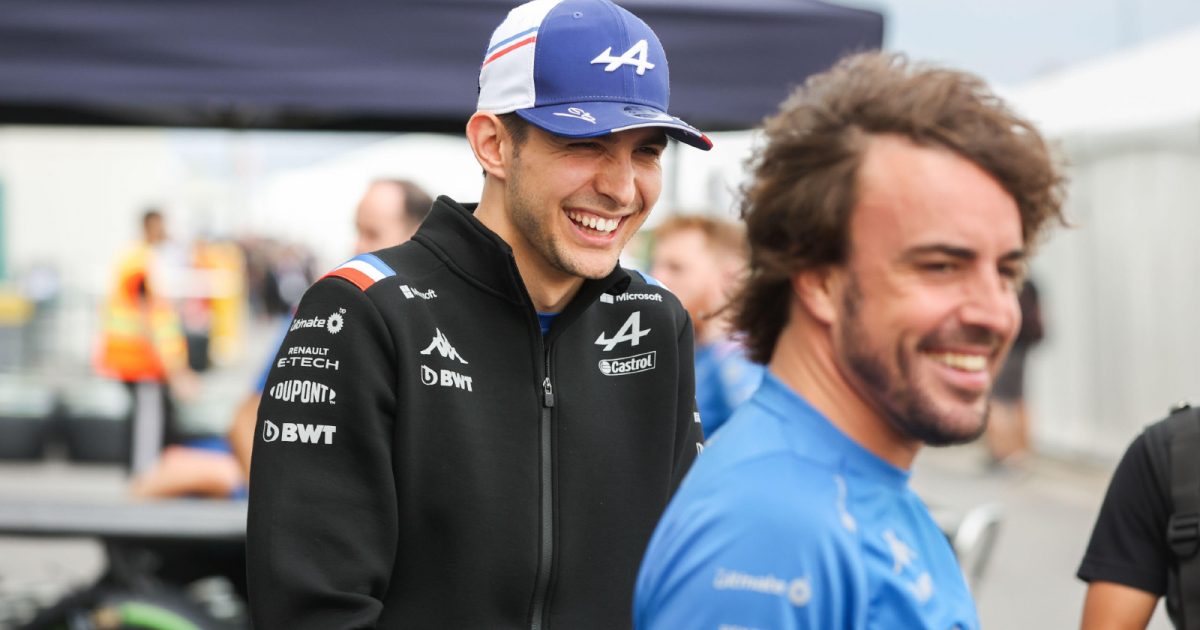 Alpine's Esteban Ocon is eager to see Fernando Alonso continue as his teammate for the 2023 season, praising how well they've worked together.
While Ocon is a long-term deal that will see him stay at Alpine until, at least, the end of 2024, Alonso's contract with the French team comes to an end at the conclusion of the 2022 season.
An extension of the partnership is yet to be confirmed, although Alonso has made it clear his intention is to stay in Formula 1 next season – regardless of whether Alpine want him or not.
Ocon is eager to see Alonso stay on as his teammate, saying that he is enjoying the partnership immensely. Ocon and Alonso's rivalry as teammates has led to some spicy on-track battles, such as in Saudi Arabia this year, but last weekend's race in Canada was an example of there being a camaraderie between the pair as Ocon slowed up to help Alonso get his ailing car across the finishing line in seventh place.
"Being a teammate of Fernando is great," Ocon said, in an interview with DAZN.
While Alonso is infamous for being difficult to work with in the past, the Spaniard's time away from Formula 1 where he raced in the World Endurance Championship, as well as dabbling with IndyCar and Dakar attempts, appears to have mellowed his approach to racing alongside another driver.
"When he joined the team, I was told by a lot of people that it would be very difficult," Ocon admitted.
"All these things that are not true at all. I think we make a good partnership and I really enjoy working with him."
A long-running joke from Alonso and Alpine has been that of 'El Plan' – a secret, long-term mapping of the route to bring the team back to the front of F1. The details of 'El Plan', or whether it's even a real roadmap, aren't known, but Ocon believes the plan is being closely followed.
"I think we are following it," he said.
"It is very confusing for everyone! I already know what it is. We are working to make it work. It takes time. This year, we hope to give more and that we also get closer to the top.
"I see myself on the podium this year. With a win, it would be a great season. We want to win again."
Having managed to take an unlikely victory in last year's chaotic Hungarian Grand Prix, Ocon admitted it's not a likely scenario for 2022.
"If we are realistic, we are not in that position," he explained.
"If we get podiums, for us it is like winning. We are making progress in achieving it and that is the important thing. They have won [championships] with Fernando, it is there. We can do it. I believe in this project and that is why that I signed for several years, to stay with the team."
As for any doubts over Alonso's form in F1 after sitting out the 2019 and 2020 seasons to return last year, Ocon said there hasn't been any dimming of his outright speed.
"Fernando doesn't have to prove anything. If he wants to continue in Formula 1, he will stay," he said.
"He's still motivated and he's the lion he always was."
With Alonso's future in F1 still unclear as Alpine mull over the possibility of promoting F2 Champion Oscar Piastri, team boss Otmar Szafnauer confirmed to media in Canada that he believes Piastri will be on the grid in 2023.
Whether that's with Alpine or not isn't confirmed yet, and Szafnauer also refused to quash the possibility that his team could drop Alonso for the young talent.
"That's a really good question," he said when asked whether Alonso will be kept on.
"Something I haven't thought about, that's in the future. Let's talk about that when we get closer to the break and that thing that I think you all call the silly season."
Szafnauer praised Alonso for taking a step forward this year, after a comparatively quiet 2021 season by his own standards.
"I think he has taken a step up, he's still a formidable competitor," he said.
"He does a very good job. And he gets the speed very, very quickly. These cars are new: we haven't been to Canada in a while now, and with a new car, and I'm very impressed at how quickly he… a few laps, and he's there. He's doing a great job for us."