Esteban Ocon hasn't spoken with Fernando Alonso, but denies tension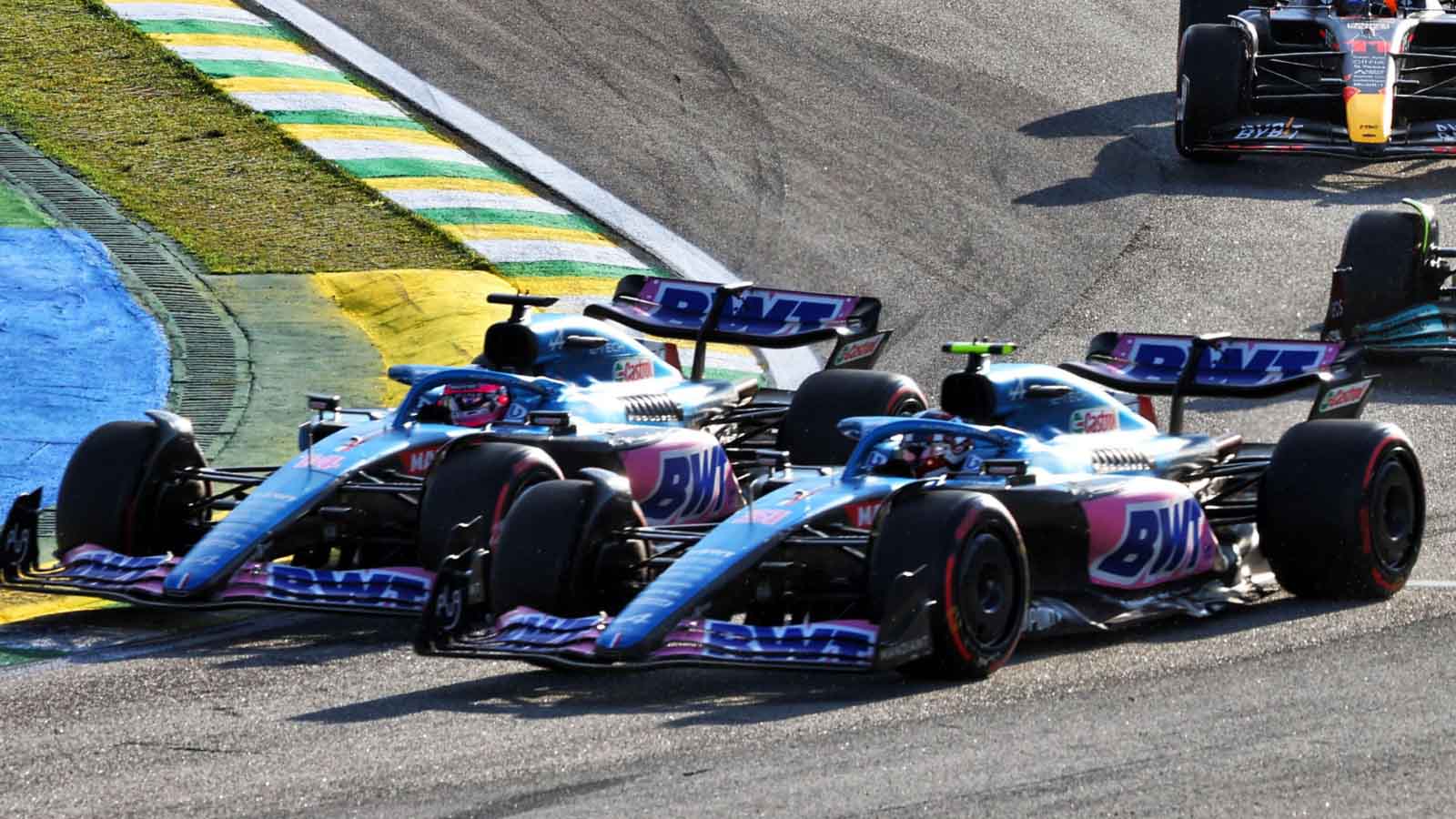 Esteban Ocon said he had not spoken with Fernando Alonso after an eventful weekend in Sao Paulo, but will have "respect for him forever".
It was Jeddah all over again as Alonso and Ocon went into battle at the start of the sprint in Brazil, but this time there was contact.
Firstly, Alonso got out of shape at Turn 4, almost collecting his team-mate, but the real damage came once they had made their way back onto the main straight, Alonso pulling to the right too late and hitting the rear of the sister Alpine car.
That left Alonso with a broken front wing, plus a five-second time penalty and two Super Licence penalty points for causing the collision.
Critical of Ocon over team radio and then telling the media "one more race and it's finally over", Alonso referencing his upcoming switch to Aston Martin, both drivers and Alpine went into race day looking to move on, with team boss Otmar Szafnauer having blasted his drivers for their antics.
But in the closing stages of the Sao Paulo Grand Prix, Ocon appeared to rebel against team orders as Alpine instructed him to let through Alonso, who was on fresh soft tyres. Ocon replied he would only do so after he had overtaken Sebastian Vettel ahead.
Asked by Motorsport.com whether he and Alonso had put the events of Sao Paulo to bed, Ocon replied: "No, we didn't speak."
However, Ocon moved to silence the suggestion that he and Alonso's relationship had turned a little frosty, Ocon making it clear he has unbreakable respect for his two-time former World Champion team-mate.
"No, I mean, it was not too nice what he said in the media," said Ocon. "I always have a lot of respect for him. He's a legend and I will keep respect for him forever.
"And, yeah, it doesn't matter what he said to you guys. I prefer when we speak together."
It is important to state that once Ocon did pass Vettel as planned, he went along with Alpine's request to release Alonso.
Ocon felt his comments on the radio had been interpreted wrongly, as he was not refusing to let Alonso past. Instead, he felt doing so at the Safety Car restart was not the right decision.
Alonso ultimately put his soft tyres to very good use, claiming a P5 finish, while Ocon was able to cross the line P8 as Alpine bagged 14 points.
"I think it's been not very well translated," said Ocon in reference to the radio exchange. "People thought I didn't want to let Fernando past.
"I said, no, I don't let him pass at the restart. I'm going to pass Seb. And then once the situation is settled, we will figure that out.
"I'm not going to fight. I'm going to let him go. And that's what I did. I couldn't have held him. He was very fast on the soft tyres. And obviously, there were points for the whole team to grab.
"So I knew I was in a situation and the team didn't need to tell me what to do."
Those 14 points scored by Alpine now put them in a very strong position to secure P4 in the Constructors' Championship with one race to go.
McLaren suffered a double DNF which allowed Alpine's buffer to grow to 19 points, Ocon describing that as a "game-changer". He knows though that Alpine cannot afford to relax in Abu Dhabi.
"I'm super-happy for the team," Ocon stated. "In general, I think 14 points is a game-changer for us at this stage, there is only one race to go. And we go into Abu Dhabi with a big cushion.
"We can't relax. Still we will have to push like crazy into the last round, but clearly going with some points ahead definitely gives us a little bit of pressure off."
Read next: Otmar Szafnauer explains Esteban Ocon's 'let me race' radio message