Ocon: Alpine now chasing wins with less pressure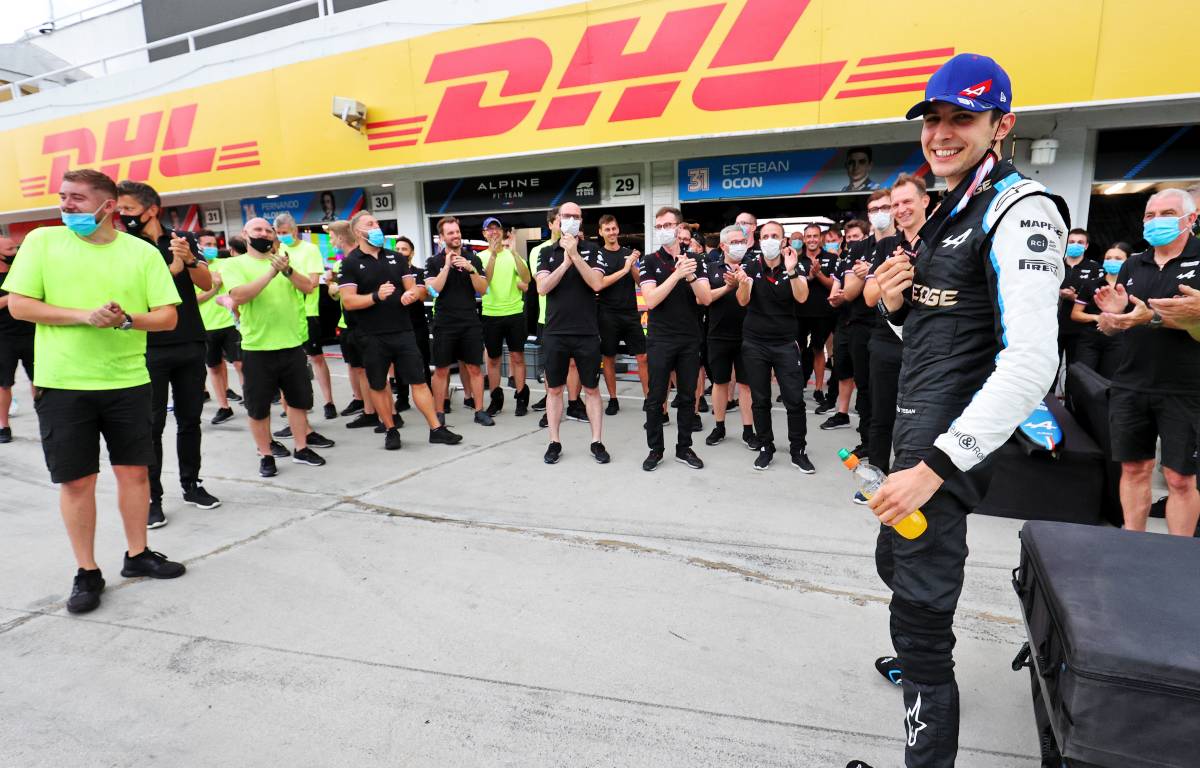 Esteban Ocon says winning the 2021 Hungarian Grand Prix lifted the pressure on Alpine as they move forward in search of future victories.
Renault rebranded to Alpine ahead of the 2021 season but despite the name change, the team still inherited the winless streak of their parent company that had stretched back beyond Renault's return as a manufacturer in 2016. In fact, the French outfit had not tasted victory in Formula 1 since 2008.
Ocon successfully put that record straight though by taking the chequered flag at the Hungaroring in 2021.
With new regulations coming for 2022, Alpine are one of many teams who want to now press on and fight for victories more consistently. As they are now off the mark Ocon says the pressure has subsided significantly, which means Alpine can chase race wins with less pressure and more confidence from now on.
Speaking to Motorsport.com about his win in Hungary, Ocon said: "It was a great feeling and I'm also glad we've got that away also for the team.
"Obviously it was the first win since the Renault comeback in the new era of Formula 1 so next time, hopefully soon, that we will be in that position we will know how it feels. We don't have as much pressure, we can just do our job and make it happen.
"In my case, I'm still working the same way I did. The guys I have around me, of course they were really pleased with having that win, it was the first for many of them, but we want to have more of those moments, not only one.
"We know we have a long way and hard work coming up but it felt obviously good and I'm proud to have lived that with them, with such a talented bunch of people."
The Renault power unit was not regarded as being on the same level as Mercedes or Honda in 2021, contributing to Alpine not having the strongest car pace-wise in the midfield.
But the team believe they made up for that in race management with Ocon explaining that was a key focus for the team, ensuring they made the most of every opportunity to finish in the points regularly, with that Hungary win the crowning achievement while Fernando Alonso reached the podium in Qatar after finishing P3.
"Definitely I think this is what we wanted to do. We knew we didn't have the fastest car, we didn't have the fastest package overall to be fighting at the front, but as soon as there was an opportunity we were there to be able to take it – Qatar, Saudi, Budapest, almost Sochi for Fernando," said Ocon.
"We wanted to operationally be on top of our game and we did that last year. I think we can be proud of that, because that means when we have a fast car we can be fighting up there with the top cars and the top teams without being afraid."
Alpine's gamble for 2022
The Alpine team are introducing a brand-new engine in the hope of progressing.