Esteban Ocon reveals 'good surprise' about Alpine and downplays porpoising concern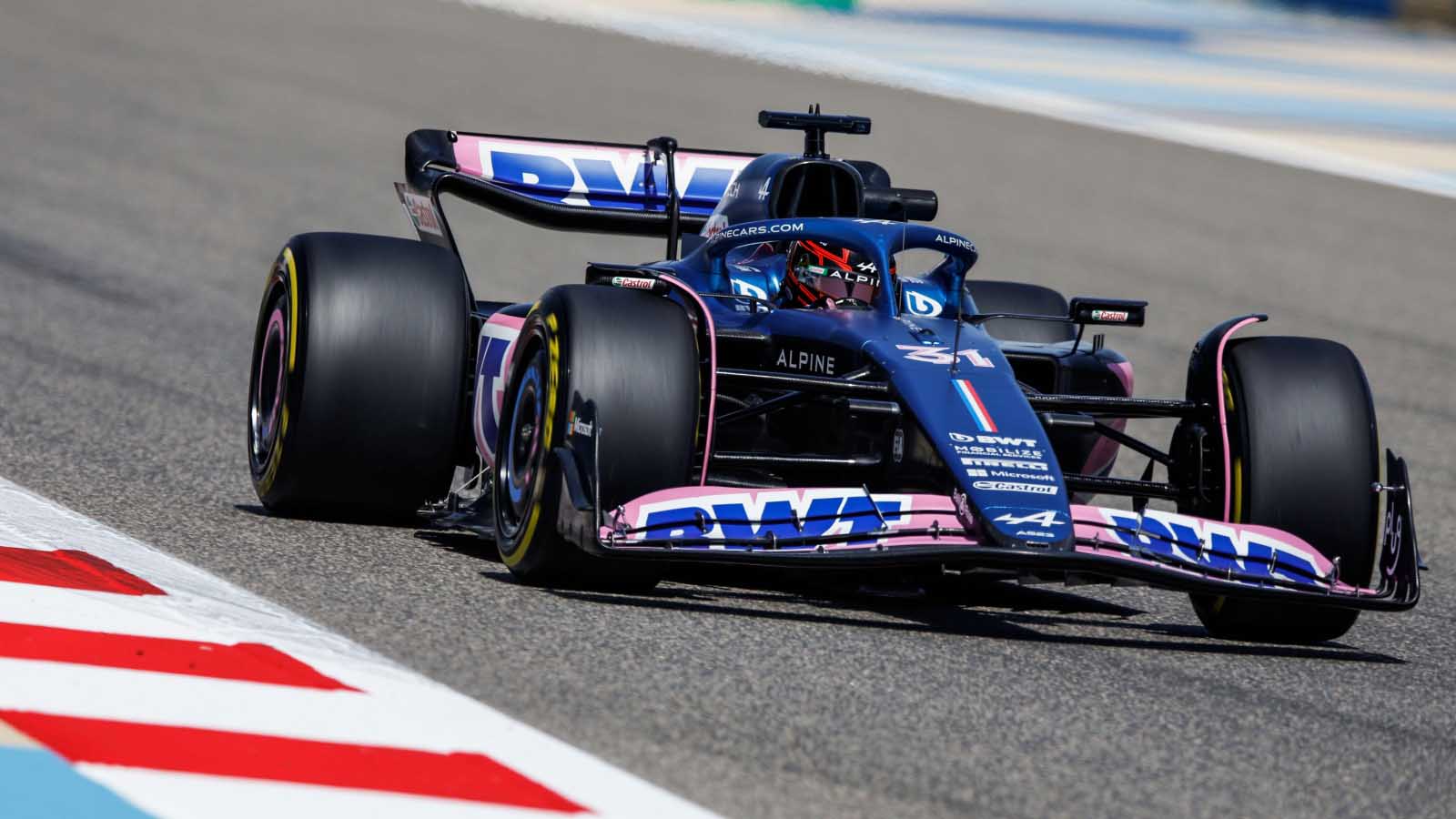 Alpine's Esteban Ocon says the team's new A523 has given him a pleasant surprise on track, and reckons porpoising concerns are overblown.
Ocon was speaking about Alpine's new 2023 F1 car, the A523, during the three-day pre-season test in Manama ahead of next weekend's season-opening Bahrain Grand Prix.
Ocon finished 12th at the end of the second day of testing, with his best time some 1.8 seconds from the front having set his best time on the C3 compound.
With Alpine having taken fourth place in the 2022 Constructors' Championship, Ocon revealed where he's feeling a clear step forward with the new car.
"The car is much more stable in entry of corners, to attack the entries, it gives you a lot more confidence and it's a much greater balance," he told media, including PlanetF1.com, in Bahrain.
"So, on tyres which are much more robust at the front, it's a very good surprise."
Asked by PlanetF1.com as to what weaknesses he's identified on the machine, he was understandably reluctant to reveal.
"I'm going to keep that for myself," he smiled.
"I obviously don't want people to know. But from run one really, we identified the direction to go for and how to optimise it as much as we can. So we went from a very uncomfortable position to a very comfortable position to a middle position – we're still working our way through to find what's the best compromise that we can get.
"But, in terms of balance, I think we are pretty much spot on in terms of entries and on braking as well, the car is very good. The weakness – we'll keep to ourselves."
With cameras having picked up some apparent dramatic porpoising on the Alpine, Ocon said that moment had likely been during an extreme setup experiment.
"The amount of scaling that you can do during testing, you can test things that you wouldn't normally do and wouldn't do at a race weekend," he said.
"So if we want, we can make the car have porpoising. If we don't want, we can make the car very comfortable – it's not an issue.
"I guess the camera picked up one of the runs we were testing an extremely harsh ride but that's not the case. We have it under control."
PlanetF1.com recommends
Lewis Hamilton criticises 'dangerous' and 'pointless' F1 tyre blanket ban
F1 2023 Testing Results – Day 3 (Bahrain)
Day 2 round-up: All the key quotes from the second day of pre-season testing
Pierre Gasly 'completing' driver pairing
Having lost Fernando Alonso as a teammate in favour of the incoming Pierre Gasly, much has been made of the somewhat contentious friendship the two drivers have had in the past.
Both drivers have made it clear that that contention is consigned to the past, and are eager to work closely together for the good of the team – Ocon revealed both are working well together on the technical front.
"Feedback [wise], I think we complete each other quite well at the moment," he said.
"The main direction is the same that we want to push for. On the detail side of things, I think we complete each other. There are some things that he spots or I spot and then we say, 'Oh yeah, you know, that's something that is actually right.' And then you say the same things on my side. So that's been quite good.
"I think it's going to be good with Pierre. He's a super fast driver. He's won a race, like me, on podiums – in 2021, I think it was where he was super-fast and consistently qualifying around fifth and sixth and that was very impressive.
"I have no doubt he's going to be ready for the first race. The team has enough experience now to give enough information straight away for him to be ready. It should be a good season together and we are going to push the team forward to compete at the best level we can to achieve some great results."
Additional reporting by Thomas Maher